Siser Heat Press Review: Compare Red Heat Press Prices
This post contains affiliate links. If you use these links to buy something, we may earn a commission, but it doesn't cost you anything. Thanks!
The Siser heat press – should you get one?
Siser are one of the world's best manufacturers of heat transfer vinyl, but did you know about their range of heat press machines?
The Siser Red Heat Press is a quality entry level machine suitable for crafts or small home business. It has some great features worth taking a deeper look at, so let's get into it!
Siser Heat Press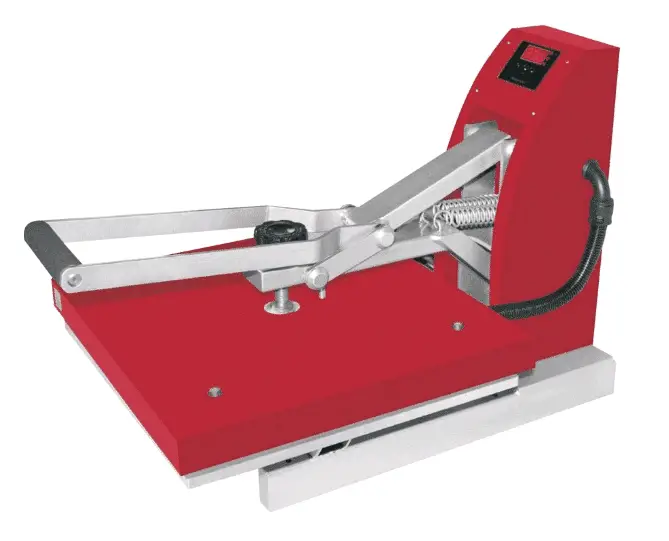 Siser has the same machine for sale in three sizes:
11 x 15 inches
15 x 15 inches
16 x 20 inches
The most popular size of heat press is 15 x 15 inches. This size is suitable for most jobs. The smaller size is best for those doing mostly children's and baby clothes. The largest size is good for those pressing very large t-shirts.
Pros:
Good range of sizes
Strong durable heat press machine
Smooth opening and closing action
Good YouTube supporting content
Siser brand
Upper floatational platen
There is also a Siser Cap Press Machine which has 5 sizes of interchangeable platen (more info down below).
Siser Heat Press Features
The Siser digital clam heat press is a step above the really cheap entry level models. It's a higher quality machine that will last longer and apply better transfers.
Here are the features of the red heat press:
wide opening clamshell style – no need to worry about laying out project under the heat platen
over-the-center pressure adjustment – the press is made over the center
upper floatational platen – helps provide even/equal pressure
live digital time & temperature LED display
laser cut steel construction
fully circulated heating element for even heating across platen
Watch the following guide to Siser heat press machines. This explains some of those special features, and why they are a great benefit.
Keep in mind that:
these machines do not take interchangeable lower platens to vary the size
the heat press will remember previous time and temperature settings
don't worry about a slightly wobbly upper heat platen – it's the upper floatational platen
the press will beep once time has elapsed and press is complete
Siser Heat Press Best Price
Want the cheapest Siser heat press? Compare prices here!
Happy Crafters

Usually the cheapest Siser Heat Presses
4 sizes including cheaper "nearly new" machines
Authorised Siser Distributor

View on Happy Crafters

Heat Press Nation

All Siser presses
Huge range of accessories
Authorised Siser Distributor

View on Heat Press Nation

Expressions Vinyl

11 x 15 & 15 x 15 inch clamshell press
Siser Cap Press
Authorised Siser Distributor

View on Expressions vinyl

Amazon

Good range
Great shipping
Competitve prices

View on Amazon
Siser Cap Press
The Siser Cap Press is a quality entry level cap press. As with the Siser clamshells, the cap press is more expensive, but far better, than other entry level machines.
This machine is particularly special because it can take 5 different sizes of lower platen:
Slugger 4 x 6 1/2 inches
All Star 2 3/4 x 6 1/2 inches
Rookie 3 x 5 3/4 inches
Champ 4 x 8 3/4 inches

Baby 2 1/2 x 3 inches
The red cap press also has over the center pressure adjustment, and has much better heat and pressure distribution than cheap cap press machines. It has a tubular cast in heating element that means your transfers will be applied quickly and effectively.
Siser Heat Press Review
The Siser heat press is a good craft and small biz machine, a step above the cheaper brands. An alternative machine for a slightly cheaper price is the HPN Black Series.
Have you got a Siser press? Let us know your experience in the comment section below!
Pin it! 🙂
(Please note: This post contains affiliate links. Read our full disclosure policy here.)