Thoroughly Reviewed: The Gecko 15×15 GK100 Heat Press Machine
Update 18th August 2017 – It looks like the Gecko Heat Press has been retired! It has not been for sale on Amazon for many months now. The Gecko was a popular machine, but there are many more fish in the sea.
Other popular and very helpful articles that will help you choose a heat press include:
We have many dozens of other articles and so we encourage you to have a look around – we'll update again if the Gecko Heat Press ever comes back on the market!!
If it's information on the Gecko Heat Press that you're after, we've got it. This page deals specifically with the 15″ x 15″ press, but you'll be surprised by how much you learn about pressing in general.
Below, you will find the answers to all of your questions. Questions like: Will I be able to print on all sizes of t-shirt with this heat press? Or, does my heat press machine come with a warranty?
What's more, you'll find the answers to questions you should have been asking, but didn't know about. Such as: How do I unpack and begin using my new heat press? And, what items should I not use with this heat press?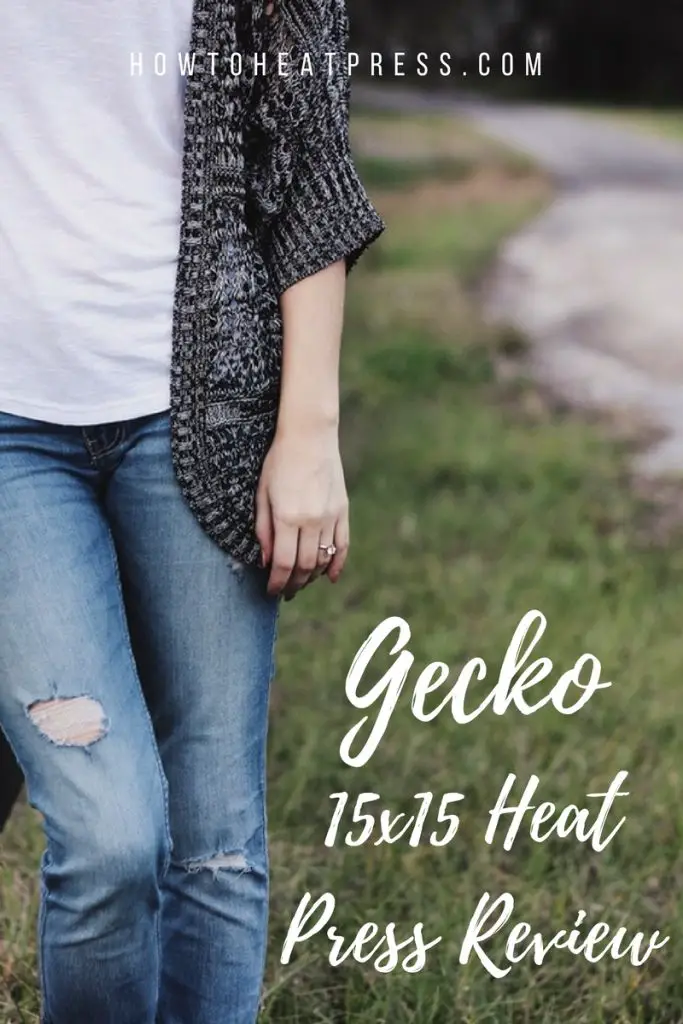 Click an option in the table of contents below, or continue to read the whole review. 
What's The Gecko Heat Press Like?
Well, you probably weren't long into reading heat press reviews before you heard about the Gecko GK100. It is regarded as one of the best machines in its price range.
It is a manual clamshell heat press, very much like the Power Press heat press. A manual press is one that you must open and close yourself. Thankfully, however, the Gecko has a spring assist lifting mechanism which makes this a breeze.
You simply push down the top platen onto the bottom one, and then when the press is complete, lift it back up again. For interests sake, an alternative type would be a swing away heat press.
You might be tempted to think that because the price is so reasonable (one might go so far as to say cheap!) that it will not stand the test of time. You would be wrong to assume as such.
It is of industrial strength and quality, made to be used and used. It has been constructed with a tough metal frame and high grade non-stick heat platen. Durability and value should be its middle name.
Gecko also have a 16″x20″ heat press and a 16″x24″heat press, if you're after a larger size.
What Fabrics Can I Press?
This particular press is well suited for pressing t-shirts, sweaters, canvas totes, baby clothes, or other linen items such as pillowcases.
Basically any flat fabrics (two dimensional woven or knitted fabrics that have no pile loops) are compatible. Most t-shirts out there are either 100% cotton or a 50/50 blend with polyester. Either are a good match with this machine.
What Size T-Shirts Can I Press?
You will be able to press all sizes of t-shirt with this machine. From S to XXL. So long as your transfer is less than 15″ x 15″ it will fit. There are cheap bulk lots of t-shirts for sale on Amazon.
Does This Press Take Attachments?
There are presses out there that will take attachments in order to print onto further items like mugs, hats and so on, but this is not one of them. However, Gecko does have a few stand alone machines for other tasks. 
What Transfers Can I Use?
The manufacturer specifies the following transfers may be used with this machine:
✔ Standard
✔ Plastisol
✔ Rhinestone
✔ Vinyl
✔ Inkjet
✔ Sublimation
✔ Thermofilm
✔ Along with most other traditional transfers
If you are ever unsure as to whether a transfer is suitable, it is a good idea to have a practice run. Perhaps create or buy an extra transfer and apply it to an item where you will not be upset if it doesn't work.
This machine is compatible with so many transfers, however, that is it unlikely you will ever be in the situation where a transfer does not appropriately adhere.
Heating Details
The temperature range for this press is from 212°F to 435°F.
Inside the press's heat platen there is a full range of heating coils. This ensure an even heat across the heat platen. This is important  in order to achieve the best possible adhesion of your transfer to the fabric.
The lower the quality of your press, the more prone it can be to variation in heat between the corners and the center. A 10 – 20°F variation will not be an issue, but anything more than that will be.
If your budget allows, it is a good idea to purchase a digital laser thermometer in order to test that you have an even heat across the platen before doing your job. But this is by no means essential. Do not feel like you must have one.
Other Features
This press has an easy to use digital temperature and time control.
It weighs 59 pounds. If you think it might be too heavy for you to lift on your own, get help!
Standard US/Canadian voltage of 110V. And for those who are intersted in such things: 14 Amps. 50-60 Hertz.
1500W power means it's not a huge power suck.
A lower pad made of durable heat resistant silicone covered by a protective cloth.
Four non-slip rubber footings.
A loose 16"x16" non-stick teflon sheet.
What To Expect Upon Delivery
Your press will arrive fully assembled.
In order to ship it and have it arrive to your home or business in perfect condition, the pressure is set to the highest level. This ensures it will stay clamped shut as it travels. Because of this some people have had difficulty opening it upon arrival. If you happen to encounter this, ask a friend or family member to help you out.
One of you will hold the bottom of the machine down, and the other will lift the top. Once open you are able turn the pressure down so as to easily open and close the machine. The pressure is unable to be changed while the press is closed, it must be opened first.
With a brand new press, there can be an oily residue remaining on the surface of the heat platen. It is a good idea to have a burn-off before using it for a legitimate project.
Open the windows and doors of the room you are pressing in. The burn-off will create an unpleasant smell, and perhaps even a little smoke. Good ventilation will allow you to breathe comfortably.
Next, lift the top up and leave your machine open. Set the temperature to around 400°F. Allow the press to heat up (again, with the top up) for around 20-30 minutes. This will burn off any residue and prevent your first pressed garments from smelling bad.
How To Use Your Gecko Heat Press
Once you have unboxed your press, unclamped it, and had a burn-off (as above), here are some general instructions:
Set the temperature and time for your specific job. The supplier of your transfer will specify these details. 

The usual temperature is around 330°F at a time of 10-15 seconds.

Allow the press to heat up. This won't happen immediately.
Have your t-shirts and transfers prepared. If you are printing many t-shirts at a time, have them all ready to go so that you can get into a flow once your press has heated up.
Place your t-shirt onto the bottom platen of the heat press. Ensure it is lying flat without an wrinkles.
Place your transfer into position. Make sure the backing paper is facing up!
Place the Teflon sheet between your transfer and the top of the press. Always use this protective sheet. It can be a nightmare trying to get a transfer off the heating platen if things unintentionally go wrong.
Pull down the top of your press and allow it to clamp down.
The timer will begin to count down and will beep once completed.
You can now remove the Teflon sheet from off your t-shirt. Some transfers require a hot peel and some require a cold peel.  There are also those transfers for which either is suitable. Do as required and then enjoy your t-shirt!
If you find your transfers are not adhering right – leaving ink behind or lifting vinyl – it is likely your pressure is down too low. Turning the pressure knob on the top clockwise increases pressure, and it goes without saying, turning anti-clockwise decreases the pressure.
Some Safety Tips
Many of these are simply stating the obvious, but sometimes in the excitement of pressing we can forget these common sense rules!
Ensure the area you are intending to use your press in is free from all other items. You will need a flat surface particularly clear of anything flammable or prone to melting.
Concentrate on what you are doing. Keep yourself from distraction. Most importantly, don't leave your heat press unattended while in use.
Keep young children and pets away from the hot press. Ensure those needing supervision have it.
It is a good idea to use your press with its own power socket. Plugging it in with other devices could easily cause the circuit to overload while in use.
Ensure you use the appropriate heat and time settings given by the provider of your transfer.
Store your press in a suitable location. Somewhere solid where it isn't going to fall and get damaged. Somewhere dry where the electrics will not be negatively affected.

Where Is It Made?
The manufacturer, Gecko Heat Press Solutions, is based in the United States. Their presses are designed in the US, made in China, and shipped out of Nevada. This allows the product to be sold at such a great price.
The quality of the product is no less due to it's being Chinese made. The machines are put through a rigorous quality control process.
Contact we have had with Gecko customer care has been very easy and pleasant. Response time via email is within a day or two. There have not been any questions which they have not been able to help us with.
Does It Come With A Warranty?
The Gecko heat press comes with a 1 year limited warranty.
This guarantees your press is both 'without manufacturing defect in material and workmanship', and that it is shipped and arrives in perfect condition to your door.
This guarantee is only valid for the original purchaser of the product. A second hand press will not be covered.
Price Of The Gecko Heat Press
Click here to view this product on Amazon.
If you choose to purchase this product from Amazon, you will need to pay for shipping, unless you have Amazon Prime. We highly recommend Amazon Prime which includes free two day shipping if you are shopping with them regularly.
You get great value for money with this press. Hop on over to Amazon where you can read over 133 customer reviews. At the time of writing, it has received a rating of 4.2 out of 5 stars.
The Final Word
We hope that we haven't overwhelmed you with information, but have successfully answered all of your questions. Now you can decide whether this product is right for you. In spite of everything you can know about this product, it is the answers to these simple questions which are important:
Will this heat press be suitable for the job I have in mind?
Will it be worth the investment of my hard earned income?
Will I have an asset that can produce a quality product?
We trust this page has allowed you to answer those questions. However, if you do have any remaining questions or would like to leave a comment, we encourage you to do so in the comments section below.
If you would like to know even more detailed information about the Gecko heat press, here is a link to the Operator's Manual.
Thanks for reading our review of the Gecko 15" x 15" GK100 heat press machine!

Not sure what accessories to buy with your heat press? Check out our article on 5 great heat press accessories that will save you wasting valuable time and from making costly mistakes.
(Please note: This post contains affiliate links. Read our full disclosure policy here.)