Buying A Heat Press – 13 Things You Gotta Know – A Beginners Guide
We're starting with the basics in this huge heat press guide, and then we'll move onto the more advanced must knows!
Whenever we tell somebody what we do as a side business, we get the same questions. The main one is, 'what is a heat press?'
Surprisingly, while there are hundreds of thousands of these machines out there, and their popularity is ever increasing, few people have any idea what they are.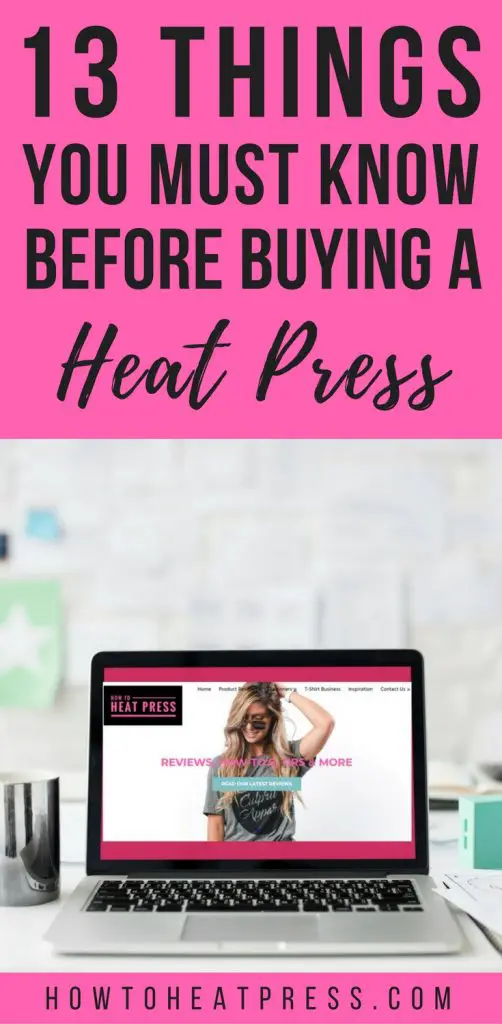 Other common questions we're asked by those who haven't heard about heat press machines for home use include:
What does a heat press do?
How does a heat press work?
And, what is the best style and size of heat press?
Those are very basic questions, I know, but as none of us come from the womb knowing the answers, we've all gotta learn the answers somewhere! So if you're in that camp, don't be ashamed, this is the article for you.
The next questions we get asked by people who are just beginning heat pressing are:
What are the best heat press brands?
How much is a heat press?
And, where can I buy a heat press?
And then, of course, the all important question:
What is the best heat press for beginners?
We'll answer all those questions (and much more) in this article.  This is everything you need to know before buying your first heat press.
Use the following contents column to navigate to the section that you are interested in, and enjoy learning about these fantastic machines.
1. What Is A Heat Press?
Heat press machines go by many names. You will also hear them being called a t-shirt presses or transfer press machines. They are sometimes listed with titles like 'industrial heat press', or 'commercial heat press'. There are 'multifunction heat press machines' and 'sublimation heat press machines'. Sometimes the jargon just gets confusing! But they are really all the same things using different keywords to optimize for different search terms.

But, what is a heat press and what does it do?
A heat press machine applies heat transfers onto garments and other substrates using time, temperature and pressure. With intense pressure, the heat transfer and the t-shirt become one. A t-shirt press ideally creates a bond between fabric and transfer that lasts forever!
You know the t-shirts and hoodies with designs on them, or sports jerseys with names and numbers? Many of the designs, images, and text that you see on various items of clothing, will have been applied with a heat press. Many business t-shirts and uniforms have been made using these machines.
2. What Does A Heat Press Do?
These machines transfer designs, text, or images, from transfer paper, onto t-shirts and other surfaces.
There are different types of heat transfers. Most people start with Heat Transfer Vinyl (or HTV) heat transfers. In fact, that's what we use the most! Vinyl makes great designs and looks awesome on t-shirts – especially vinyl that is thin and flexible, which doesn't crack or look clunky, such as Siser HTV. It is cut in a cutting machine (we use the Cricut Explore Air 2), or you can order pre-cut or custom transfers online (not as cool as having your own cutting machine).
Other types transfers besides HTV include:
Sublimation transfers – using a specific ink perfect for transfers. We have a full article on Dye Sublimation here.
Plastisol transfers – another type of ink transfer
Rhinestone heat transfers – see the following video
And so these heat transfers can be applied to a variety of surfaces with a heat press machine, including:
The most common host for a transfer is, of course, garments – t-shirts, baby onesies, sweatshirts and hoodies, tank tops and all the rest!
Glass – often photos are pressed with a sublimation transfer
Wood – make beautiful signs and messages on wood
Metal – such as dog tags or license plates
3. How Does A Heat Press Work?
Heat presses have two plates, or platens, as they are more often called. The top platen heats up, and is therefore called the heat platen. Once the machine is plugged into a power socket, it takes time, temperature and pressure for it to do the t-shirt press.
Most, if not all, heat press machines have a digital display on which you can set the time and temperature. Some very expensive machines will also allow you to set the pressure digitally. Only very old or antiquated machines will have analog time and temperature settings.
Time
The time range for most t-shirt presses is 0 – 999 seconds.
Now, no one is ever going to do a press for 999 seconds, or 16 minutes! You will likely have a house fire on your hands if you give it a go (so don't). Most heat transfers only need 10 – 20 seconds to complete.

Siser EasyWeed is the best heat transfer vinyl. It is easily applied with a heat press or an iron, and looks great. It's a very thin and flexible vinyl so it doesn't look like it is sitting on top of your t-shirt, like some of the cheap HTV. It looks like it really meant to be on your garment, if you know what I mean!
Temperature
Most machines have a temperature range of 0 – 500° F. This is more than enough to perfectly apply all heat transfers onto t-shirts and other garments. A higher temperature than 500° F would likely burn or melt your transfers and t-shirts!
Pressure
Pressure is set on most machines by turning a knob. This knob will be situated either on top of the control box at the back (like this machine), or on top of the heat platen (like this machine).
Pressure is described in terms of lightness to hardness. For example, Siser EasyWeed is pressed at a medium pressure, while EasyWeed Extra is pressed at a light-medium pressure.
4. Is A Heat Press Better Than An Iron?
An iron is a great way to start doing heat transfers. Everybody already has one in the house, and they are an easy way to make your own t-shirts. You still need a cutting machine to make your own custom heat transfers, of course, but not needing to buy a heat press is one less expense in the beginning.
However, we believe a heat press is better than an iron for the following 3 reasons.
Heat Press Vs Iron
There are 3 main reasons why a heat press is better than an iron. These are factors we just looked at above: time, temperature and pressure. With a heat press, you can control these factors far better than with an iron.
1. TIME: A heat press machine keeps perfect time, beeping at you when the transfer is complete. With an iron you are counting out loud (which I must admit is a bit of fun anyway!).
2. TEMPERATURE: A heat press will give you a digital read of the temperature. You are able to set the perfect temperature that you need and you know it's going to be right. With a hot iron you cannot be totally sure what the temperature is (unless you get a digital laser temperature gun).
3. PRESSURE: Perhaps the most important factor is pressure. An iron can't reach or maintain the pressure of a heat press machine.
A transfer done with a heat press will last longer than one with an iron. But again, iron on transfers are the best way to start. That's where we started, and we still do the odd iron on transfer here and there!
How To Use Irons For Heat Transfers: Everything You Need To Know
The Cricut Easy Press – A Heat Press Iron
The Cricut Easy Press is something of a hybrid between a heat press and an iron! Like a heat press it gives you a digital time and temperature read and you can set these as you wish. But unlike a press, you lift it from off the base and place it upon the garment like an iron.
So while this is better than an iron, it's not quite as good as a heat press. The Easy Press is fantastic if you don't have a lot of room, or you don't want a big ugly heat press ruining the aesthetic of your craft room. This Cricut heat press is pleasing to look at, and gives one a sense of pride and pleasure for being able to own one.
This machine is usually priced a little cheaper than the cheapest heat press machines as well, but not so much to make that your determining factor as to whether or not you'll get one.
This is a good heat press for home use, for beginners, and for crafting. Stick to the normal machines if you want to sell your t-shirts or give away lots of gifts.
5. What Is The Best Heat Press Style?
The three styles of heat press for t-shirts are clamshell, swing-away and draw. We do have an article dedicated to this topic here in which we list all the pros and cons of each. In this article we will simply give an overview.
Clamshell Style Heat Press
Clamshell machines open and close like a clamshell, as you can see. All cheap 15 x 15 heat press machines are clamshells. I don't know of any 15 x 15 inch press 
under $300 that is a swing-away. So if you're wanting a press of that size and in that price range, you'll be getting a clamshell style machine.
This is my favorite style for a cheap heat press because I think they are stronger than the swing-away models. Cheap swing-away models (in the 9 x 12 range etc.) are more flimsy and prone to breaking.
Swing-Away Style Heat Press
Swing-away presses open by lifting up and then the top heat platen is swung away. It can be moved either to the left or the right, and can often be rotated 360°.
The main benefit to a swing-away press is the free and clear work space. Without the heat platen hovering above, as with a clam heat press, you have a lot of space to place and position the t-shirt and transfer.
The more expensive US made heat presses have very high quality swing-away machines, like this one. But if it were a toss up between a cheap swing-away heat press, or a cheap clamshell, I'd go clam all day long.
 Draw Style Heat Press
Draw style machines are less common, and slightly more expensive, but are great if you get your hands on one.
These are essentially the same as clamshell presses, but the lower platen pulls out from under the top platen. It's a draw. In this press, therefore, you get the best of both worlds. You have the strength of a clam with the free and clear work space of a swing-away.
The only downsides are that there are fewer sellers selling these machines, and therefore less selection. They are also more expensive because of the draw feature. You can view all the draw, pull out, and tray heat presses on Amazon here. 
Cricut Easy Press Style
The Cricut Easy Press was released in late 2016 and is a bit different from a traditional heat press. That's why we've got it here as its own style! This press is small and transportable, it is light weight and easy to use. It has been a real hit with the ladies!
In style, it is more akin to an iron than a traditional press, which is why we've named it a heat press iron! It does not have two platens, just the single hot base which is placed onto the transfer and garment. It does not achieve the same level of pressure as a normal t-shirt press, but it's most certainly designed to keep transferred HTV on a t-shirt, so it's worth considering.
 6. What Is The Best Size Of Heat Press?
There are large heat press machines measuring 16 x 24 inches and there are mini heat press machines measuring 4 x 6 inches. And then there is everything in between! Some of them are for specialized purposes so let's take a look at them from smallest to biggest.
4 x 6 Inch Mini Heat Press

This is about as little as they come – 4 by 6 inches. Small heat presses like this are generally used for tags and labels. For example, if you are selling t-shirts, you can remove the factory tag and press a custom size and brand tag inside the tee. This gives your work a very professional touch.
While these machines are so small, they can actually cost more than larger machines. Not so many of them are sold so they are produced in smaller batches, raising the cost. Therefore, this size machine is best for business purposes. If you are selling plenty of tees, grab one to create cool labels.
9 x 9 Inch Cricut Easy Press
The Cricut Easy Press (the heat press iron!) is considered a small press with its 9 x 9 inch hot plate. This makes it easy to transport and easy to pack away. It's not going to take up much room in your home, and it looks really nice. Cricut products all have wonderful design and so it's a real joy just to look at.
It's great for the crafting mom, or for your teens birthday. There's a wonderful array of projects you can do with the Cricut press, with great online support and how-to videos.
9 x 12 Inch Small Heat Press
9 x 12 inches is the next step up. This size is capable of doing much more. A 9 x 12 inch press is good for someone with a small budget and little space. This is a cheap heat press and a great size for starting out with. Capable of pressing tees and everything else, you won't be too limited by the size. However, if you want to do transfers larger than 8 x 11, you will be better off with a larger press. For a quality 9 x 12 inch press read our review of the Stahls' Craft Press.
12 x 15 Inch Small Heat Press
12 x 15 inch machines are just a step away from a full sized press. This size tends only to be sold as part of a multifunction heat press set. 
These units have attachments in order to press plates, mugs and caps alongside the flat press for garments. This size of t-shirt press is good for basically all projects. You are able to do transfers in two stages if you have a transfer that is a bit bigger every now and again.
If you want to learn more about multifunction machines, you can read our article on them here.
15 x 15 Full Sized Heat Press
A 15 x 15 inch heat press is the size we would recommend getting. This size is good for doing most (if not all) projects easily. 15 x 15 inch presses are by far the most popular size and so there is a great range available at very competitive prices.
In our opinion, unless you need a label press, you should get a 15 x 15 inch machine. You won't grow out of it as is likely with the smaller options.
16 x 24 Large Heat Press
These large heat press machines really are quite big. They take up quite a bit of space and are very heavy, weighing around 80 pounds (up to 40 kgs). They need their own dedicated space in your home or business where they can stay. It really is a two person job to move them about.
These large sized presses are good for those who are frequently doing large transfers and large t-shirts. If you expect to be doing this sort of work then it is nice to be able to spread your tee and transfer out flat and do it in one go. 
 7. What Are The Best Heat Press Brands?
The best brands of heat press are definitely the US designed and made models. There are three leaders when it comes to the US made heat press models. Or course, the best brands come at the highest prices so if you're not at that stage yet, we'll list a few of the best cheap heat press brands afterwards.
Stahls' Hotronix Heat Press Machines

Stahls' are one of the oldest and well respected manufacturers of heat press machines. Their machines really are the strongest and hardest working – they also look amazing too! Their cheapest machine is the small craft heat press in pink for the ladies, while the price of their most expensive model will make you gasp.
Geo Knight Heat Press Machines
Geo Knight are another of the top heat press manufacturers. You can get these great machines cheaper on eBay. There are second hand and used heat press machines, along with quality refurbished models.
Hix Heat Press Machines
Hix is our last company that make heat press machines in America to feature in this list of best heat press brands.
Hix machines are well sought after, reliable heat presses. They have a cheap craft model and a great 15 x 15 swing-away heat press.
You can visit this awesome store on eBay and search for Hix Heat Press Machines. This is a top rated seller, selling new heat press models at a great price – just don't forget to pick up some vinyl as well!
USCutter Heat Press Machines
USCutter are our number 1 best heat press brand (in the non-US made category). While their machines are Chinese made, they are not just the same identical models you see for sale everywhere else on Amazon and beyond. There is a unique and personal touch to them.
USCutter have a website with support and help, they are invested in the industry, they know what they are doing, and that's why we like them! Read our review of their cheap 15 x 15 clamshell model for more information.
*FYI – USCutter heat press machines are sometimes cheaper on Amazon than on their own website – just so you know where to go!
Promo Heat Heat Press Machines
Promo Heat sell another Chinese press that we are quite fond of. This is a very affordable heat press that looks and performs well. Promo Heat also have a website
 with contact details for support.
Read our full Promo Heat review here or see our favorite machine here on Amazon.
8. How Much Is A Heat Press?
As you would probably expect, heat press prices vary widely. But how much should you expect to pay? If you have read to this point, you've already seen that there are some very cheap heat presses for sale, costing a little over one hundred dollars. And, we've seen presses costing in the multiple thousands of dollars.
For those just beginning heat pressing, either as a hobby or with the intention of starting a business, I recommend budgeting at least $200 for a good heat press. You have to keep in mind that you will have to make other purchases before you can start creating (such as a cutting machine and vinyl), so don't think you'll get away just with that amount.
It's best to start with a cheap heat press and get some experience, work out if it is really for you, and then upgrade later if necessary. There are a lot of people that start out getting all the top stuff, but don't stick with it long enough to see real success.
9. Where Is The Best Place To Buy A Heat Press?
You know you want one, but where should you buy a one of these machines? If you hadn't already guessed our answer, the best heat press shop is… Amazon.com! (At least in our opinion).
Amazon stock the lowest priced heat press machines, often cheaper than the sellers sell them on their own site. But besides having the cheapest presses, they also offer free or cheap shipping on these items. Heat press machines are not light! So if you are having to pay the full price of shipping from a retailer that doesn't command the same cheap rates as Amazon, then you're paying too much.
eBay is my next go to site for buying heat press machines. Similar to Amazon, eBay has a range of new and/or used heat press machines for sale. There are definitely some deals to be had! Their shipping is also often offered for free, or very cheap, and so again you will be winning if eBay is your preferred platform. However, to be honest, the selection and price does not really compare to that of Amazon.
10. Tips For Choosing A Heat Press Seller
We have a full article complete with tips and tricks for choosing the best heat press seller on Amazon here. We'll list the questions you should ask here as well, just click through above if you would like to know more!
1. Does the seller have a website? 
This makes it easier to contact them if something goes wrong.
2. What is the star rating like on your preferred press?
And have a look at their other listings. Are they well reviewed over all?
3.Do they specialize in t-shirt press machines?
Does it look like they care about what they are selling? Or is it just another product among many? You're likely to received better support if they are genuinely into their products!
4. How long have they been selling heat presses?
This might give you an idea of how experienced they are with these machines. Often, the older the business, the better the product. Of course, this is not always the case. I would far rather take an Uber than a traditional taxi!
5. How long is the warranty?
Warranty lengths vary across t-shirt press sellers. Try and get a press with at least a one year warranty.
6. Does the press come with bonuses?
Some sellers offer bonus items with their heat press machines. These tend to be teflon sheets, blank t-shirts, or t-shirt vinyl.
7. How much does it cost?
And finally, we all naturally consider the price.
11. What Is The Best Heat Press For Beginners?
We use to say the USCutter 15 x 15 Bundle was the best heat press for beginners, but that was before they raised the price by more than 50%!
We bought and used the Power Press Heat Press as our first heat press and it was excellent. It's was easy to use, did a great job, and was very cheap! This really does make a great beginners heat press.
You might be worried about possible defects or faults, because this does happen, but the sellers are really great with returns. We actually had to return our first Power Press because there was a small cosmetic problem (that didn't effect its use), and the process very quick, easy and painless.
How To Use A Heat Press
It really is this simple:
Open your machine and turn it on at the wall
Set the desired temperature and wait for that to be reached
Lay out the t-shirt and transfer to be pressed on the lower platen of the press
Set the time and pressure
Close and lock the top heat platen down upon your garment
Open the heat press when the timer has counted down
Remove the garment off the plate and peel back the carrier sheet if it's a hot peel transfer, or wait if it's a cold peel
That's it! That's how to make your own custom t-shirt! You can see it all in action in this video:
12. Heat Press Reviews
Many of the heat press machines for sale are so very similar. If they are not identical, they are pretty close to it. So while heat press reviews are helpful (we would know, as we've done so many!), the tough question is choosing a seller. That's why we wrote our article on how to choose a seller, linked to above, and here. Also, here are a few direct links to our best heat press machine reviews:
The USCutter 15 x 15 T-Shirt Press Review
The Power Press 15 x 15 Machine Review
The Stahls' Hotronix 9 x 12 Craft Press Review
The Promo Heat Heat Press Review
13. What Else Do I Need To Make My Own T-Shirt?
In order to start making your own t-shirts, you will need to make your own heat transfers. The easiest way to do this is to make vinyl heat transfers with a cutting machine.
You Need A Cutting Machine
Our favorite cutting machine is the Cricut Explore Air 2 (our review here). This machine is a reasonably cheap cutting machine that is easy to start using and it can also be used for a multitude of other projects besides cutting vinyl.
There are other good cutting machines as well, like the Silhouette Cameo 3, or the Brother Scan N' Cut 2. But I don't think either of them beat the Cricut! Cricut have a newer machine for 2018 as well – the Maker. However, this cutter is quite expensive if you are just starting out.
It is also available for purchase at Cricut's online store – make sure to compare prices!
You Need Heat Transfer Vinyl

Heat transfer vinyl is the final thing you need to make your own tees. So it's not much really is it? A heat press, a cutting machine, and some vinyl, and you're in business! As we said above, the best HTV for t-shirts is the Siser brand.
Summary & Conclusion
So there you have it – everything you need to know about heat press machines. We've looked at what a heat press is and does, different styles, sizes, and brands. We've looked at the cost and where to buy. And we've considered the best heat press machines and what you need to get started making t-shirts (and baby onesies!).
We hope this has been a help to you as you learn about these cool and fun machines, and we look forward to hearing from you below in the comments. Let us know if there's anything else you want to know. Let us know what your favorite machine is. Send us some pics of your projects!
Happy Heat Pressing!
(Please note: This post contains affiliate links. Read our full disclosure policy here.)