10 Cheap & Easy Gifts You Can Make With Your Heat Press
Do you always feel like you leave buying gifts to the very last minute? Do you feel like you rarely know what kind of gift to get someone? Maybe you've got a birthday party coming up or you know someone who just had a baby. Do you own a heat press but need some inspiration about what you could make with it?
In this post, we've come up with 10 gift ideas ideas to inspire you to start creating with your heat press. You can personalize any of these suggestions and add your own creative flare into the mix. Give your friends and relatives unique handmade gifts that they will really appreciate. Give a special gift which will remind them of you every single time they use it.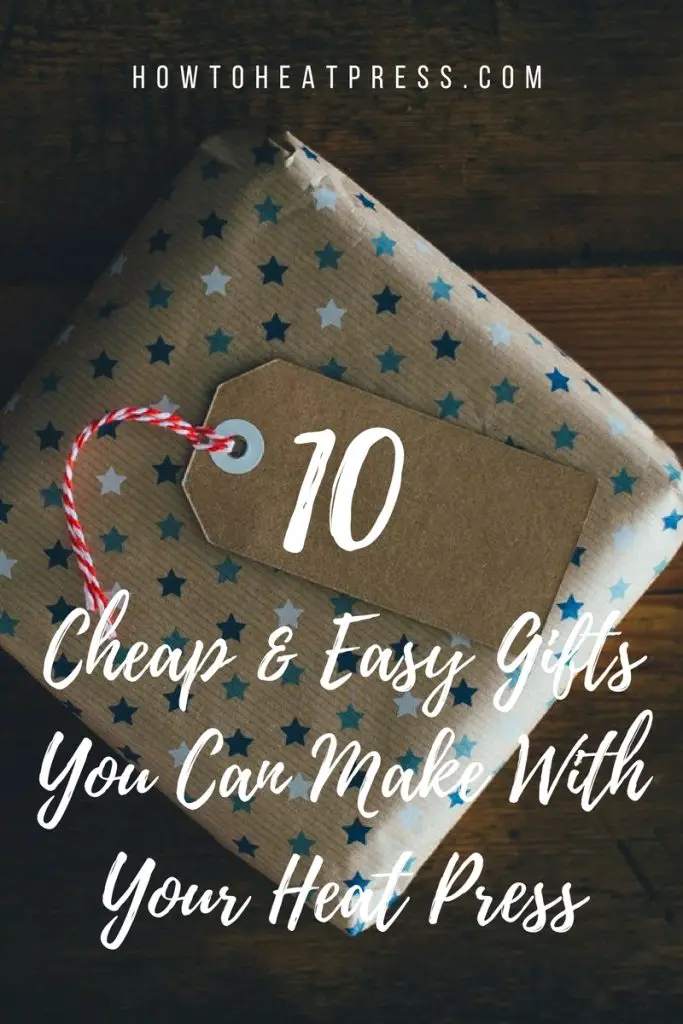 New To Heat Pressing?
If you're new to heat pressing and you have just stumbled upon this article, you might like to start by reading some of our informative product reviews which will help you to decide which heat press is right for you. Also check out our articles for beginners for helpful tips on how to get started.
So here goes our 10 gift ideas. If you make any of these, we'd love to see a picture! Tag us on Facebook or Twitter and show us what you have created!
#1 Baby Clothes
Don't you just find it adorable when babies are wearing outfits with slogans such as "EST 2016" or "A Mike & Anna Production" or "Spent 9 months inside"? (A pun about spending time in prison, just in case you were a little lost on that one!) There are many different options here to create cute and funny outfits for a new baby.
Personalize a piece of clothing with the baby's name or put their age. For example, you could put "I am 2 years old today!" if the child is going to wear the outfit at their birthday party.
Don't leave older siblings out either, create shirts which say things such as  "I love my new little brother Tyler" or "I am the best big brother ever". Go wild with your imagination on this one.
Get some good quality plain clothing and choose your preferred type of transfer. We love the glitter transfer used in the video below, hopefully it will give you a few helpful pointers!
#2 Bags / Totes
Here is suggestion number two – and yes I did just make a mental note to make one of these for myself! The design in this picture is super simple yet super stylish! Just find a plain tote or bag and make it into something you are truly going to love! Oh wait, this was supposed to be gift ideas for others…ok now, don't get distracted – make theirs first and then make yours! 
I'm sure there's someone you know that would love this as a present. You could also find smaller children's backpacks and personalize them with their favorite characters or animals.
Are you always afraid that a gift you gave will just be re-gifted? Well they can't re-gift it if it's got their name on it! Everyone will find good use in an extra tote or bag to carry their things in.
Check out the video below where you'll see how to get the pressure from your heat press exactly right so that you don't get any wrinkles in your transfer.
#3 Aprons
There are so many great slogans you can put on a cooking apron – whether it's for him or her!
You can buy plain aprons and then press whatever you like onto them. Here are some funny ideas at Cafe Press, or you can view their products on Amazon.
Personally, I think it's most hilarious when a personal or inside joke is pressed onto the apron. Even if it's just your friend's odd nick name in a rhyme.
If you don't yet have a cutting machine to produce your own vinyl cut outs, have a look at our article on the Cricut Explore Air 2.
If necessary, then make sure you use a heat printing pillow, like in the video below, so that you can get adequate pressure on your transfer.
#4 Cushions
Every interior designers dream. Nothing finishes a room off like a good old cushion. They can also be a special way of letting your personality out. Or, as a gift, you can create a cushion cover that shows how much you know and care about your friend.
If you have a cutting machine and a heat press, you are no longer limited to what you can find at the store, you can create your own. Choose a design or phrase that sums up your friend and will make them happy each time they see it.
Get sets of plain cushions from Amazon. Press matching designs onto all or make them different. Make them for a sofa or to decorate a bed.
In the video below you'll see just how super easy this project is to do. These cushions were purchased from Target and it's very simple to press the design on top.
Just make sure you use heat tape to secure your transfer, like in the video, so that your design doesn't move slightly when pressing.
#5 Pillowcases
Pillowcases – well, to be honest, there is not a huge amount of difference between these and cushion covers. Though the main difference is, of course, where they'll be displayed. Cushions are most likely going to be in the family room or lounge and the pillows in the bedroom.
One thing to keep in mind with a pillowcase is to choose comfortable vinyl that isn't going to irritate when one puts their head on it. You could try using flocked vinyl which has a furry feel to it, to add some texture to a space.
Another idea is to use a dye sublimation transfer like in the video below. It's also a good idea to pick up these heat press accessories which will give you the best result.
#6 Cosmetic Bags
Who hasn't ever desired their own personalized cosmetic bag?? 😉
This is a cheap and easy gift you could make for multiple friends.
Pick up some plain cosmetic bags and you've got a blank slate to work with. You could put their name on it – though that might be a little boring. Go with their nick-name at least. Or else you could put their status for a special day – like the 'bride' example above.
If you don't want to or you are unable to cut your own vinyl, you can go to Etsy stores like this one and get cut and weeded vinyl decals sent to your door.
See an example of what you can create in the video below. However, be sure to use a heat press instead of an iron so that you transfer will last much longer.
#6 Tank Tops / T-Shirts
We can't talk about gifts made with a heat press without bringing up t-shirts – and tank tops!
Hopefully you've already got a heat press, so it's more than likely you're already pressing t-shirts. T-shirts are of course a staple diet for the heat press. But when it comes to making someone a t-shirt or tank top as a gift, make sure you're thinking outside the box.
Make it personal, while making sure it's something they'll still wear out and about.
I love the finished product in the video below using glitter vinyl and magic foil. I think it came out awesome!
#7 Place Mats
Now these are a little outside the box (though they'd look nice gifted inside a box): Custom place mats!
This time, get a blank set of place mats and get going!
You could make a set with uniform designs or patterns on them, which would be easier. Or, you could make every one unique! However, if you go with the latter, I would suggest sticking to a theme. For example, you could design a monogram and make a set, or you could put 6 different types of large fruit decals.
Just like in the video below, you can create gifts like this for all different occasions, not just birthdays. You could gift these for seasonal decor, or for holidays such as thanksgiving with place mats that say "Give Thanks".
#8 Tea Towels

Another unique option. How many people have ever received a custom tea towel!
The versatility of a heat press is amazing. Once you start thinking, is there ever an end to the things you can make? There is a wide variety of vinyls, or graphics from an inkjet printer, which you can press onto a wide variety of substrates (If you're using an inkjet printer to print designs to press, make sure you're using heat transfer ink).
The only problem with this option is that the giftee will not want to use their gift! It will likely be too nice. You might be surprised next time you go over, it could be on their wall!
The autumn themed tea towel in this video is a great idea.
#9 Mugs
You can't go wrong gifting a personalized mug.
You will need a heat press especially for mugs in order to do this. If you splash out on one of these just to make gifts, you better tell your friends and family to expect nothing less than a personalized mug each birthday and Christmas for the next couple years. Or perhaps you could start up your own little Etsy store?
My husband was gifted a mug which simply said 'Dad'. He absolutely loves it!
See the video below for a demonstration of how to use a mug press, if you haven't used one before.
#10 Hats
With hats you might need to be a little more discerning as to what to put on it. The friend or family member you gift this to is going to be advertising whatever it is you put on it. You better be sure they'll like it!
You could put your friend's favorite sports team or a funny slogan. Browse Pinterest to get some ideas and see what you like.
In the following video you'll see how to get the top of the cap perfectly flat and tight, so that you won't get any wrinkles in your transfer.
I hope you've enjoyed reading these ideas and that there's something you'd like to try out. We also hope the videos were able to give you a few tips.
Whatever the case, a personalized handmade item is always treasured. It can be difficult to come up with the perfect design or slogan, but it will be worth it.
If you need a heat press, we have a list of the best cheap heat press machines here – or, have a look at our tips for buying a heat press off Amazon.
Please share any other ideas you have in the comments section below. Thanks for reading!
(Please note: This post contains affiliate links. Read our full disclosure policy here.)