10 Cheap & Easy Gifts You Can Make With A Heat Press Machine
Do you always feel like you leave buying gifts to the very last minute, and never know what to get?
Maybe you've got a birthday party coming up or you know someone who just had a baby… Do you own a heat press but need some inspiration about what you could make with it?
In this post, I've got 10 gift ideas ideas that you can make with a heat press machine. Give your friends and family unique handmade gifts that they will treasure forever.
Heat Press Gift Ideas
There are so many items that you can heat press heat transfer vinyl or transfer inks on. Clothing, of course, is the number one item, because everyone loves a hand made custom tee! But besides that, you can heat press:
bags – tote bags, cosmetic bags, & other hand bags
wood – farmhouse signs or wooden plaques
pillow cases – both for the bed or as a living room throw pillow
cups & mugs
and much more
Most of these heat press projects can also be made with a home iron or with the Cricut EasyPress.
1. Custom Baby Bodysuits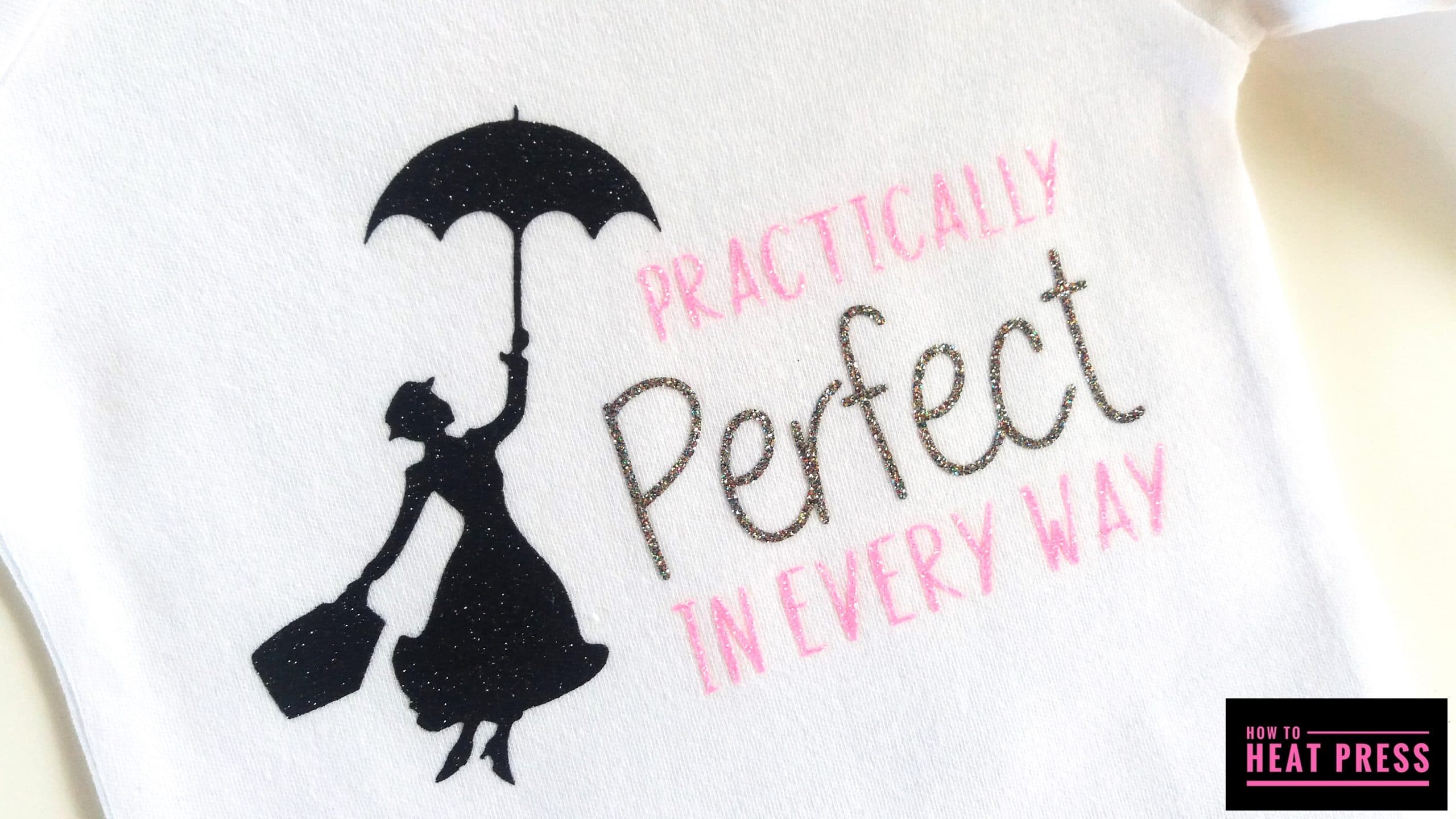 I give everyone I know who has a baby a custom baby onesie. I'd almost call it some sort of a tradition at this rate! I buy bulk blank Gerber baby onesies and have them on hand as the little ones arrive.
I did this Mary Poppins baby onesie project recently using Glitter heat transfer vinyl (such a pretty product!). These gifts for babies tend to be kept and treasured by moms and are really appreciated.
Here are some other fun baby onesie design ideas:
"EST 2018"
"A James & Amy Production"
"Spent 9 Months Inside"
"Fearfully & Wonderfully Made"
Personalize baby clothing with the baby's name or put their age
This video gives another example of how to personalize a baby onesie using a Silhouette CAMEO.
2. DIY Throw Pillows & Cushions
Make your own custom throw pillows and cushions with a heat press or iron. The Peter Rabbit Pillow above was another recent project I completed using a super cool Typewriter Font.
Who wouldn't love getting a handmade heat press project like this? If you have a cutting machine and a heat press, you are no longer limited to what you can find at the store, you can create your own. Choose a design or phrase that sums up your friend and will put a smile on their dial each time they see it.
There are so many choices for blank pillow cases in all shapes, sizes, and colors. Choose one you know your friend will love, and don't forget the pillow inserts. If you start by choosing the size of cushion cover that you want, you can usually then search (for example) '18 x 18 pillow insert' and you will see your options.
The following video shows how to make a DIY Throw Pillow from scrap vinyl – see how easy it is!
3. Make A Reverse Canvas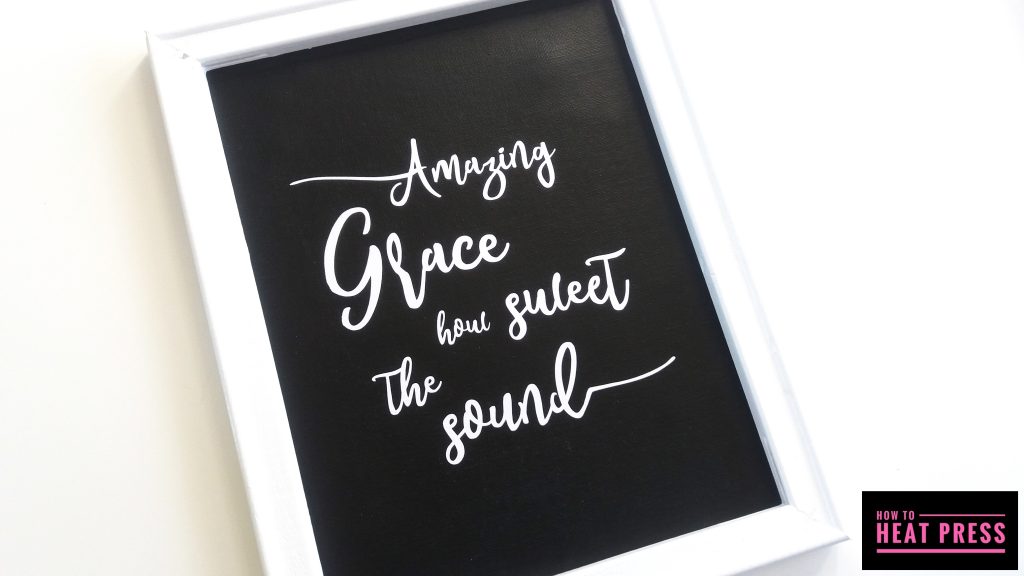 Make a Reverse Canvas with HTV. Believe it or not, these creations are made from an ordinary stretched canvas! The 'Amazing Grace' canvas was made with HTV, but reverse canvases can be made with either adhesive vinyl or heat transfer vinyl.
This is definitely a cheap and easy heat press gift, but it's not done quickly – it takes time and patience while waiting for paint to dry! As with the pillows above, you can buy a canvas in whatever size you like and customize it to your friends tastes.
You might want to keep it for yourself by the time your done!
4. Personalized T-Shirts & Tank Tops
I can't tell you how many times I've made t shirts with my heat press for gifts. They are generally very easy to make, and look fantastic. The peacock tee above was one I made for my daughter. It was slightly more complicated with the different colors. For more info, see how to make a multicolored heat transfer vinyl design.
I love the finished product in the video below.  Lisa from TRW uses glitter vinyl and magic foil on a tank top. I think it came out awesome!
5. Bags / Totes
Custom tote bags are another fantastic and easy heat press gift idea. Make sure you're pressing onto a quality tote bag and you'll know it's going to last them a long time. I've personally been given gifts like this and I know I think of the person each time I go to use the bag (which is often!).
You could also find smaller children's bags or backpacks and personalize them with their favorite cartoon characters or animals. I know my daughter would love a Thomas the Tank Engine bag (or a Thomas the Tank Engine anything!).
You might like to check out Cricut's range of Iron On vinyl for this project. They have such great varieties and colors that will make beautifully stunning designs for heat pressing.
Check out the video below where you'll see how to get the pressure from your heat press exactly right so that you don't get any wrinkles in your transfer.
6. Pillowcases
Pillowcases – well, to be honest, there is not a huge amount of difference between these and cushion covers. Though the main difference is, of course, where they'll be displayed. Cushions are most likely going to be in the family room or lounge and the pillows in the bedroom.
One thing to keep in mind with a pillowcase is to choose comfortable vinyl that isn't going to irritate when one puts their head on it. You could try using flocked vinyl which has a furry feel to it, to add some texture to a space.
Another idea is to use a dye sublimation transfer like in the video below.
7. Custom Cosmetic Bags
Personalized cosmetic bags are another great gift idea. Every girl needs one or five, but she'll love the custom one most.
Pick up some plain cosmetic bags and you've got a blank slate to work with. You could put their name on it – though that might be a little boring. Go with their nick-name at least. Or else you could put their status for a special day – like the 'bride' example above.
See another example of what you can create in the video below.
8. Custom Place Mats
Have you already given your mom everything listed above? What about custom place mats!?
This Christmas (Birthday, or Mothers' Day), grab some blanks, and make her some custom place mats!
You could make a set with the same designs or patterns on them, which would be easier. Or you could make every one unique! However, if you go with the latter, I suggest sticking to a theme. For example, you could design a monogram for each member of the household, or choose from thousands of free SVG files.
Just like in the video below, you can create gifts like this for all different occasions, not just birthdays. You could gift these for seasonal decor, or for holidays such as thanksgiving with place mats that say "Give Thanks".
9. Personalized Mugs
You can't go wrong gifting a personalized mug. My whole family (immediate and extended) got one each last Christmas, and I've since heard that many of them use theirs each day!
You can use HTV or adhesive vinyl for this project, but you will need a mug heat press if using the former. Adhesive vinyl is probably the best bet if you don't have one.
See the video below for a demonstration of how to use a mug press, if you haven't used one before.
10. DIY Caps & Hats
If gifting a hat, you might need to be a little more discerning as to what to put on it. The friend or family member you gift this to is going to be advertising whatever it is you put on it. You better be sure they'll like it!
In the following video you'll see how to get the top of the cap perfectly flat and tight, so that you won't get any wrinkles in your transfer. If you and your friends are cap lovers, consider getting a cap heat press machine.
I hope you've enjoyed reading these ideas and that there's something you'd like to try out. We also hope the videos were able to give you a few tips.
Whatever the case, a personalized handmade item is always treasured. It can be difficult to come up with the perfect design or slogan, but it will be worth it.
Please share any other ideas you have in the comments section below. Thanks for reading!
Pin this post! 🙂
(Please note: This post contains affiliate links. Read our full disclosure policy here.)