Sublimation Transfers: Wholesale, Ready To Press, Custom, & DIY
This post contains affiliate links. If you use these links to buy something, we may earn a commission, but it doesn't cost you anything. Thanks!
Where can you get sublimation transfers?
If you are wanting to try different t shirt printing methods, and are keen to give sublimation printing a go, it's probably best to start with pre-made transfers. Buying a sublimation printer is a real commitment!
In this post we'll share where or how you can:
get premade sublimation transfers
order custom sublimation prints
make your own heat transfers
use alternatives to dye sub transfers
The Best Sublimation Transfers
Sublimation printed transfers need to be pressed with either a heat press or the Cricut EasyPress 2 – a regular household iron will not be suitable.
The heat press needs to reach at least 400°F. If you have problems with sublimation transfers, it's a good idea to test the temperature of your machine with a laser thermometer. The most common problem is that the machine is not reaching the set temperature consistently across the platen.
Ready To Press Sublimation Transfers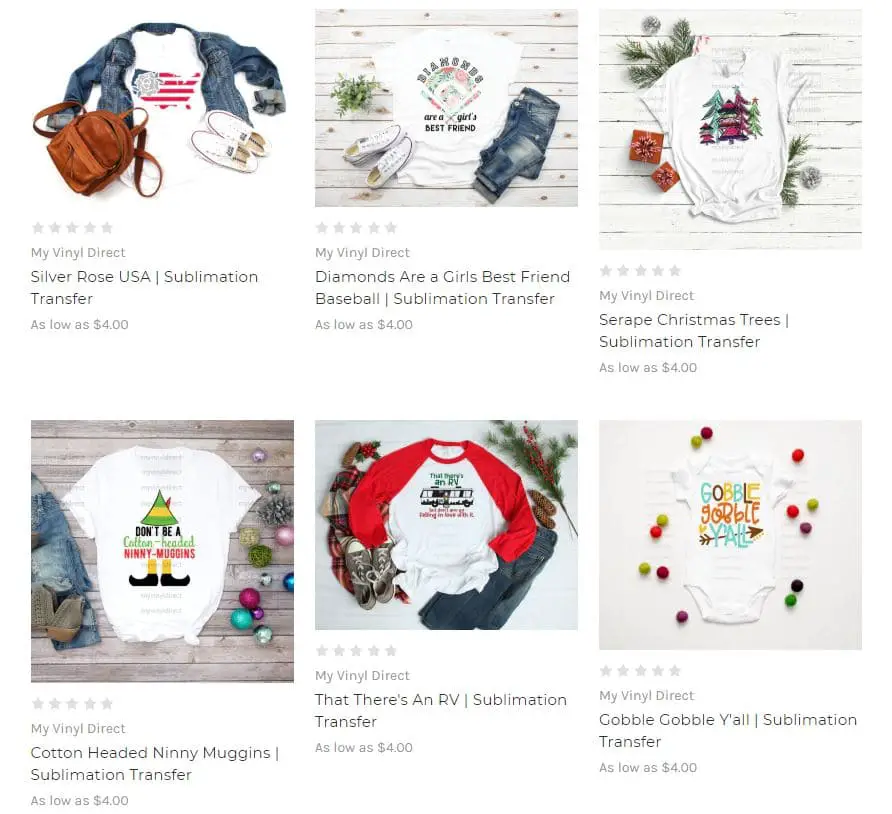 Our first recommended spot to go for ready to press sublimation transfers is My Vinyl Direct.
With the following design categories, you are sure to find what you're looking for:
Easter
Mardi Gras
Seasons
St. Patricks Day
Valentine's
Animals
Black Friday
Christmas & Winter
Faith/Beliefs/Good Vibes
Fall & Thanksgiving
Halloween
Kids
Mermaid/Unicorn/Llama
Mom Life
New Year
Outdoors/Camping
Patriotic
School
Sports
My Vinyl Direct's pre printed sub transfers can be used on 100% polyester garments for a bold vibrant look, or on 60% poly-blend garments for a more faded vintage look.
White garments are always recommended for use with these transfers, but you can get away with other very light colored poly garments, though results will not be as vibrant.
You can also use these transfers on other poly coated sublimation blanks.
Premade Sublimation Transfers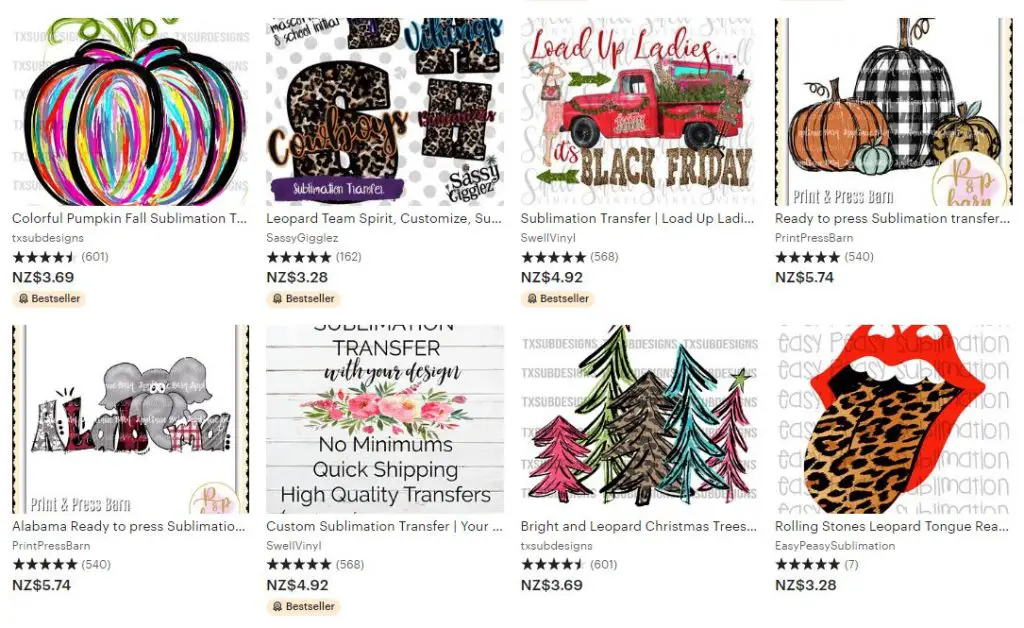 You will also find a good range of dye sub transfers on Etsy.
When purchasing though, make sure you are not just buying sublimation designs. There are a lot of those which get mixed up in the search results! Most of the pre-printed transfers are titled 'ready to press'.
Pre Printed Sublimation Transfers
You can also find premade sublimation transfers, like the one pictured above, on Amazon. However, the range is fairly limited, mostly a lot of fall designs, and more expensive than other sites.
Though if you are looking for sublimation transfer paper for printing your own heat transfers, Amazon is the place to go!
Custom Sublimation Transfers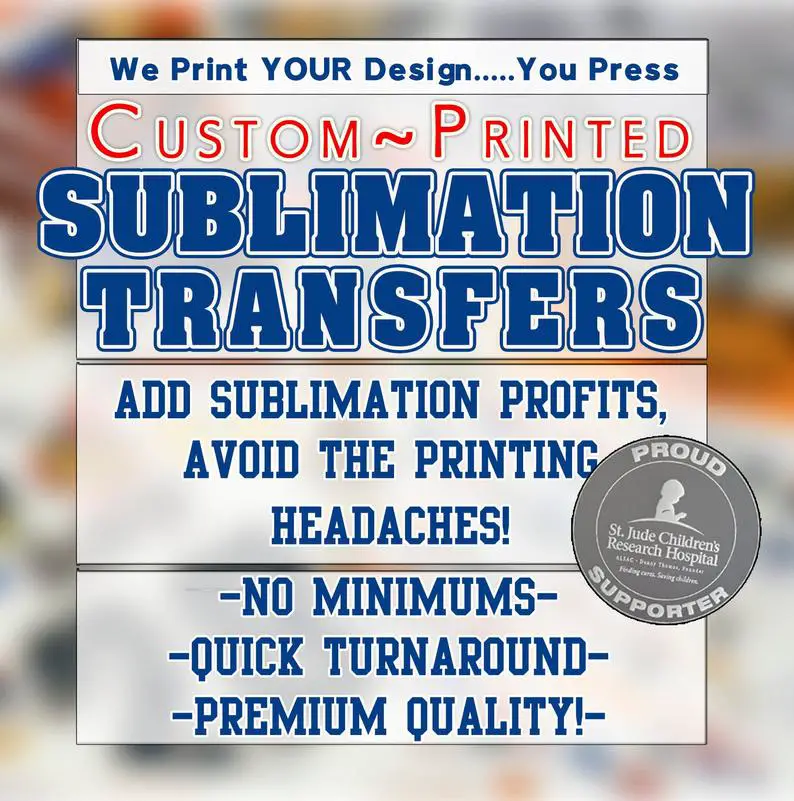 You can order custom sublimation transfers through this seller on Etsy.
They use ultra-premium quality, large format sublimation paper that is a thicker weight than standard. This paper holds more sublimation ink giving a deeper, more vivid transfer.  These prints are good for garments as well as hard substrates.
Email through your artwork and they will print and post your finished transfers. These wholesale sublimation transfers are a good price and there are non minimum orders – get 1 or 100!
Orders are completed quickly and the quality is top notch – check out the reviews for yourself!
Print Your Own

What do you need if you want to print your own dye sub transfers?
You will need a dye sublimation printer, such as the SawGrass SG400 pictured above.
The SawGrass Printer range is more expensive than converting an inkjet printer to sublimation (such as an Epson Workforce), but these machines give the best results.
You will also need sublimation ink and paper.
The biggest investment is obviously the printer, and once the machine has sublimation ink through it, it needs to remain a dedicated dye sub machine. It can't be used again as an inkjet printer, for example.
More information can be found in this post on the sublimation printing process.
Sublimation Alternatives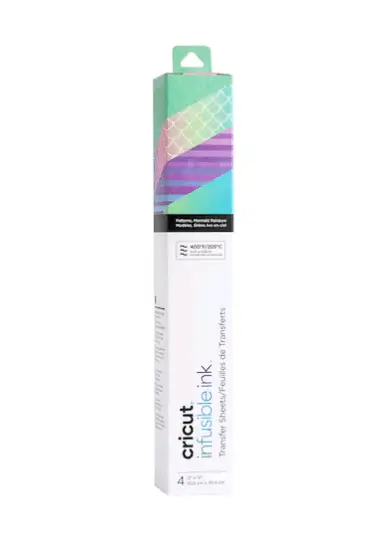 A new sublimation alternative is Cricut Infusible Ink.
These are pre printed sublimation sheets which are used in tandem with a cutting machine. You cut a design from the printed sheet and apply it in the same way as an ordinary sub transfer.
Again, they can only be used on white poly garments or coated products.
Another alternative is screen printing or HTV transfers.
Dye Sub Transfers
If you have any further questions on sublimation transfers, please leave them down below in the comments.
Unless you are looking for custom printed designs, I would again recommend the range over on My Vinyl Direct. I'm looking forward to trying some out for myself in the near future!
(Please note: This post contains affiliate links. Read our full disclosure policy here.)