Janome HD1000 Review: Is It Best For You?
This post contains affiliate links. If you use these links to buy something, we may earn a commission, but it doesn't cost you anything. Thanks!
Should you pick up the Janome HD1000?
Choosing a heavy duty sewing machine means buying something that delivers excellent value for money.
Janome is known for providing user-friendly products that appeal to both beginners and more experienced users. However, with the HD1000, Janome is taking durability up a notch offering a reliable machine that won't disappoint you.
The Janome HD1000
The Janome HD1000 is a simple yet resourceful machine that caters to the needs of serious sewers. It offers a sturdy frame made of aluminum that encloses an interior of multiple useful features for all of your sewing needs.
This is not a fancy or computerized machine with hundreds of built-in stitches. But as a beginner or an intermediate-level user, you'll probably never need those.
Janome understands the needs of first-timers and those who are still taking their first steps in the world of sewing. It provides them with a durable and reliable machine that they can easily adjust for multiple projects.
Pros:
The machine delivers lots of power with multiple built-in features that can help you start sewing.
It doesn't break down and can withstand more challenging projects like sewing on high-pile fabrics or quilting.
It's made of aluminum. The cast aluminum body withstands heavy-duty use and keeps your machine in excellent shape.
The fabric feeding system guarantees that there will be no jamming. Smooth feeding is something that every sewer would appreciate because it saves you a lot of hassle.
It comes with a free arm that allows you to work on cuffs and pants. This will guarantee that you can finish any project with no problems.
Cons:
Adjusting the drop feed and winding the bobbin system is a bit challenging. It takes time to learn how to do these things right.
Threading this machine is not what you're used to. However, if you're a beginner, this should not be a problem.
Janome HD1000 Review
The HD1000 weighs 21.8 pounds and has a work area of W 6.4 x H 4.7 inches so it can be used for most sewing projects. It also comes with a free arm so you can finish pants, sleeves, cuffs, and collars with no problems.
Key Features Include:
14 built-in stitches
1 four-step buttonhole feature
Free arm accessory
Push-pull bobbin winding and drop feed
Snap-on presser feet
Manual tension control
Front-loading hook bobbin to prevent jamming
Maximum stitch: 5mm W X 4mm L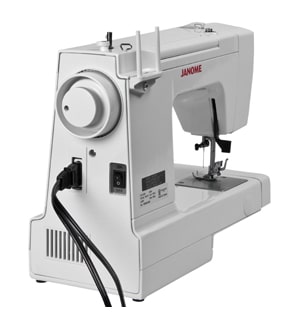 The HD1000 is a recommended machine for beginners because all the features are easy to access and adjust. Moreover, it offers the needed versatility that allows first-timers to experiment with various choices.
This is a straightforward machine but it offers more than just the basic features so you can definitely use it as you become more experienced.
Those who have been sewing for a while will enjoy its reliability and resourcefulness.
Best Price On The Janome HD1000
How can you find the cheapest Janome HD1000? By comparing prices across retailers of course!
Take a look at the following top 5 Janome sewing machine retailers to get the best deal available. Keep in mind shipping costs (most have free shipping), what bonuses come with the machine, and whether you have any coupons for the Janome HD1000.
Janome HD1000 Black Edition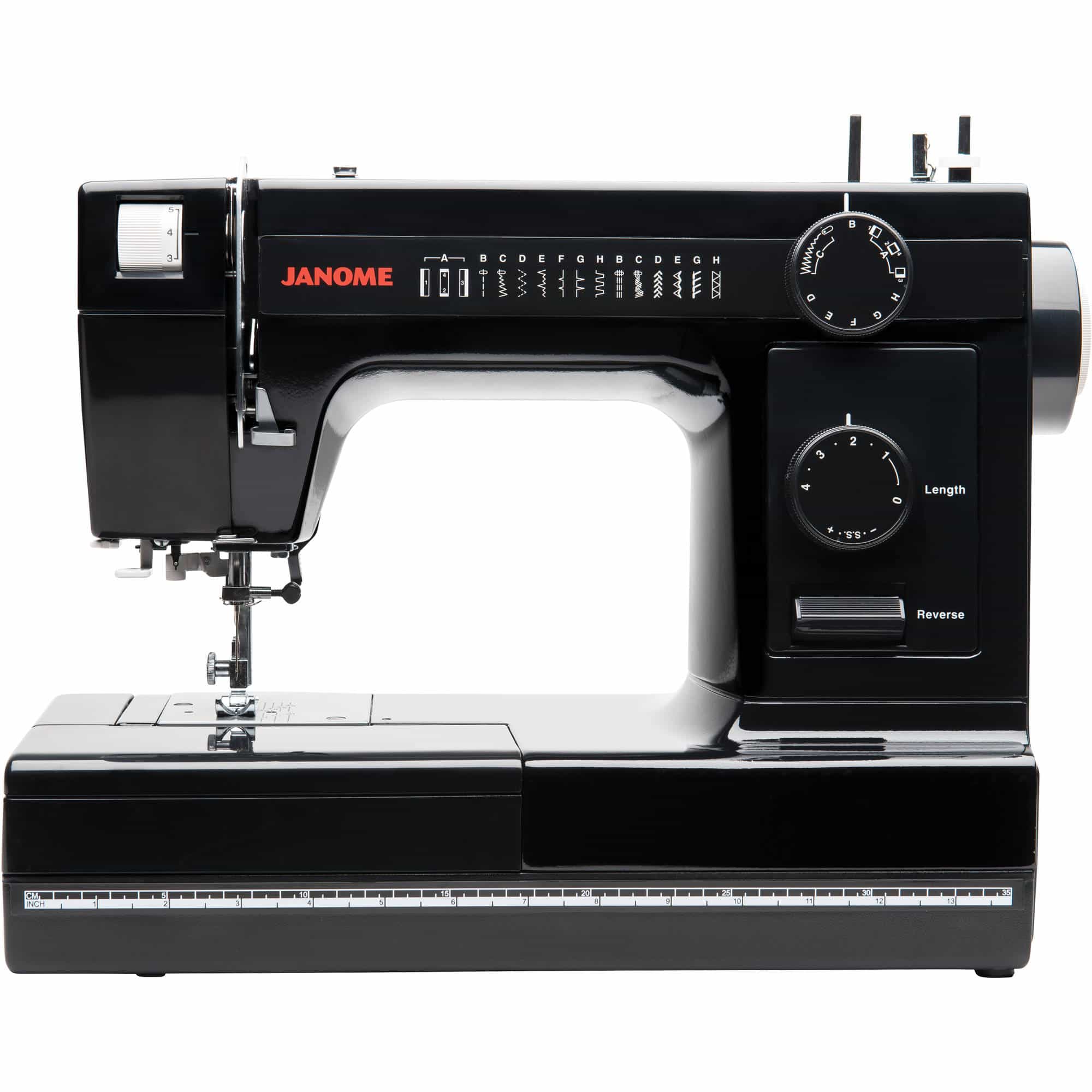 Is there any difference between the white & black machines?
The Janome HD1000 Black Edition and the regular white machine are they same, other than the color. And I must admit, I much prefer the Black Edition… so much cooler!
The only other difference that you might possibly find is not to with the machine itself, but rather with what's included. Depending on the retailer or HD1000 bundle you are looking at, there may be different accessories.
What Comes With The HD1000?
It can depend on where you buy it (so make sure you check), but the machine generally comes with the following:
Extra bobbins and needles
Felt
Two screwdrivers
Seam and buttonhole ripper
Several feet: zipper, hemmer foot, and buttonhole
Hem guide
Soft dust cover
Check out the following Janome HD-1000 unboxing to see it all!
Performance Of The HD1000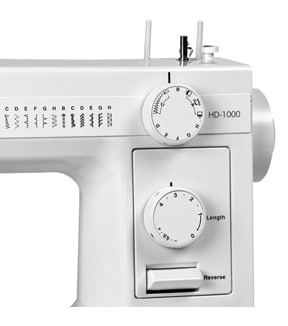 Selecting and adjusting your stitches is easy, although there aren't lots of stitches to choose from. Nevertheless, the machine is good value for money given the quality it delivers.
However, winding the bobbin isn't that easy, as you'll need to disengage then re-engage the needle. You'll learn to do this faster the more you use the machine.
The 3-piece feed dog system stabilizes your fabric and prevents accidental jamming that can suck the fun out of your sewing experience. This will help you a lot, especially if you're working with a high-pile fabric.
The HD1000 will deliver a maximum speed of 840 stitches per minute. You can easily adjust this speed depending on the fabric you're working with.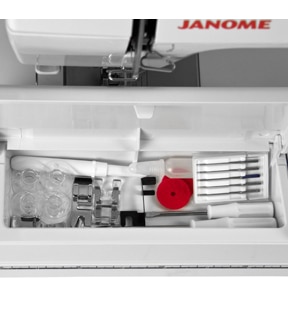 For free-motion sewing, you can use the drop feed. This is an excellent feature while quilting or working on buttonholes. The HD1000 also comes with a removable free arm. You can use this practical piece to work on cuffs, sleeves or pants.
Most sewing machines thread from left to right. However, this one threads from the opposite direction. If you've always struggled with threading your sewing machine and needed to go to the other side, you'll definitely appreciate this feature. However, left-hand users and those who have been using sewing machines for long might find this a bit confusing, especially at the beginning.
The strong 10 amp motor of this machine is an excellent choice for users who are on a tight budget. It delivers the needed power so it won't break down even if you choose to use your machine every day.
Who's the Janome HD1000 For?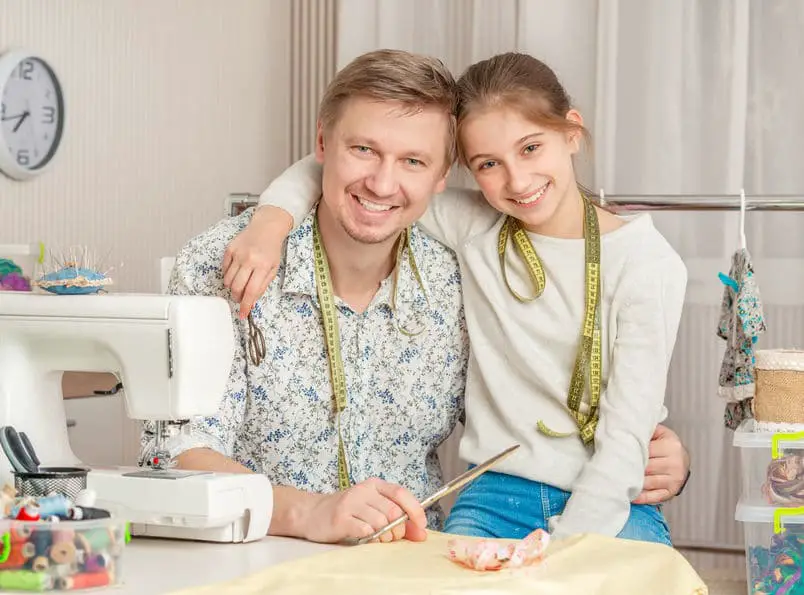 Beginners and those who have never used a sewing machine before will definitely love the HD1000. It's designed to deliver most of the necessary features that can help you discover the world of sewing.
However, you shouldn't take this machine lightly. It comes with several useful accessories and the ability to adjust your stitches and speed, so you can certainly use it as you become more experienced.
We recommend this model for those who are looking for a sturdy and reliable model that can last for a long time.
Janome HD1000
With the HD100, Janome is offering a sewing machine that you can use as a first-timer and for years to come.
The machine is well-built with a sturdy aluminum frame and excellent features so you can try several sewing projects. Adjusting and customizing your machine is easy because it's designed to deliver exceptional performance.
If you're using a sewing machine for the first time, you might struggle a little to find your way around the bobbin system. Nevertheless, you shouldn't mistake this machine for a basic machine that doesn't offer much versatility.
You can definitely use it as an experienced user as it can be used for quilting projects and sewing on heavier materials.
An alternative to the HD1000 is a Janome Embroidery Machine. Many of these machines can also be used as a sewing machine, but you get the additional benefit of being able to embroider!
Thanks for reading!
(Please note: This post contains affiliate links. Read our full disclosure policy here.)