How to Make a Custom Cricut Baby Onesie® & Other Baby Gear
This post contains affiliate links. If you use these links to buy something, we may earn a commission, but it doesn't cost you anything. Thanks!
Babies are the cutest – and so are their clothes and accessories! Whether you're having a baby or looking to make an amazing personalized gift, we've got a ton of unique ideas for how to make a Cricut baby Onesie ® along with blankets, bibs, baby hats, and more!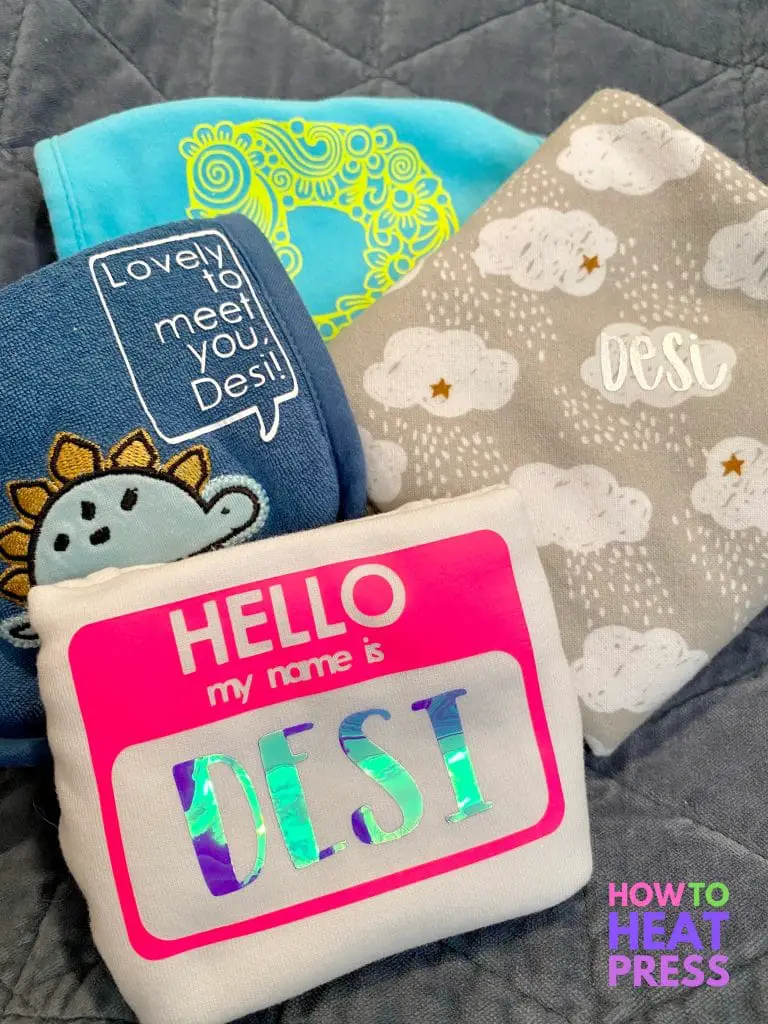 All of the items that were customized in this post were donated to us by Gerber®. If you thought they only made baby food you're in for a surprise! Gerber Childrenswear makes clothes and accessories for newborns through 5T toddlers. The company creates quality clothing at an incredible price point and has a huge selection!
In this post we've customized over 25 baby essentials so keep on scrolling for all the custom baby item inspiration!
Baby Blanks for Customization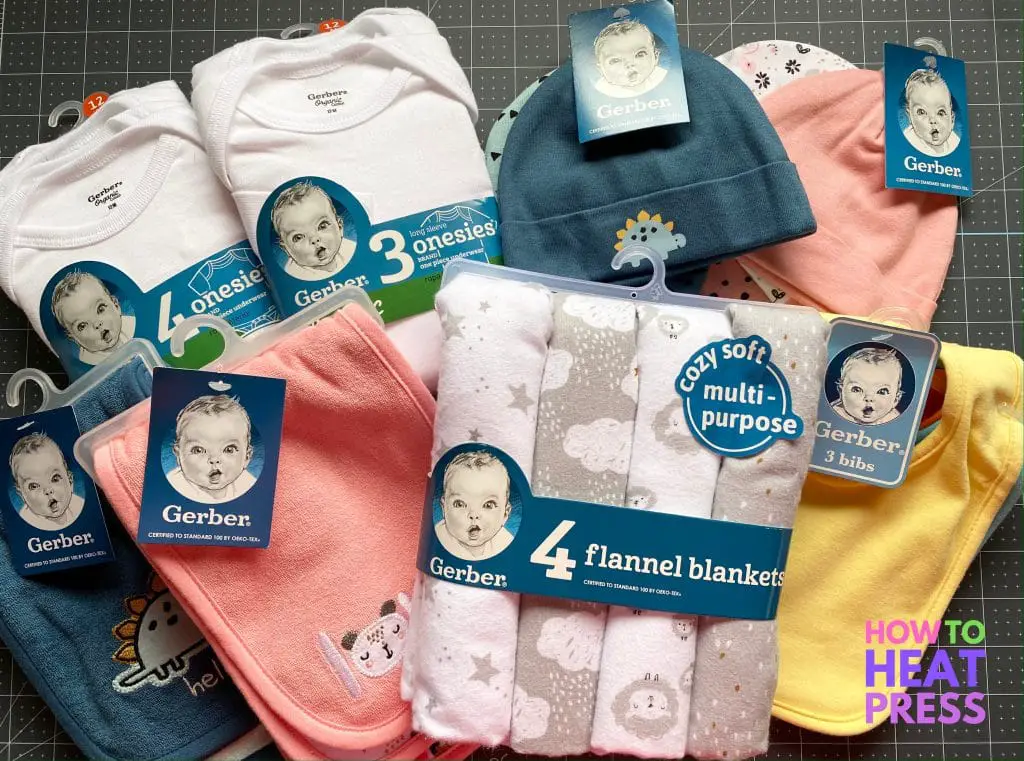 When it comes to customizing your own DIY baby gifts you can't go wrong with the classic Gerber Onesies ® Brand bodysuit. Parents love them because they stay on a squirmy baby, peel down around the shoulders when there's a dreaded blow out (yup, that's what those cute little cutouts in the shoulders are for), and they're cheap! Gerber® offers them in the whole rainbow, short-sleeve or long-sleeve, and they've even got a line of Onesies® made with Organic cotton which we've customized in this post.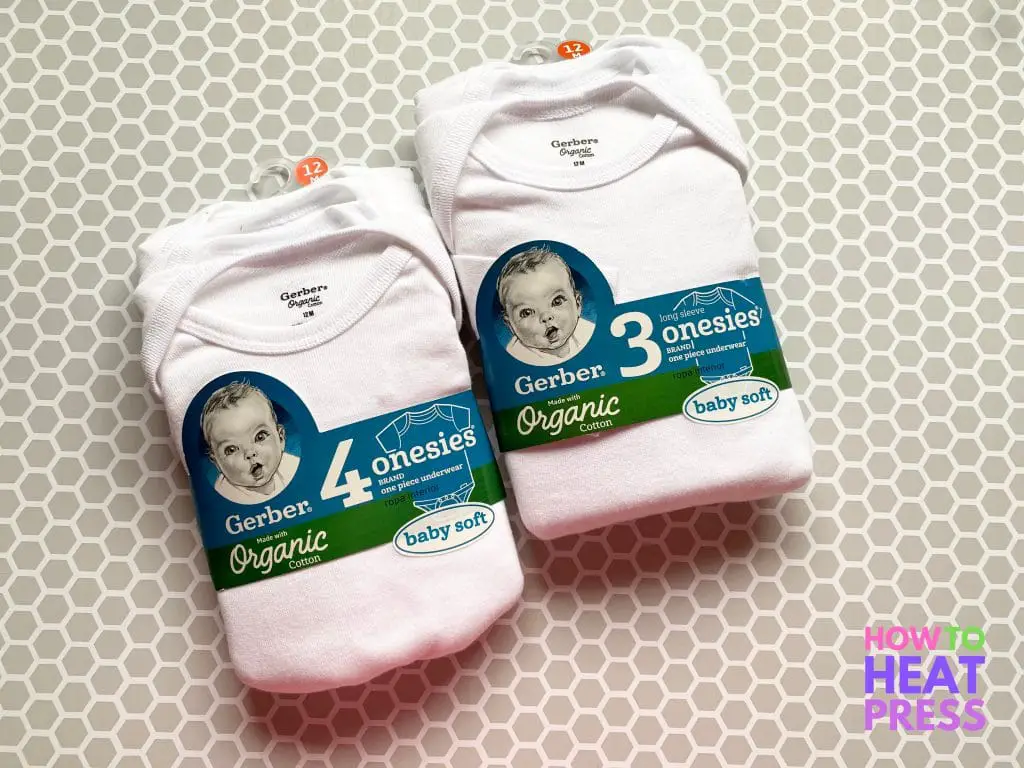 If you want to add something to make your gift extra special you could choose to customize a hat/mitten set. While the hats and mittens are ideal and oh so adorable for newborns parents know the real unsung heroes in the early baby days are the bibs, burp cloths, and swaddle/receiving blankets that get used for everything from actual blankets to on-the-go changing pads, sun shades, and essential defense for when 'spit happens'.
In this post you'll get to see examples of how to customize Gerber® baby bodysuits, bibs, hats, mittens, burp cloths, and swaddle blankets!
Materials for Custom Cricut Baby Onesies ®
To make  custom baby item you'll need a cutting machine, heat transfer vinyl, and an iron or a heat press to apply your designs. We made all of the items below with the Cricut Joy with just one exception as noted. It's important to note this because it's just another example of how much you can do with such a tiny little powerhouse cutting machine! You could absolutely make any of these any Cricut machine – the Cricut Explore Air 2, Cricut Maker, or the Silhouette Cameo machines.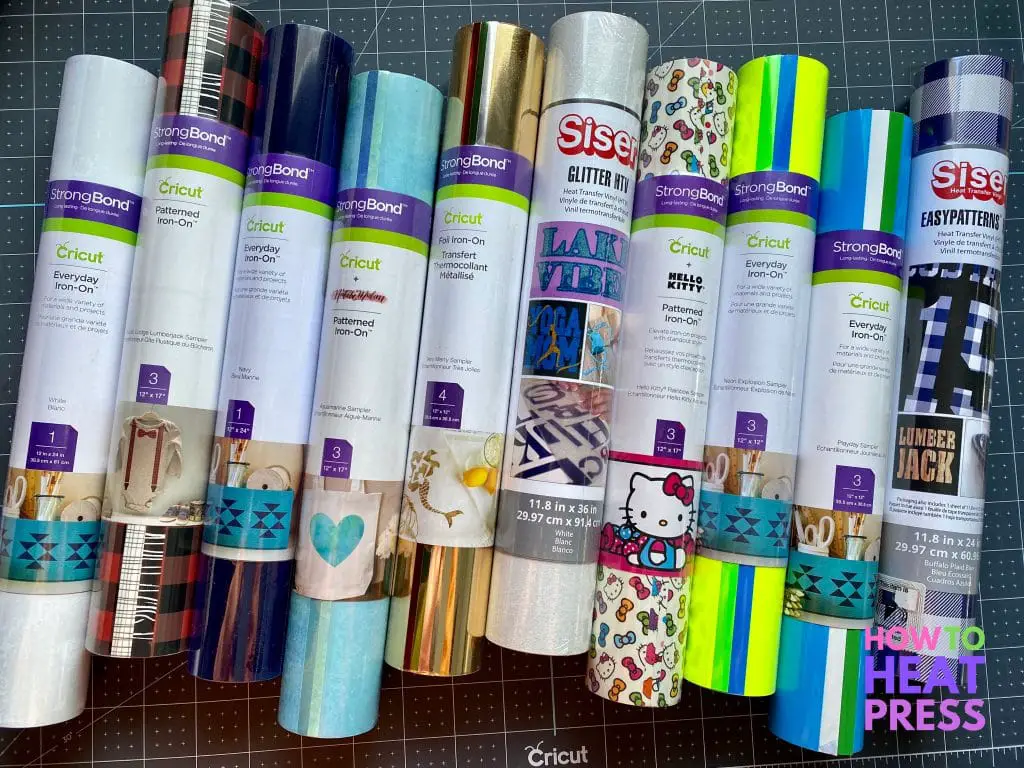 If you're starting with classic blank white for your DIY baby Onesie ® then your choices for heat transfer vinyl are literally endless. As you'll see in the examples below it can be a little trickier when you are adding custom elements to an existing pattern. For example, we added silver HTV to a cloud pattern (yes, because we sometimes need reminding of the silver lining!). We also chose to use negative space designs in metallic foil HTV over top of busier patterns. For each project below we'll share the exact materials we chose.
We used a combination of HTV from Cricut including their Everyday Iron-On, Glitter Iron-On, Foil Iron-On, Holographic Iron-On, and Patterned Iron-On (in Hello Kitty!!!). There are certainly cheaper options for HTV from brands you may not recognize on Amazon but we went with the sure bet to make certain our hard work lasts.
You might be wondering why we're not using Infusible Ink Transfer Sheets in any designs. The answer is simple, they won't work! Infusible Ink won't adhere to cotton which is what all of the Gerber® items we're customizing are made of.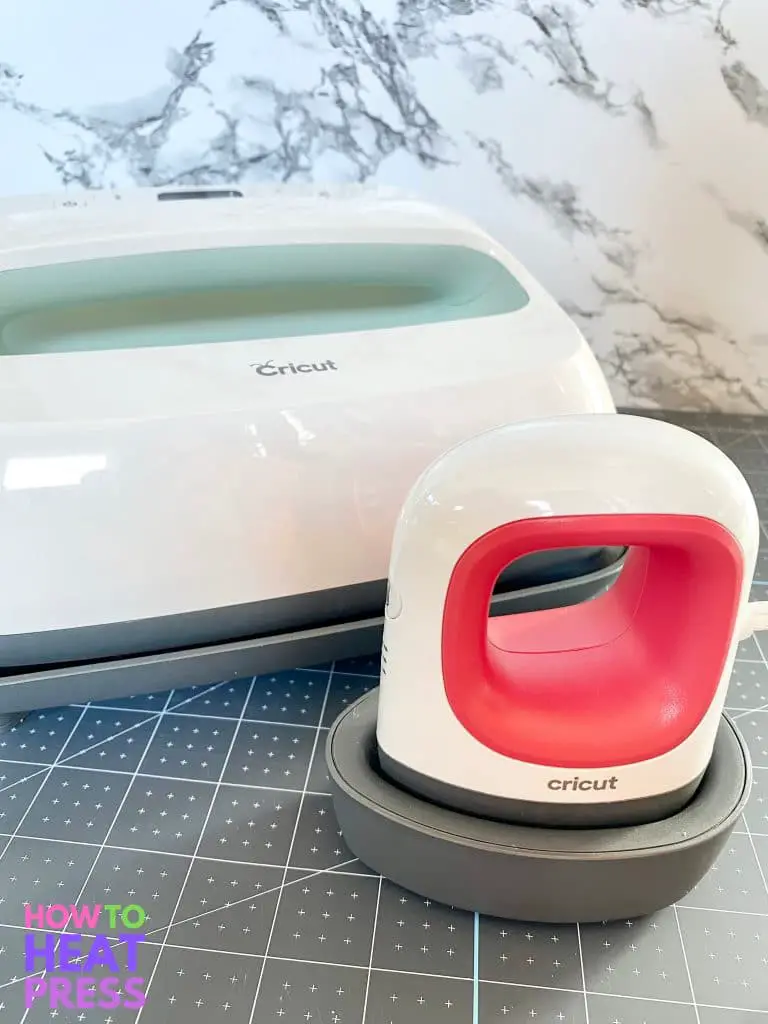 While your regular home iron will get the job done more or less you're much better off investing in a heat press to ensure top quality. Working with tiny baby items can be tricky with a large heat press and because of that we used a combination of the Cricut EasyPress Mini and the Easy Press 2 for personalizing this baby gear.
Creating Cricut Baby Onesie® Designs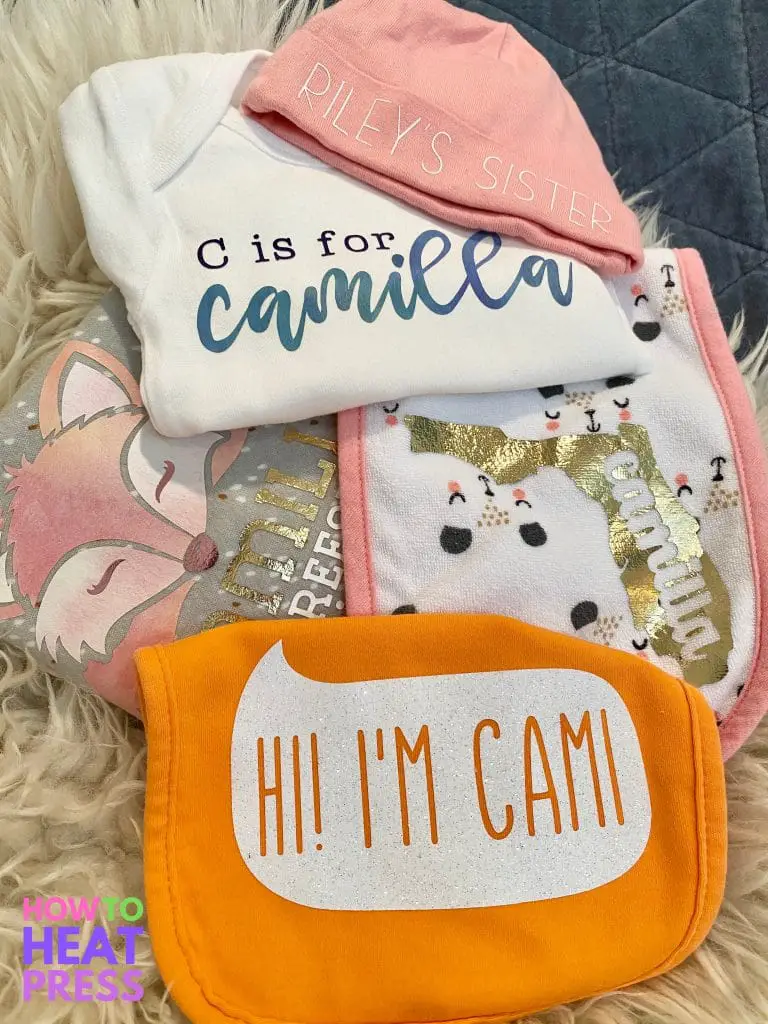 First, you can't go wrong so don't stress! You're making a personalized gift for the most loved little being in a new family so there's no wrong way to go. The recipients (or you!) will love it no matter what design or colors you choose because the most important thing is it's got their baby's sweet name on it!
For each design showcased below, we'll share the source of the design and/or the font we chose. You're not limited to the fonts in Cricut Design Space (though there are many great options) and uploading your own fonts to Design Space is simple. In general, we kept the designs simple and made an effort to showcase what really matters – information about the new baby!
Sometimes it's just easier to pay a couple bucks for a design or a font that's exactly what you want but there is an endless supply of free SVGs out there. If you have a bit of extra time you can save those precious pennies!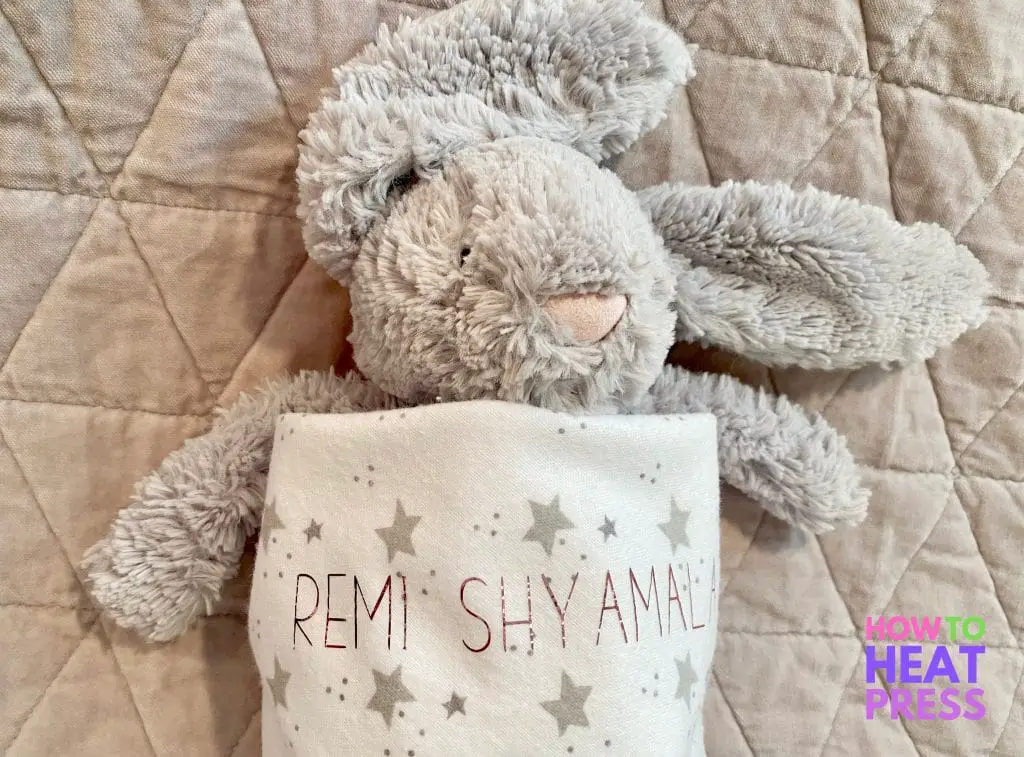 Some great ideas for customizing baby items include:
Baby's name or nickname
Birthdate
Place of Birth
Birth stats like height and weight
Parent or sibling names
Initials in a monogram
If you're making something for a baby shower gift and the baby's gender or name haven't been revealed there's still a lot you can do to customize their baby gift. Below you'll see an example of a Onesie® made just for a babe who's still brewing – just use the last name (ex. Baby Smith). You could also make holiday themed Onesies® or leggings to get them through the whole year!
Feeling like this is cool but maybe not for you? Etsy's got you covered.
Cut and Weed Your Design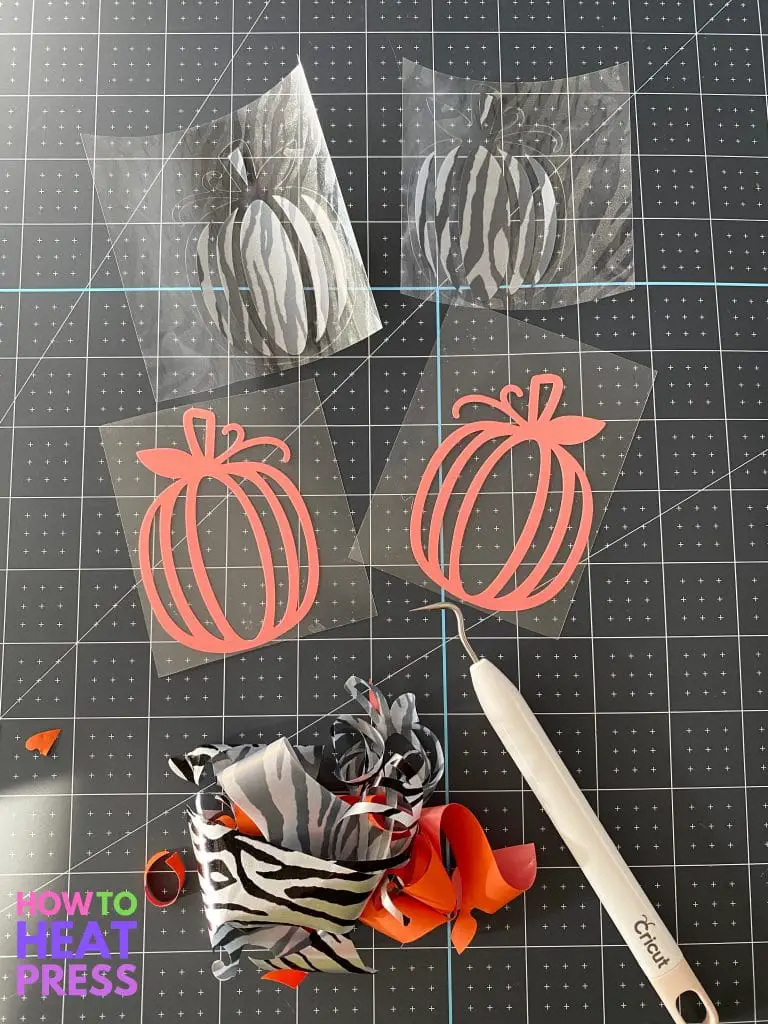 For the purposes of this post we're assuming you already know how to create and cut designs in Cricut Design Space. If you need any pointers check out these tutorials:
When cutting HTV (unlike adhesive vinyl) you will always place the carrier sheet side down onto your cutting mat. That means that the side that is often dull or obviously lacking pattern is face up and ready to be cut. The most important tip for cutting is that you MUST remember to mirror your design before cutting. You have to do this so that when you apply the design you can actually read it. Thankfully Design Space now gives a little reminder if you've selected an Iron-on material but it's still easy to miss!
Most HTV is easy to weed, especially the Everyday Iron-On because the carrier sheet is sticky. I've found that some of the patterned heat transfer vinyl can be difficult when cutting a fine design because the carrier sheet is not very sticky at all. You've got to be extra careful with little pieces of your design that could easily be pulled away by mistake.
Preparation for Applying HTV
Every type of HTV requires its own specific application temperature. This is where the EasyPress 2 shines because you can set it to the exact degree required by the heat transfer vinyl. This will give you the best results both visually and in terms of durability – which is super important as all baby items will need to endure frequent washings at high temperatures.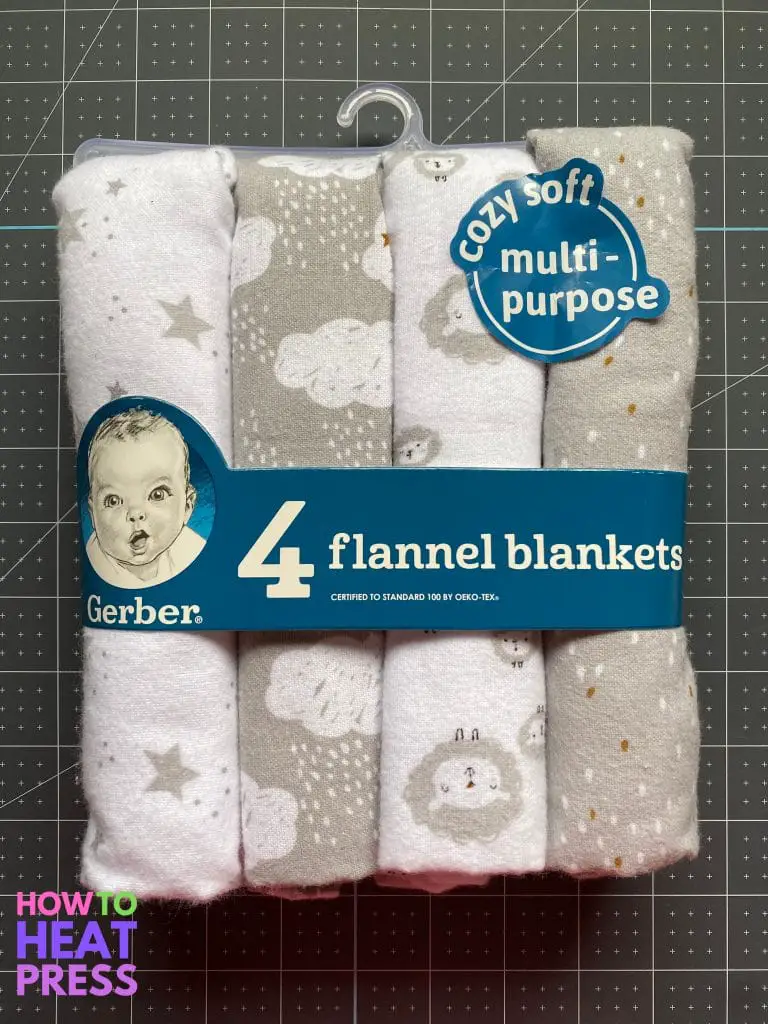 Before you do anything you need to wash the items. Usually I'd suggest washing according to the label but in the case of baby clothes I always go with hot water and high temperature on the dryer. These are not items that you'll want new parents to have to worry about handling with care – they need to give all that attention to the new bambino! The purpose of washing the items before applying your designs is to make sure there won't be any issues with shrinking or distortion of the design.
Next, you should always use a lint roller to remove any lint, hair (the cats are the worst, am I right?), or other random fuzzies from your fabric.
Applying HTV to Baby Items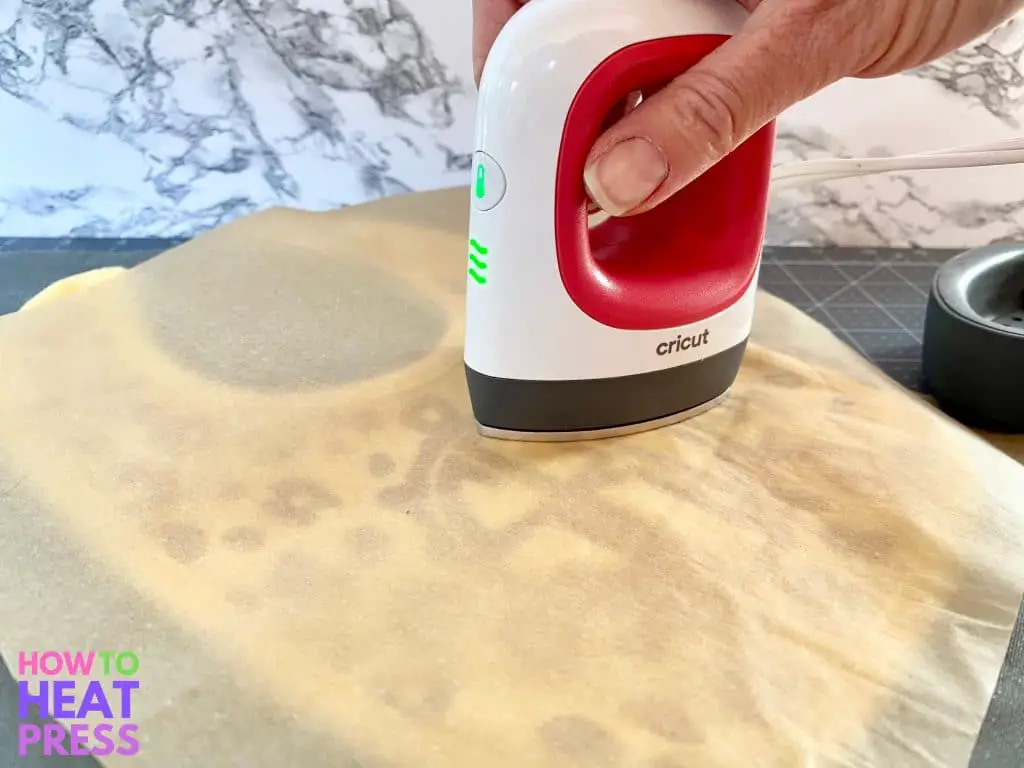 Follow the instructions specific to the HTV you're using and the composition of the garment you're using. Cricut's Heat Guide will tell you the exact time, temperature, pressure, and peeling instructions for each type of HTV onto the exact fabric or blank you're working with. We've got other tips specifically for applying Cricut HTV if you're looking for further guidance.
In general, make sure to use a heat pillow or towel under your project. I like to use parchment paper on top of the carrier sheet especially when creating multilayered designs to make sure the heat press doesn't damage any exposed HTV from a previously pressed layer.
Make sure to choose the heat press that best suits your needs. For example, I found that I got better results from the EasyPress Mini on small designs especially on things like burp cloths that have a significant hemmed edge. The EasyPress 2 or a larger heat press is ideal for larger designs such as on Onesies® to get even application and smooth adhesion of the HTV.
Now let's get to the gift idea designs!
Custom Cricut Baby Blankets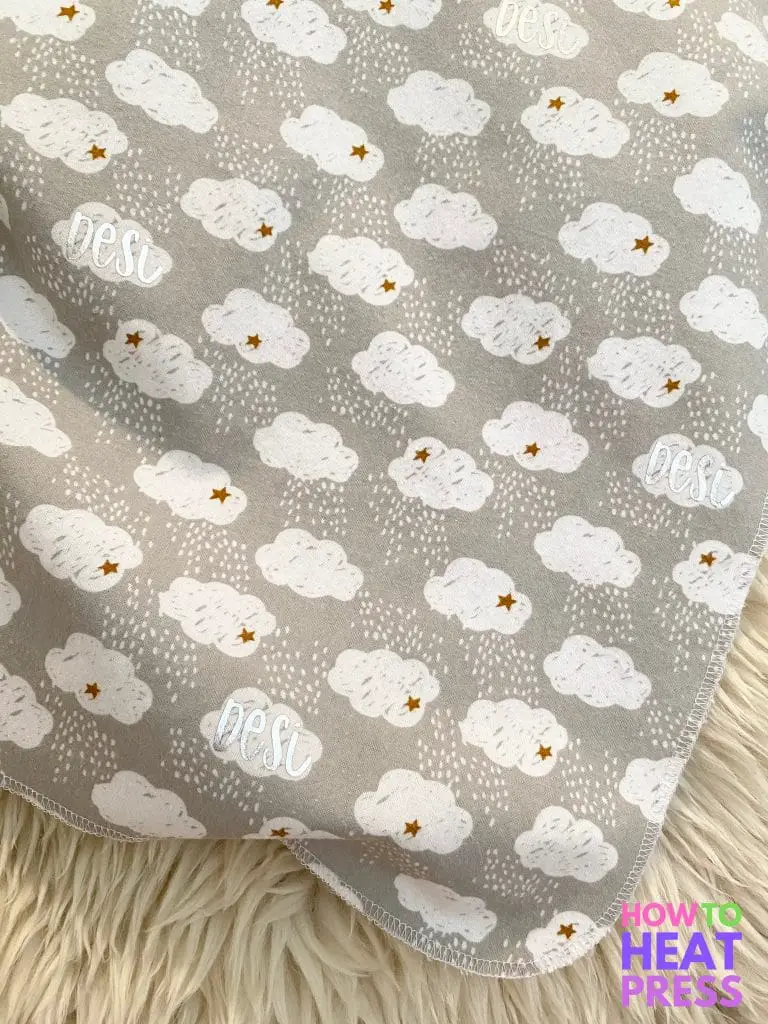 Gerber's flannel receiving blankets are sooooooo soft and snuggly. They're lightweight but large enough to really wrap a little babe up snug and tight! They come in a multipack so you'll have them on hand when it's time to customize one for a new arrival.
One of the first big lessons I learned as a parent was just how much mess such a little body can make! I remember getting tons of these little receiving blankets at our baby shower and wondering what I'd ever do with so many. I quickly learned that they're the catch all for everything – an actual swaddle, a shade for the stroller or car seat, a clean place to lay the baby down, a perfect burp cloth that actually catches it all, the uses are endless! These can be a bit daunting to customize because of their size but don't be intimidated.
Ideas for personalizing baby blankets:
Work with the pattern, not on top of it – Can you add a little HTV into the existing pattern?
Repeat, repeat, repeat – Add the name or initials multiple times to keep the pattern and polished look!
Blankets are perfect for sharing baby stats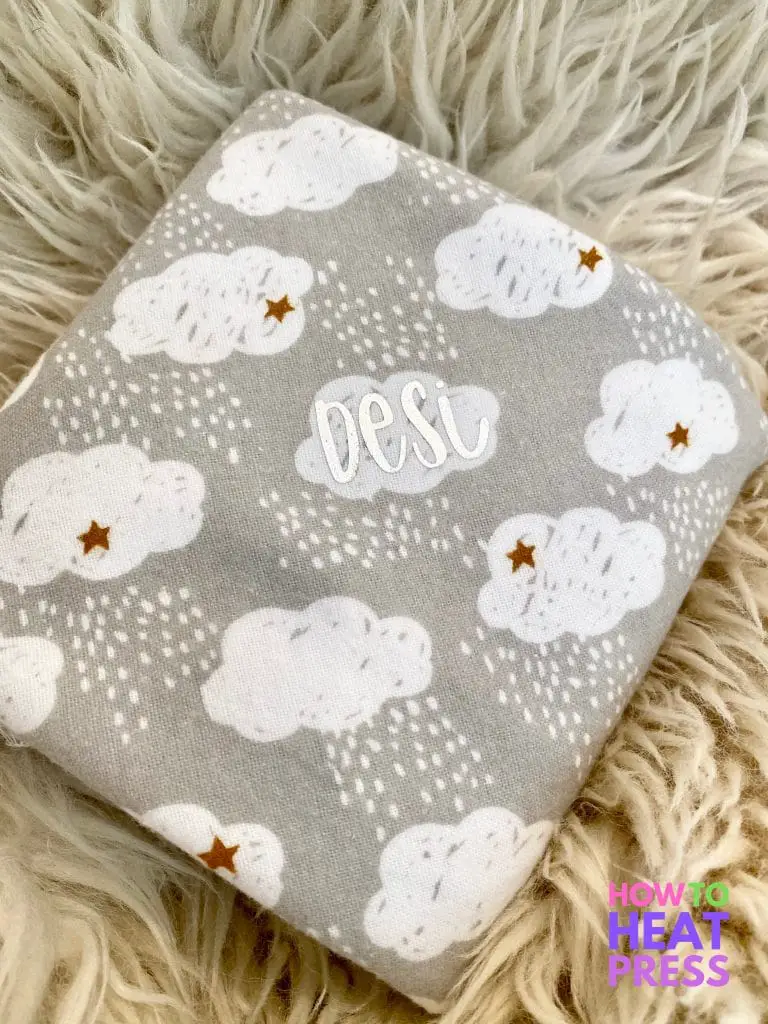 For the sweet little cloud blanket I used the font Sweet Slice from Font Bundles. It's honestly a little spendy but I got it as part of their $1 deal event and I've fallen in love. I love that it's a handwritten font that I don't need to weld.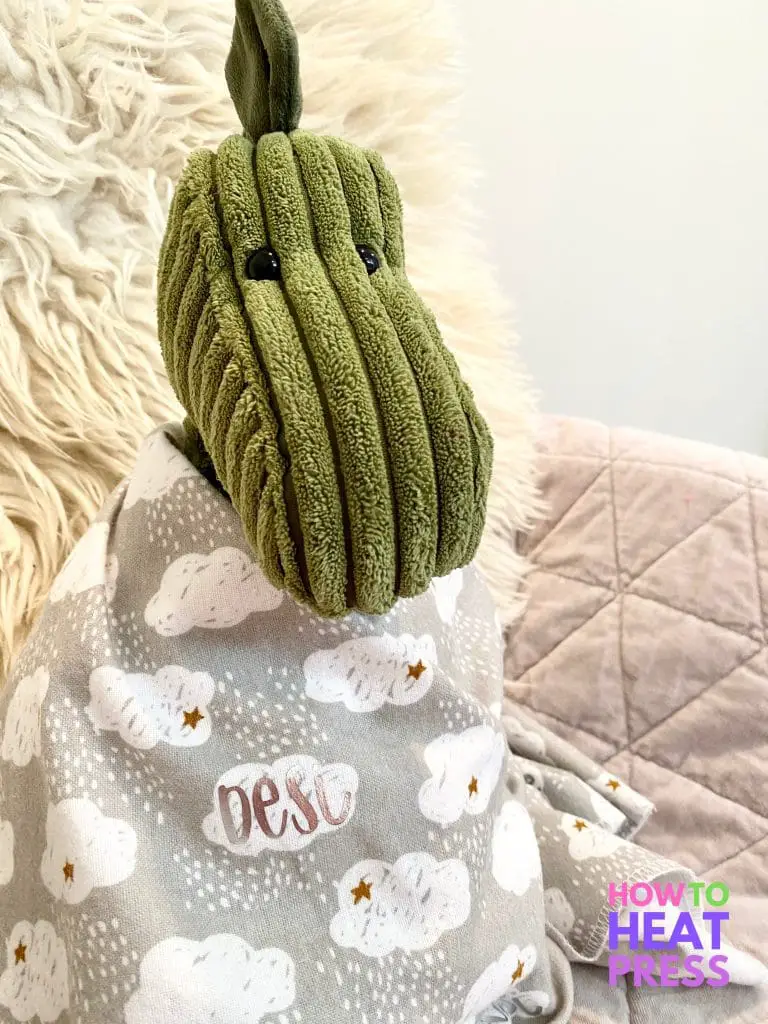 I used Cricut's Foil HTV which is a favorite of mine for baby items as you'll see. I cut out the name "Desi" about 15 times and applied it in a very specific pattern that went along with the clouds on the flannel using the EasyPress Mini.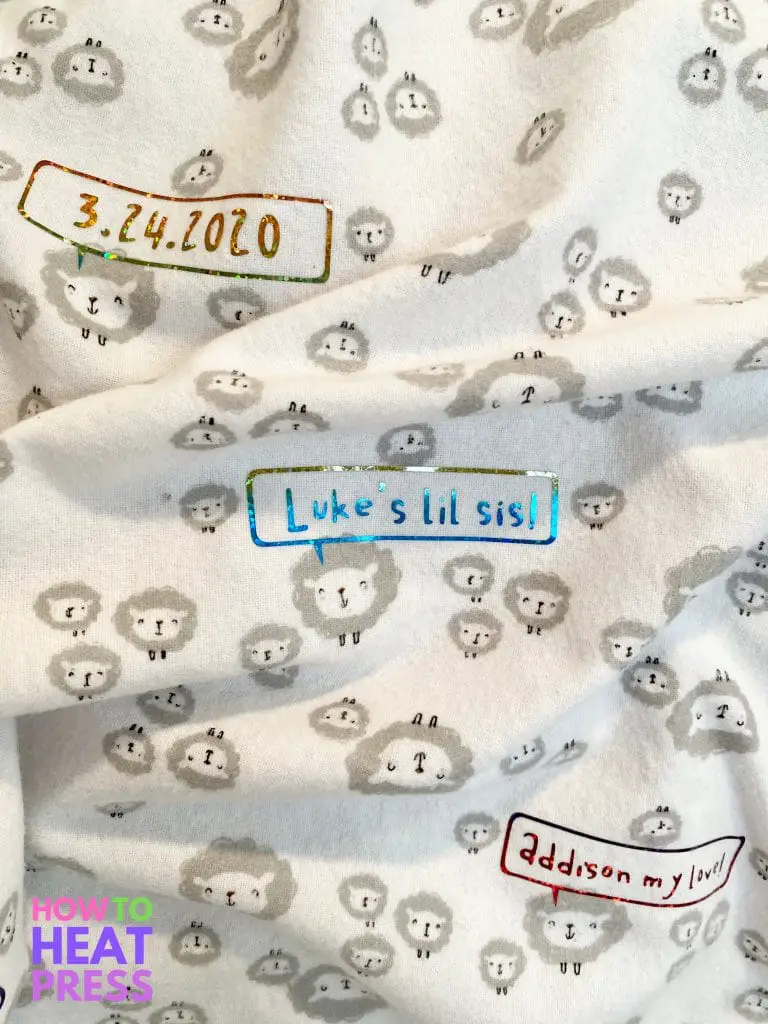 For this blanket I chose to use a similar repeating pattern to the "Desi" cloud blanket. I thought these little sheep looked so cute they deserved to have cute little sayings popping out of their mouths too! Here are some speech bubble ideas for baby items should you go with this theme:
Date of birth
Sweet sentiments like "I love you, Addison!"
Reference to a sibling such as "Luke's lil sis"
Initials with hearts
"Say hi to mom and dad!"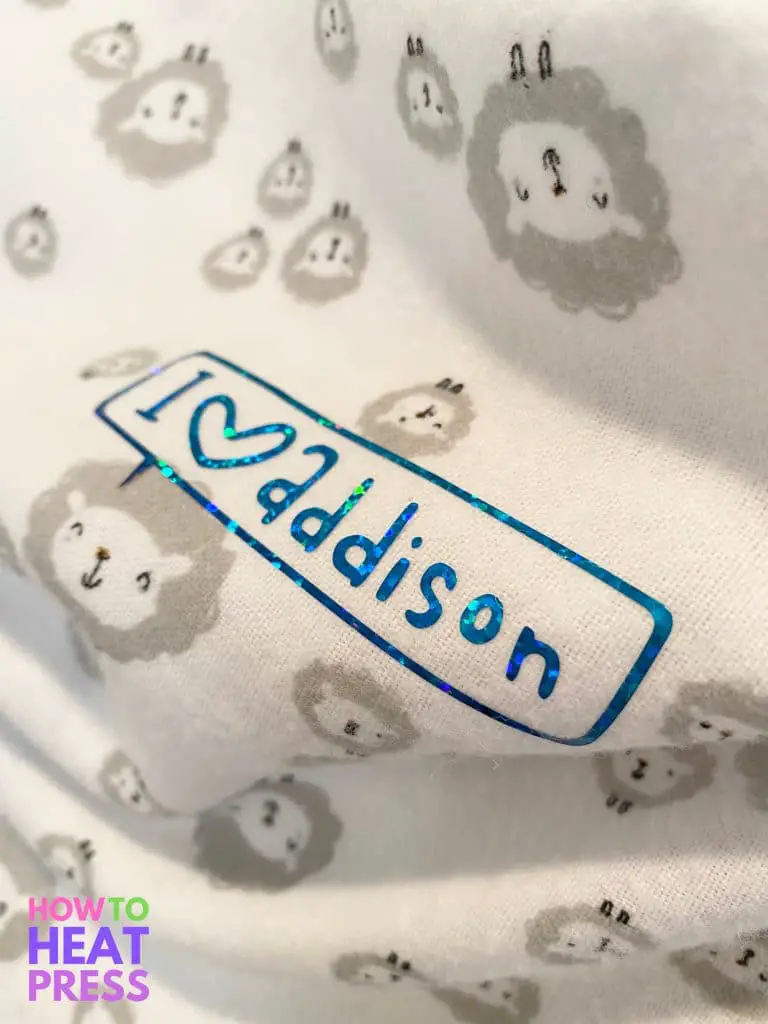 Because the sheep in the background were rather muted with gray, black, and white I wanted to spice up the speech bubbles with some sparkle! I used Siser's Holographic Rainbow HTV so every speech bubble turned out a slightly different shade.  The font used (DJ Juicy) and the speech bubble are both free with Cricut Access.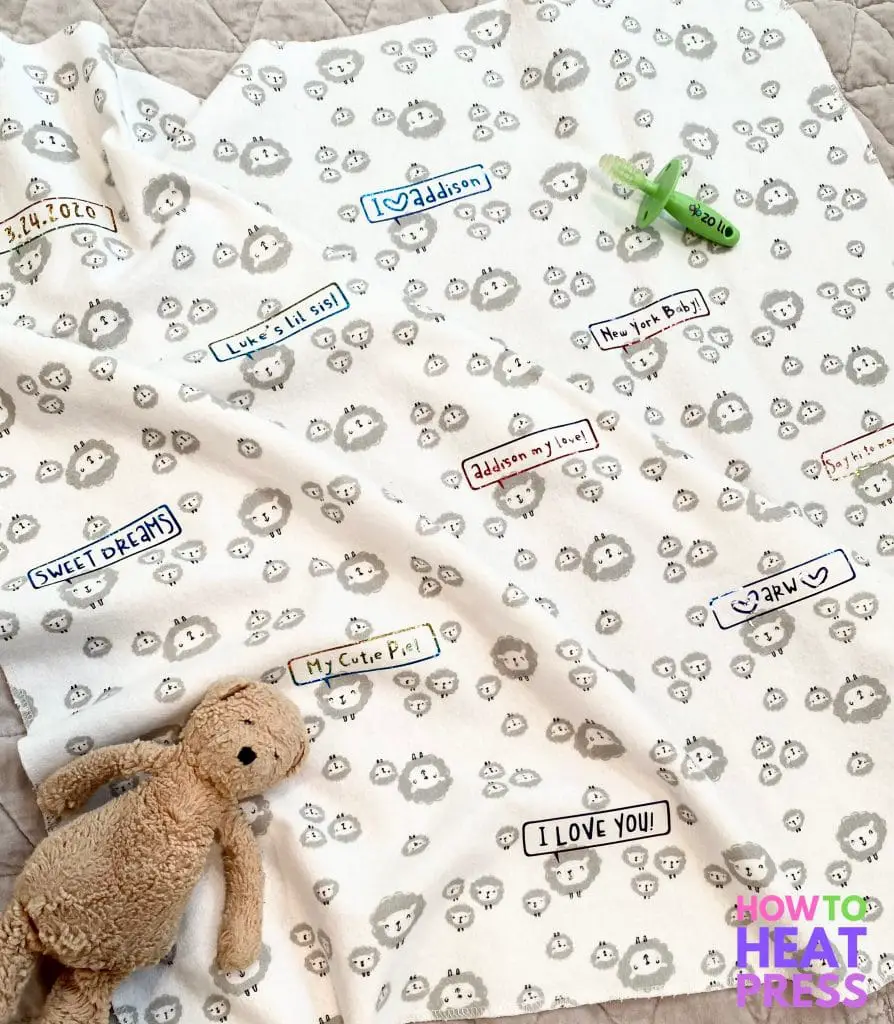 There was space for 11 little sheep sayings and I applied them with the EasyPress Mini. On a side note – that little teether pictured is a game changer!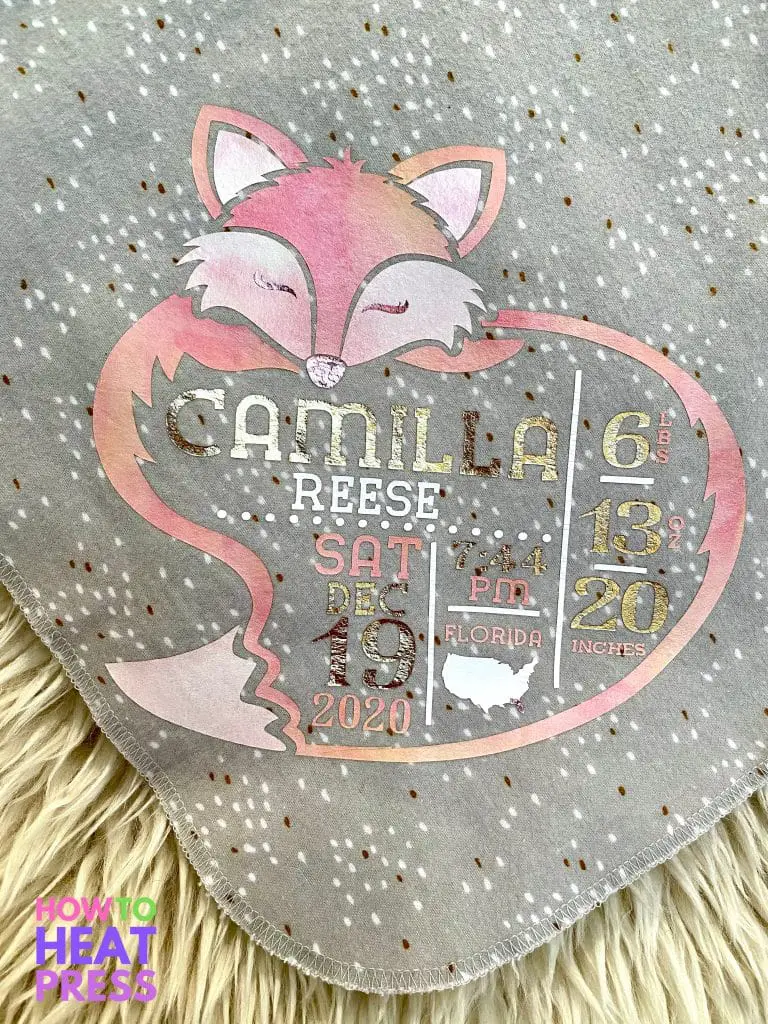 A design like this is truly a labor of love – do it because the end result is worth it but know that it's not going to be one you bang out on your lunch break. As you can see it's a multicolored HTV design which means each color you see above was cut on its own cutting mat. This project also required a larger cutting space because the fox is about 9 inches wide. Because of that I used my Cricut Maker and EasyPress 2. This would have been a great candidate for a craft heat press too.
The fox baby stats SVG file is from Design Bundles. They've got loads of other baby stat designs worth checking out if foxes aren't your things! The white HTV is Cricut's Everyday Iron-On, the watercolor looking pinks of the fox body are both from the Sunset Blossom Pattern Iron-On Sampler by Natalie Malan for Cricut. The pink (fox nose and eyes) and gold metallic foil are both Cricut Foil Iron-On.
When a baby has a beautiful name, keep the design simple and let the name shine! I repeated the design for Remi's little receiving blanket 9 times using pink Cricut Foil Iron-On. I measured the space between the larger stars and found a way to repeat the pattern in a visually pleasing way.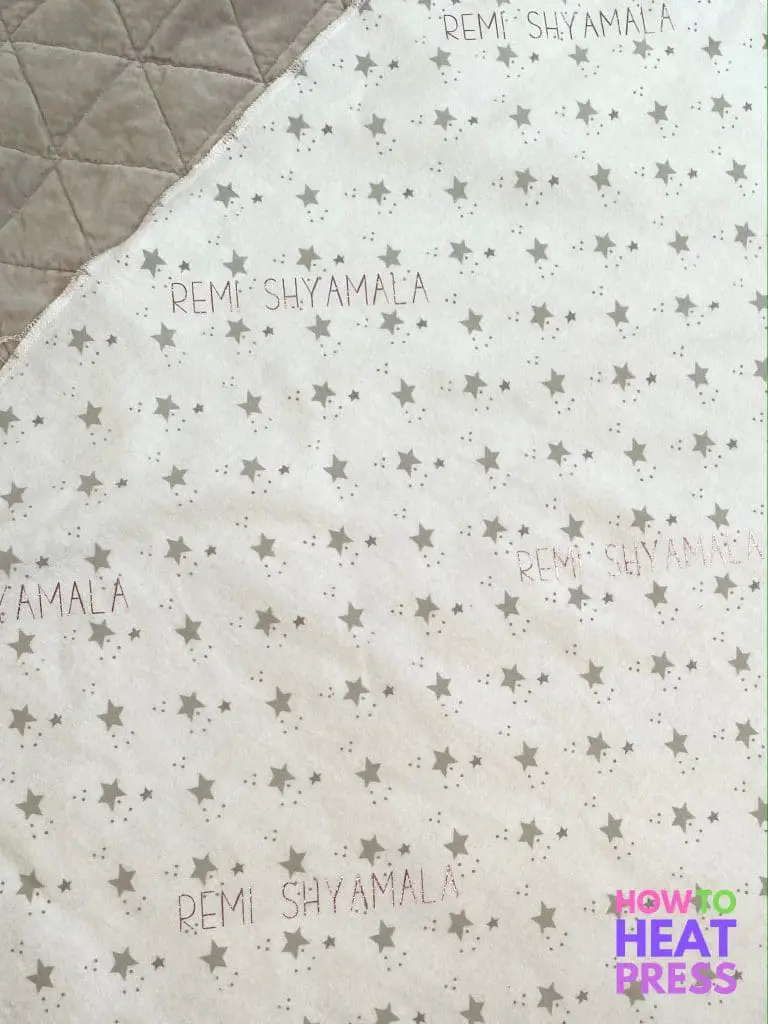 I'm disappointed it was so challenging to capture the stunning simplicity of this design. I love the fine letters and subtle pink on top of the simple gray and white background. For the font I used Stay Home from Font Bundles. It's both modern and polished but also gentle because of the fine lines. If using a font like this with very thin lines, I always try to avoid the lowercase "i" – it's just so hard to keep that little dot!
Personalized Bibs and Burp Cloths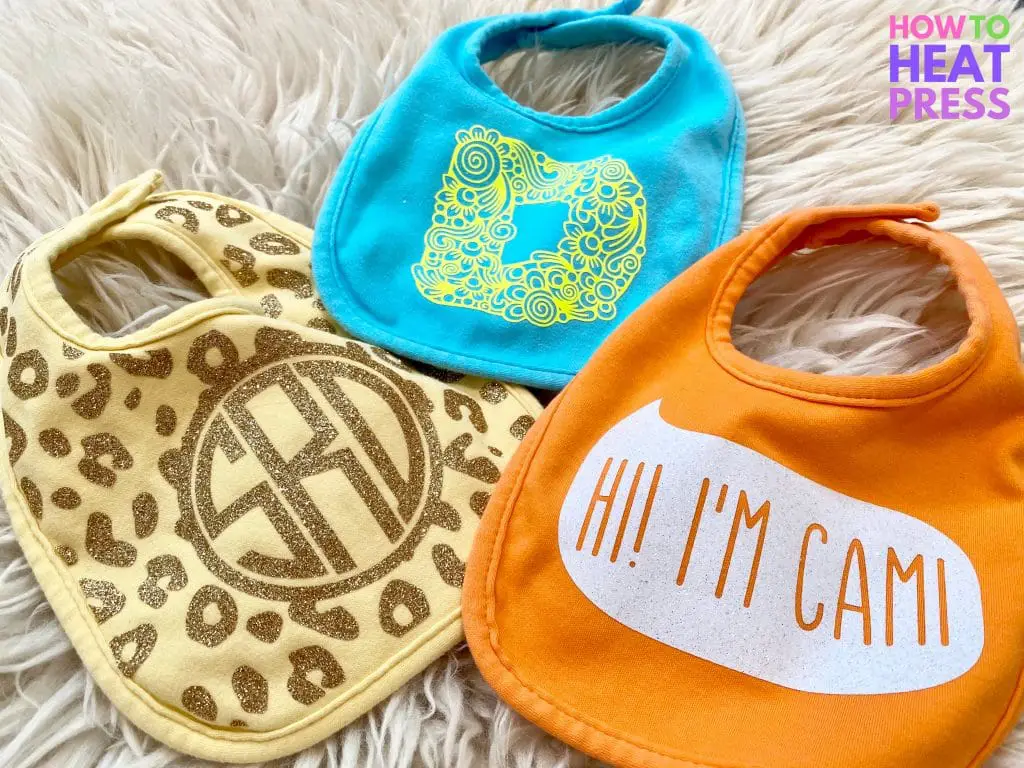 The Dribbler bibs from Gerber are soft cotton with an easy velcro closure at the back of the neck. They're designed to get messy but will clean up easily. New parents can plan to go through more than one at any given meal so they can never have too many bibs!
I like to have a little fun with the bibs. Not sure the parents will be into your funny baby joke? Put it on a bib! Think a color is a bit too wild for mom's taste? Sounds perfect for a bib! Bibs are only on for a short window so don't think too hard about your design.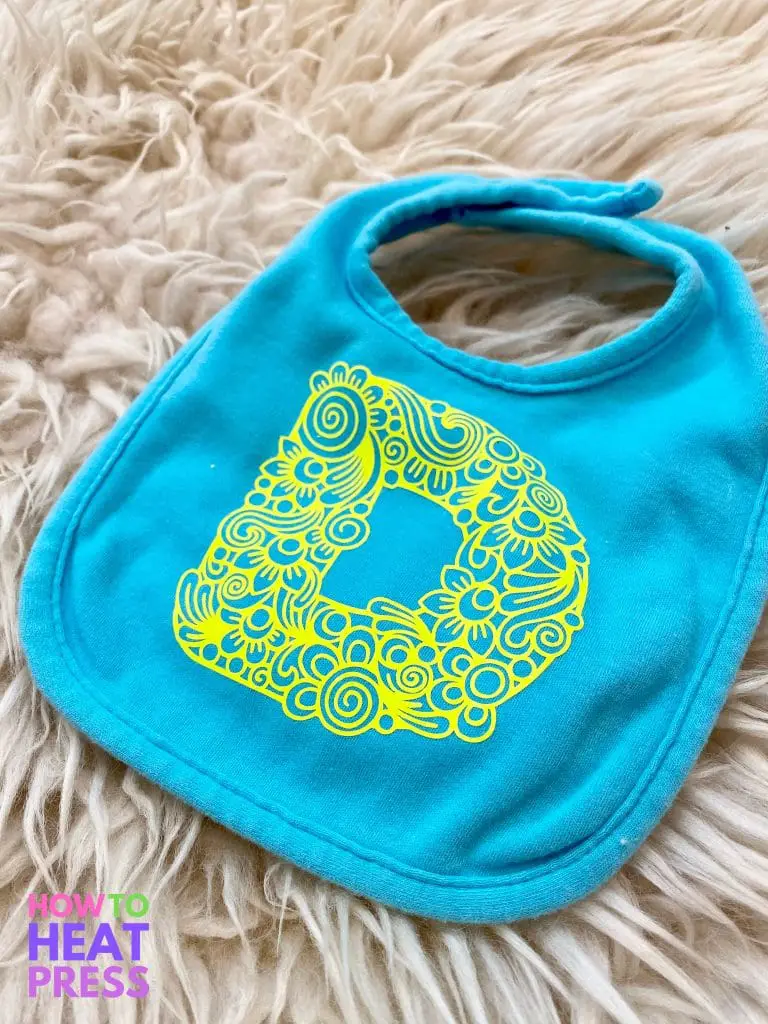 I'm obsessed with these floral letters included with Cricut Access. They do require some patience weeding but light pad makes the work easy on the eyes. For this little bib I used Neon HTV from Cricut's Smart Iron-On line.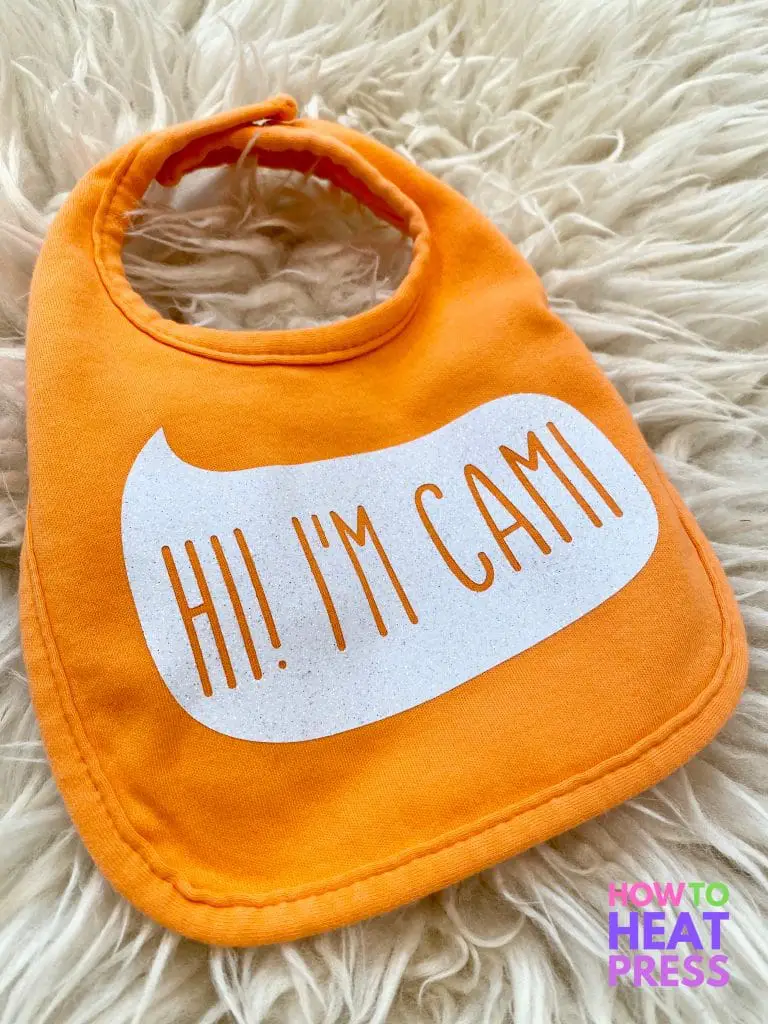 A friendly little baby needs a friendly little name tag! For this bib I used a speech bubble image that's part of Cricut Access. I added my font, in this case Skinny Jeans from Font Bundles, on top and then used the slice tool to create the cutaway negative look you see. Not sure how slice works? It's awesome, and we'll explain how to use slice in Cricut Design Space. The HTV is Siser Glitter in white.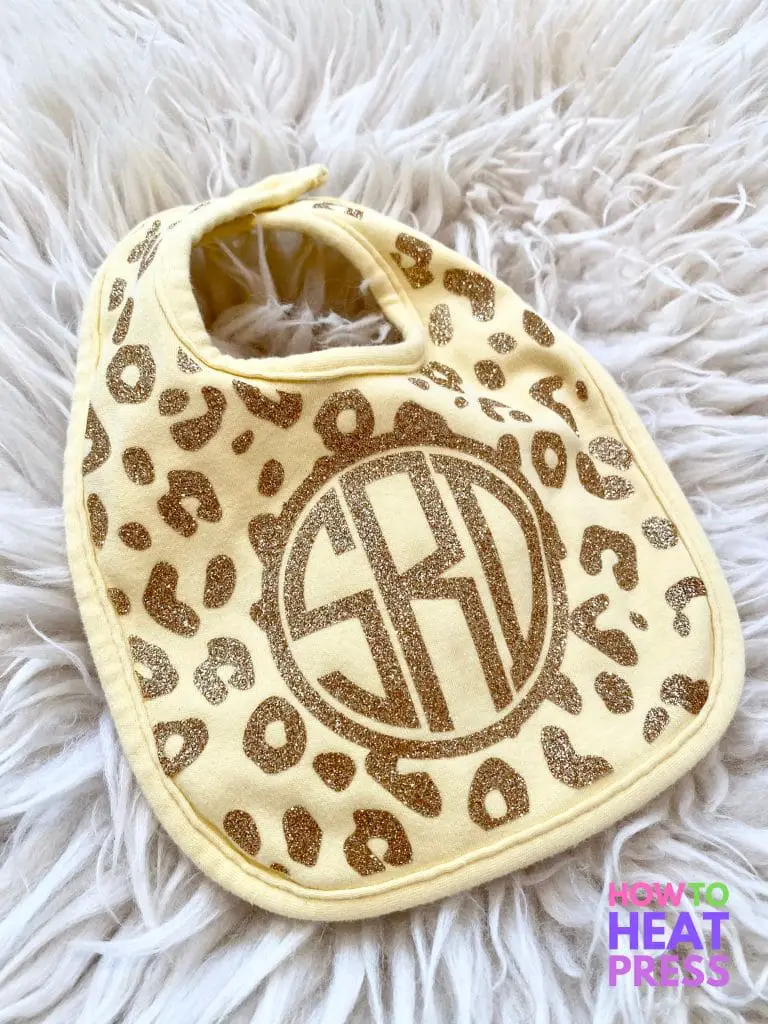 Monograms are just so fancy, right? This is another where the photo just couldn't capture all that sparkle! The circle monogram font is from this bundle. I added the circle around the monogram (FYI the correct order when you're using a larger center letter is middle initial, first initial, last initial) and then put it on top of this leopard print pattern and sliced.
After weeding the design I simply laid it on top of the bib and cut off the extra so I'd only have the pattern inside the edges of the bib. I used Siser Glitter HTV in gold and applied it with the EasyPress Mini which was perfect for the thin sections around the neck of the bib.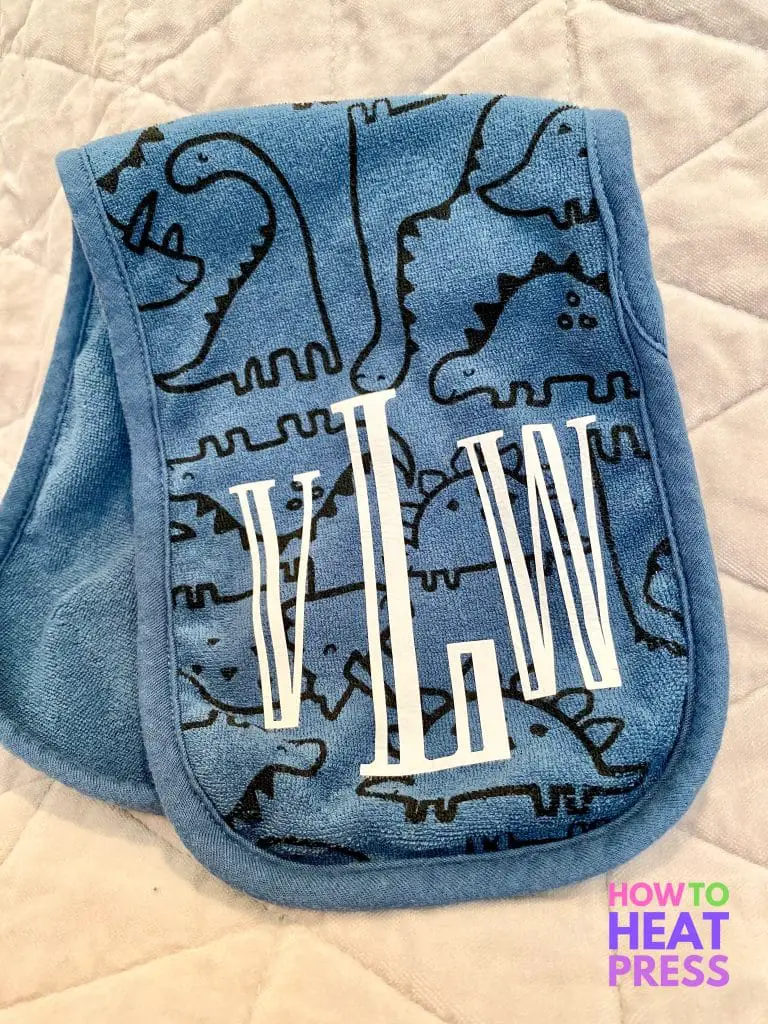 The terry cloth on these Gerber® burp cloths makes them great for cleanup. We have a few that are still in the mix and now get used as washcloths after over 5 years of use!
HTV will adhere just fine to terry cloth. But, if you're going to add HTV on top of terry cloth you need to keep in mind how the texture will affect the look of the HTV. In the photo above I opted for a bold, classic monogram font in Cricut's Everyday Iron-On because the thin lines wouldn't show much texture.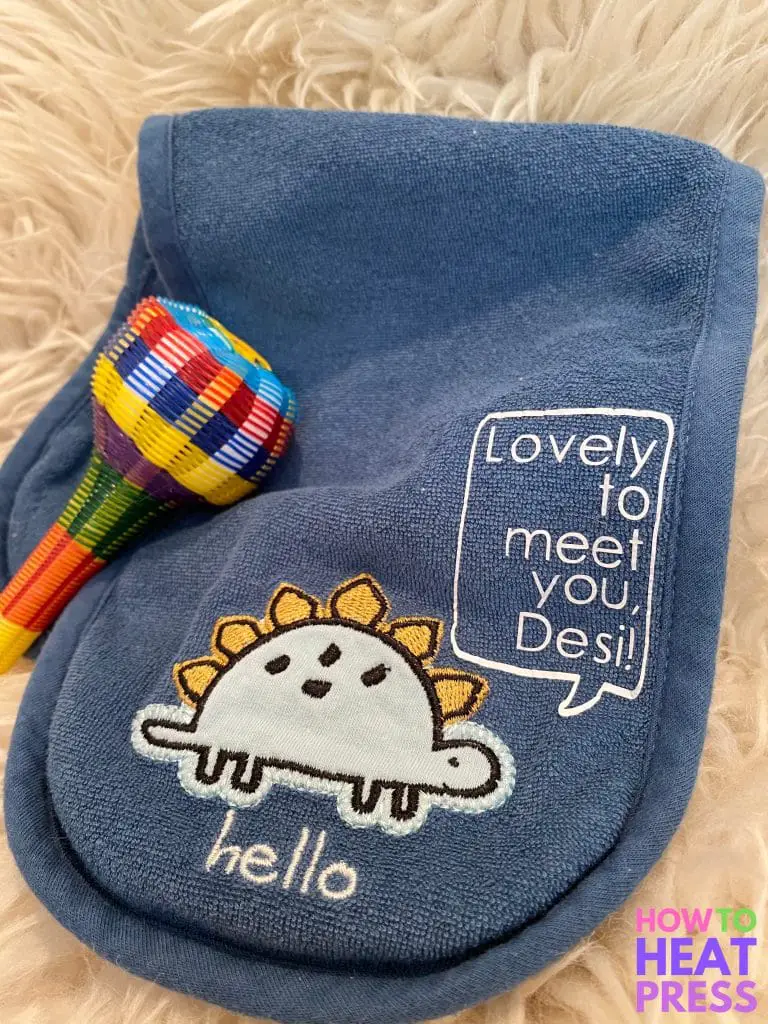 Some of Gerber's burp cloths will come already adorned with charming embroidery. In this case I thought I'd just add a little personalization to what was already a sweet item. I used the same Cricut Everyday Iron-On HTV in white for this little dino's speech bubble. The font is Century Gothic – a freebie in DS.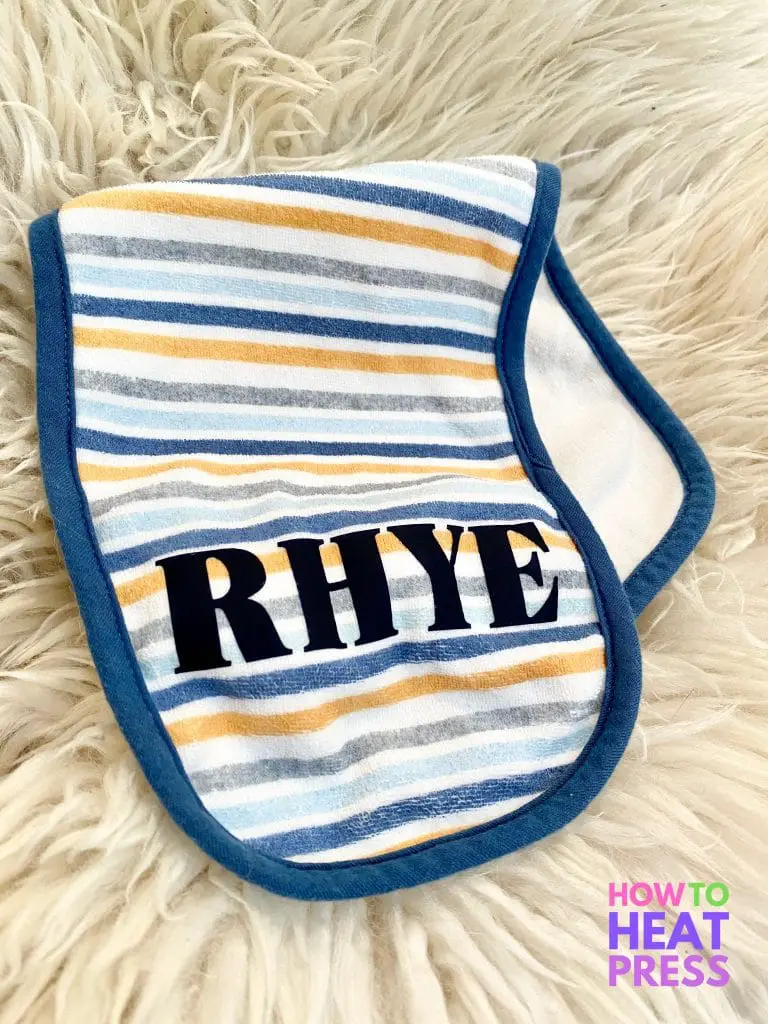 Don't be afraid to keep it simple! This burp cloth looks crisp with Rhye's powerful name in Cricut's Caslon Black font (included with Cricut Access). The HTV is actually navy – I know it looks black! – from Cricut's Everyday Iron-On collection. It's got a smooth, matte finish that looks supple on the terry cloth.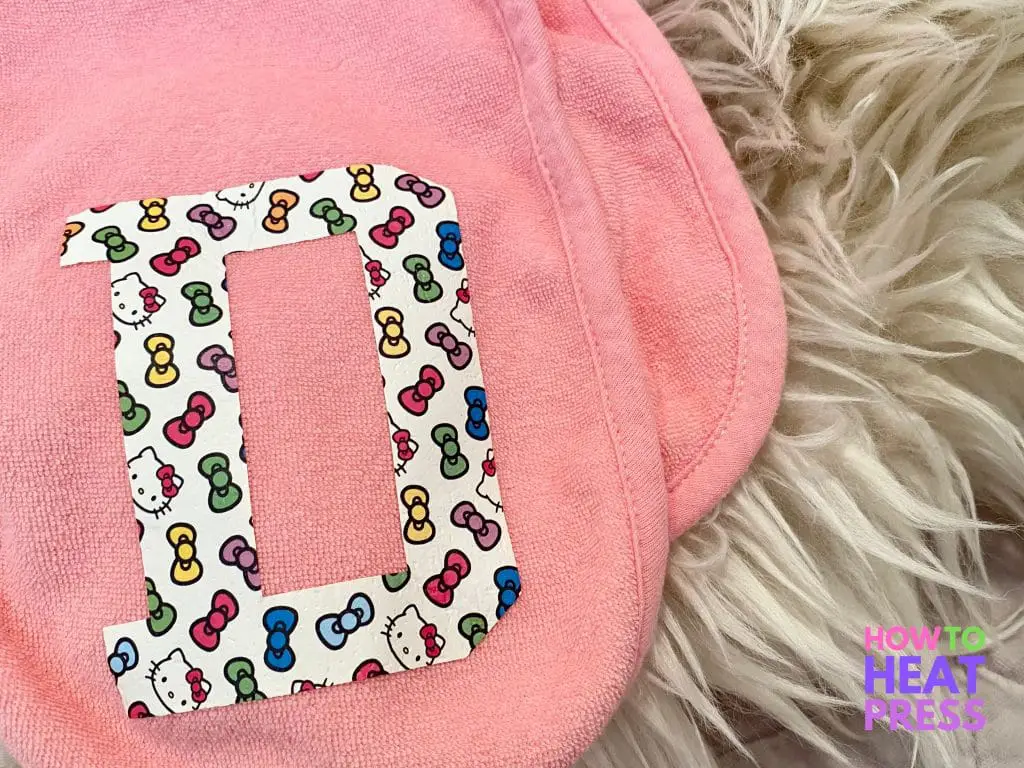 Hello Kitty! This adorable little cartoon needed to find its way onto something special. I chose the Yearbook Solid font included with Cricut Access because the bold letter and simple shape would really let the cute kitties shine! The HTV is from a Hello Kitty sampler collection and it looked very smooth on top of the terry cloth.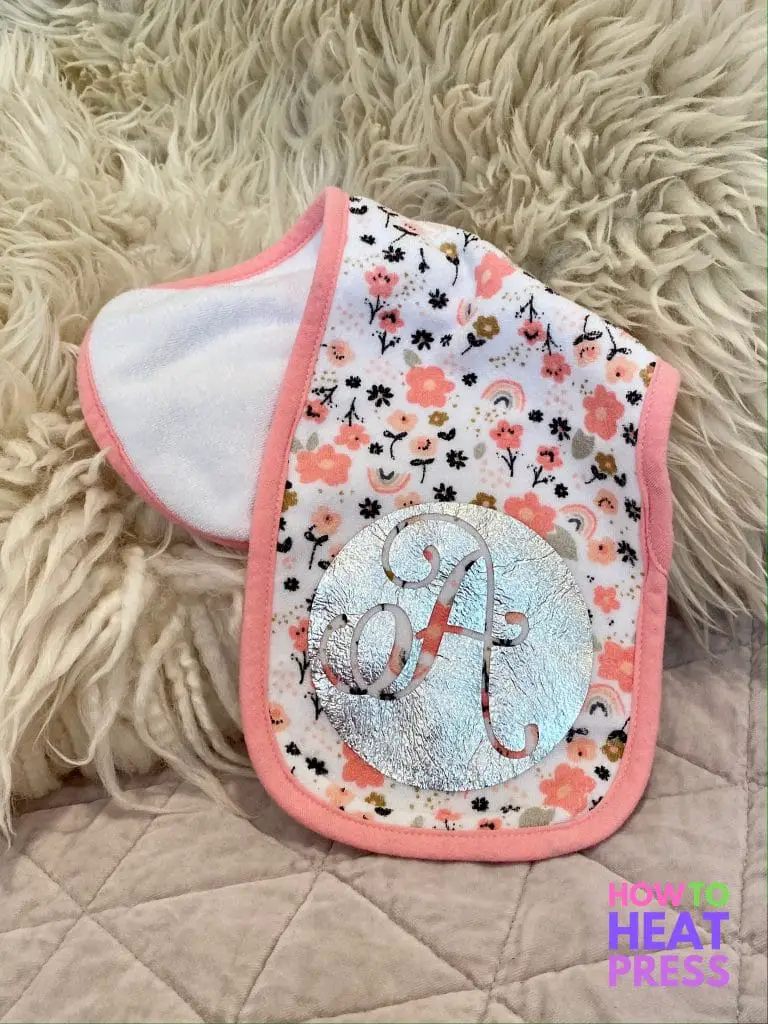 Here's where things get a little tricky on top of the terry cloth – Foil HTV. As you can see above the design has a pebbled texture, almost like leather. It's sort of lovely to the touch but the texture might not be for everyone. Good to know what to expect when ironing on foil HTV to terry cloth!
I used a letter A from Cricut's image gallery, inserted a circle, and used the slice tool to create the negative space design.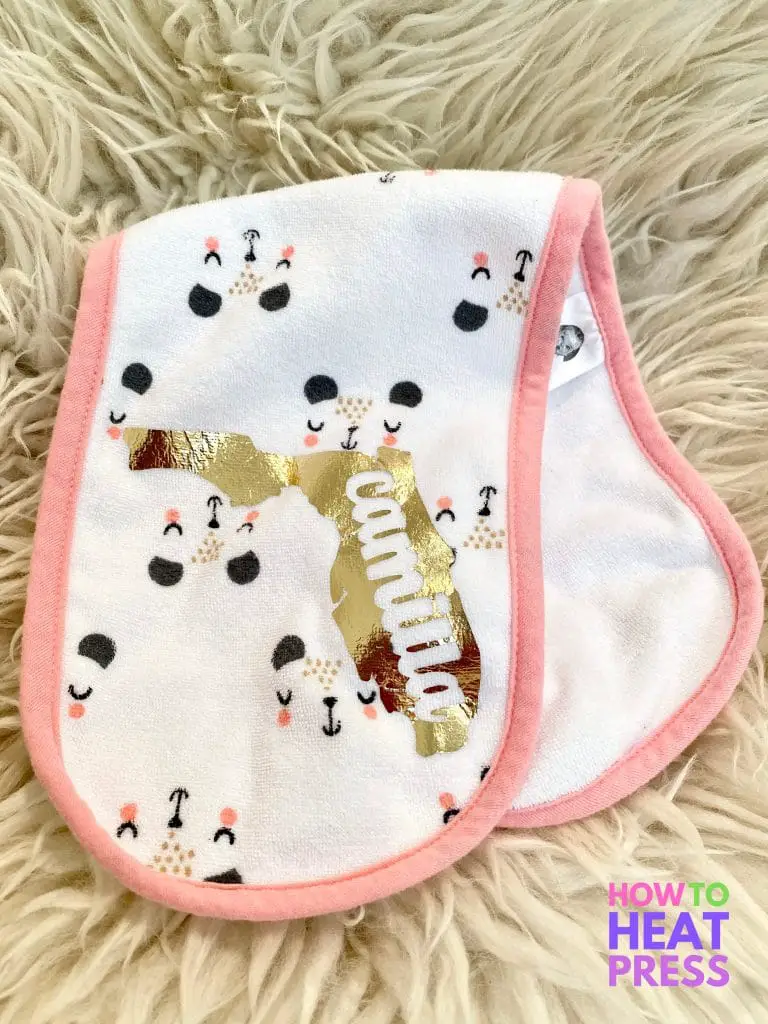 For our little Floridian's burp cloth I used the same technique as mentioned above to create the design above. If you're going to replicate this consider the length of the baby's name and the shape of the state. Long name and tiny state? Go for the initials instead.
The Florida state shape image came from Cricut Access and the font is Timberly – a free download! You can see the same pebbled effect but the gold foil HTV seemed to show it to a lesser degree than the silver.
Custom Cricut Baby Onesies ®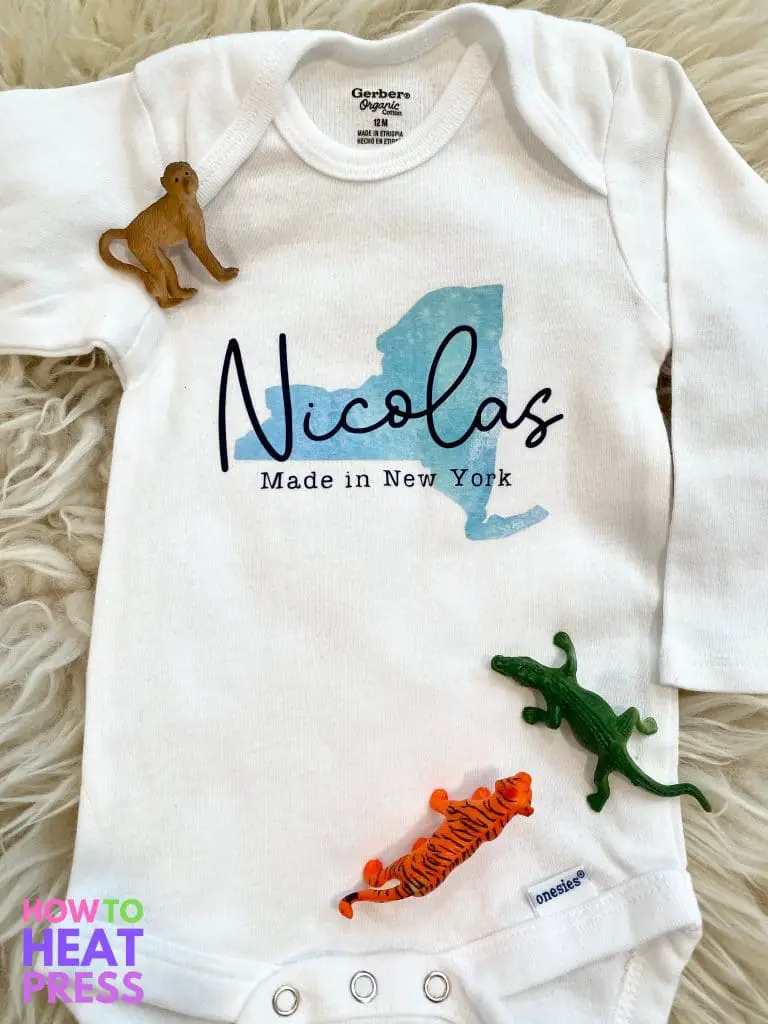 The Gerber Onesie® is as classic as it gets! By now you've noticed that Gerber® actually owns the trademark for the word Onesie®. Gerber® is the original and they're hard to beat on quality or price.
All of the Onesies® we customized are from their organic cotton collection. If you're making a custom item I'd suggest you not make anything smaller than size 6 months. Some babies are born fitting this size! In the case of this post these are all size 12 months which is ideal – by then they're not growing so fast so it might actually fit for a bit plus the parents will love having a cute outfit to look forward to. Really – even big kids would love a t-shirt with their name on it!
To create the design above I layered navy Everyday Iron-On on top of patterned aquamarine HTV. Patterned HTV such as this really takes a design to the next level in my opinion! The 'Nicolas' font is Berkyn Romance and the 'Made in New York' is American Typewriter in DS.
This design is awesome for new parents who may have recently moved or are planning to move… or who had an adventurous and fruitful honeymoon!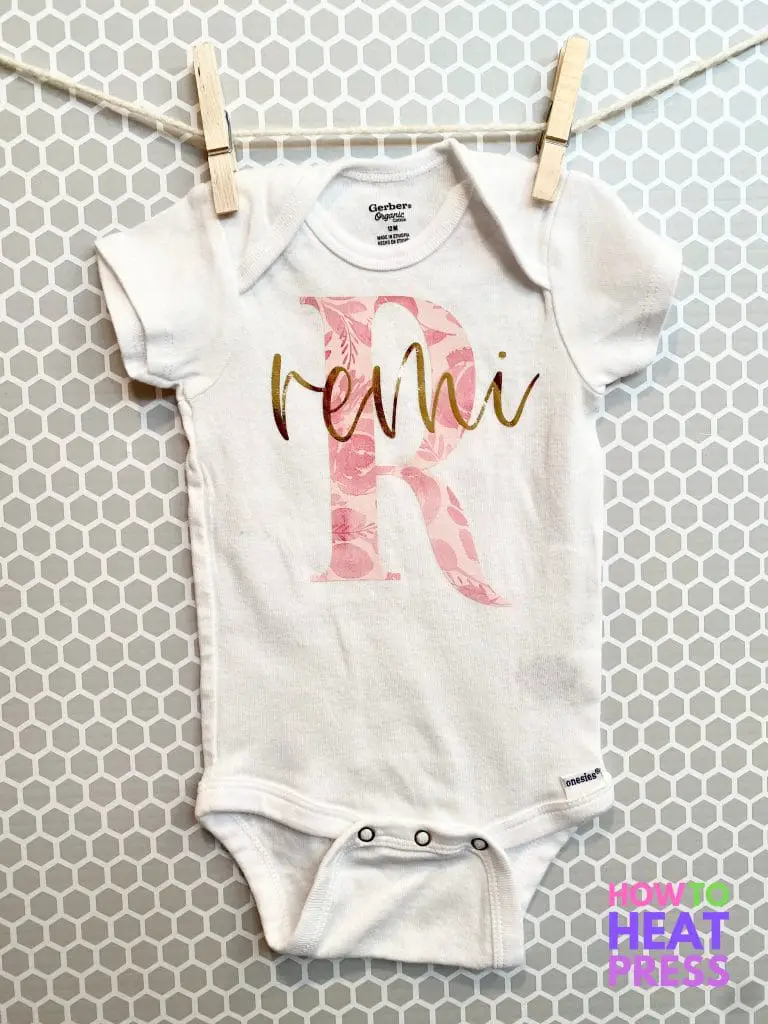 I used the same layered technique here as above. Know that the fancy metallic and glitter HTV can only be the top layer so don't plan on making a big sparkly base. The pink floral pattern for the R was from this sampler and the gold foil is also from Cricut. The R is written in Herina (a free download!) and Remi is in Walnut Moth.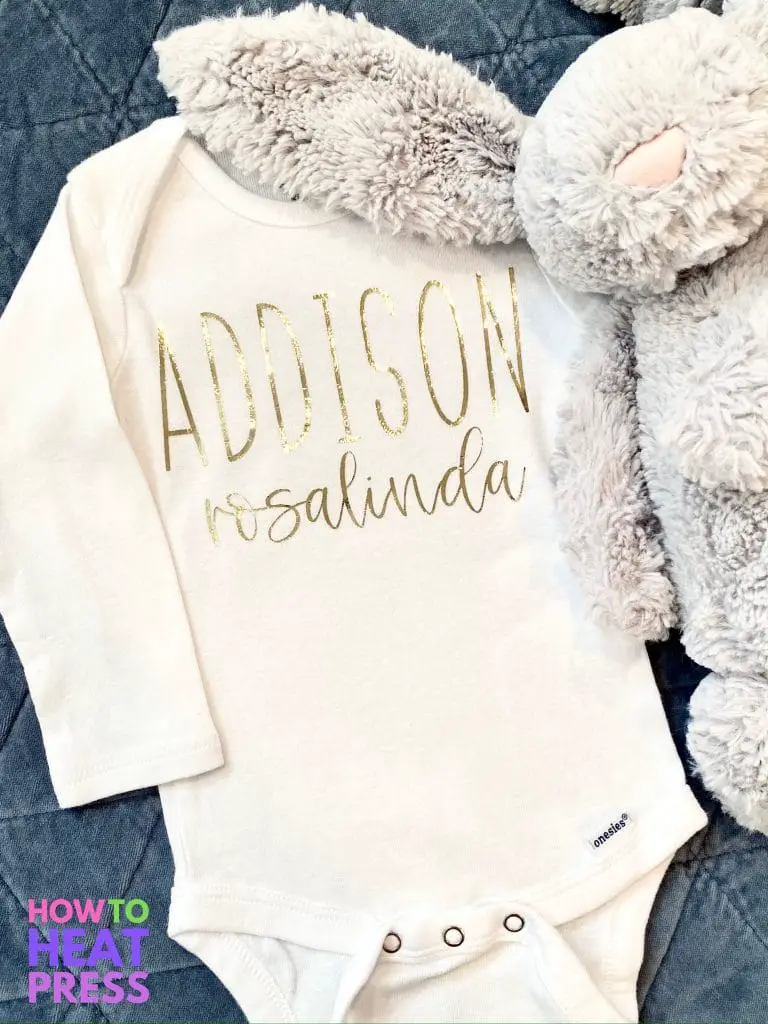 Yup, more foil HTV! This design features a modern plain font called Overcoat for the first name and Walnut Moth, a script for the middle name. I picture a trendy little baby outfit with a shirt like this layered under a teeny tiny flannel or cardigan in winter!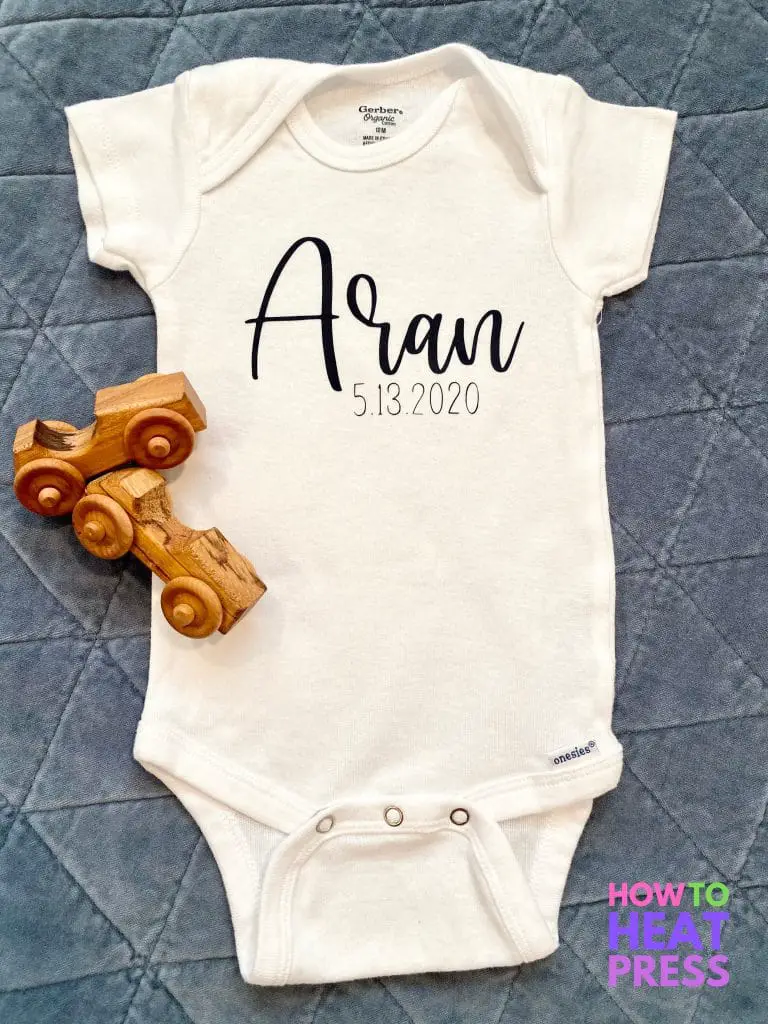 Keeping with the classic, simple theme – here's another take on a crisp look. I've included the baby's date of birth along with their first name making this a perfect gift for a first birthday! I strongly encourage you to go with navy HTV as an alternative to black that's just a bit warmer.
The font used for the name is Leafs which you can download for free and the birthdate is in the Stay Home font – kind of perfect for a baby born in quarantine, right?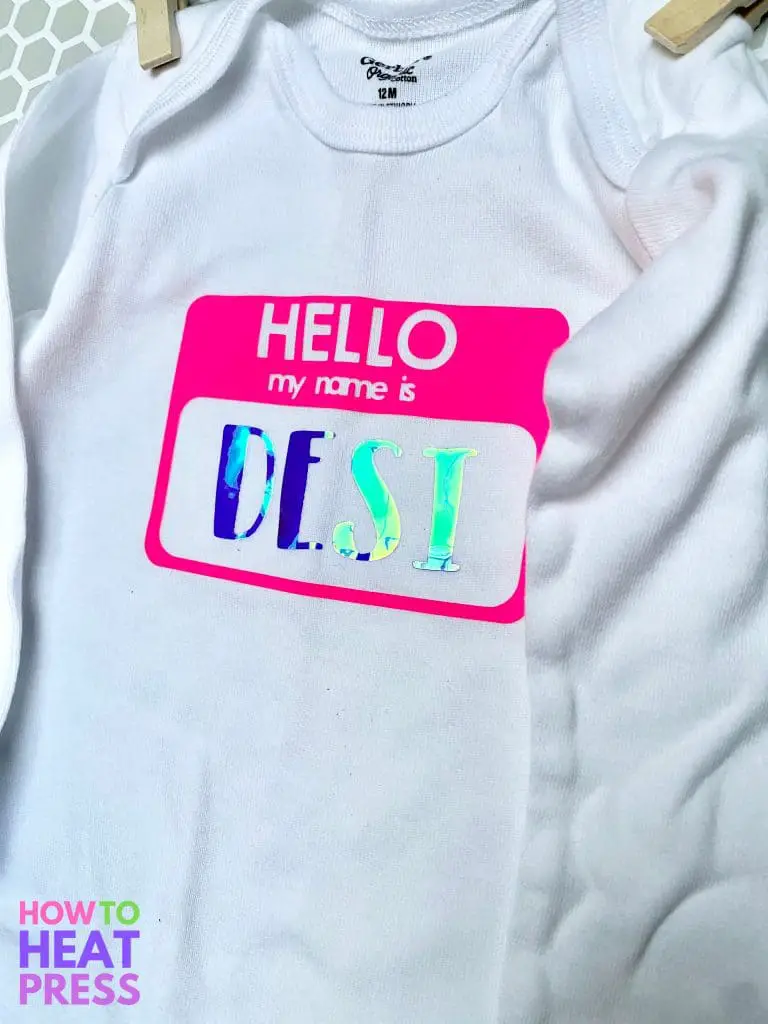 The new guy needs a name tag! This design and font (Karley) are both included with Cricut Access – in case you haven't realized it by now this is worth the $10 a month because it'll save you so much time searching for images and cut files. I used a couple of Smart Iron-On materials for this shirt – Neon Pink and Holographic.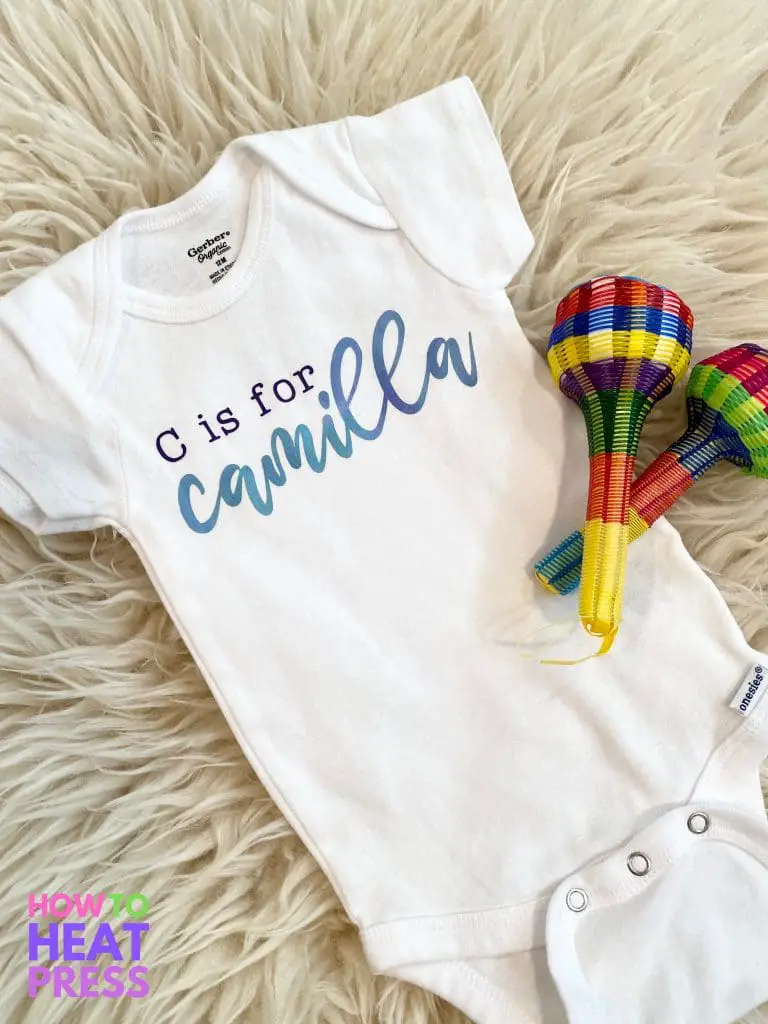 It's never too early to start learning your letters! This design features purple HTV in American Typewriter font and watercolor pattern HTV for 'Camilla'. This design would look great with any pattern HTV, I almost regret not using a buffalo plaid.
The font used for Camilla's beautiful name is one of my all time favorites called Mama. It doesn't get any more fitting than that!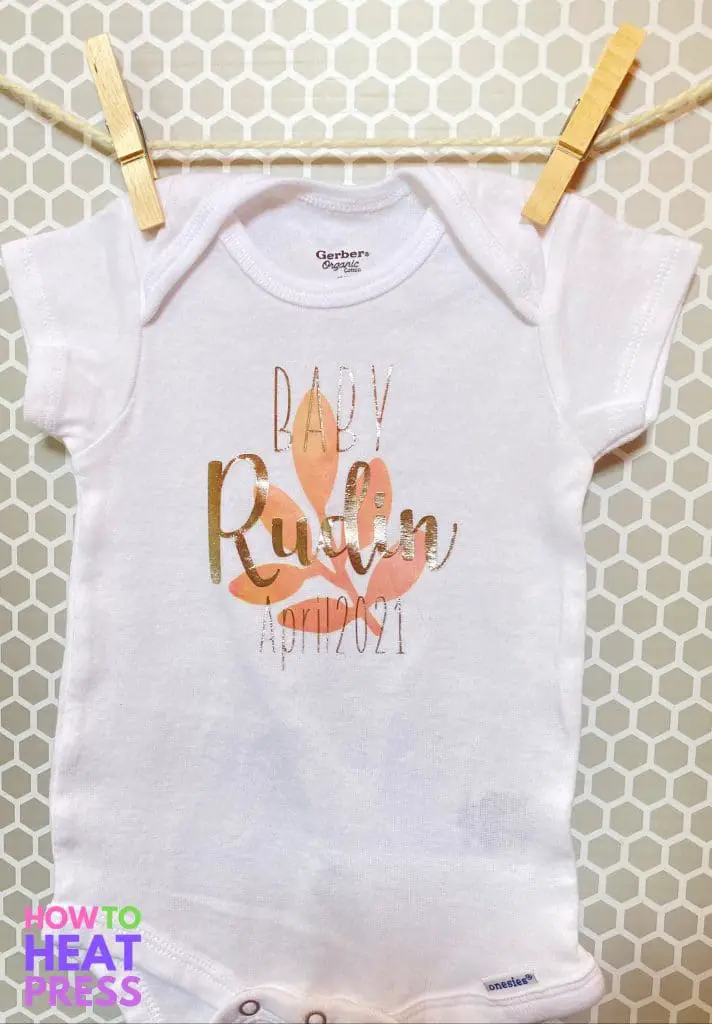 Not sure of the baby to be's name? Want to give a gift at the baby shower or to congratulate the new parents to be? Simply use what you know! The baby's last name and month of expected birth are a great place to start. Be careful with due dates at the start or end of a month – in that case go with the season instead, says the mom who went two weeks past her due date!
Custom Baby Hats and Mittens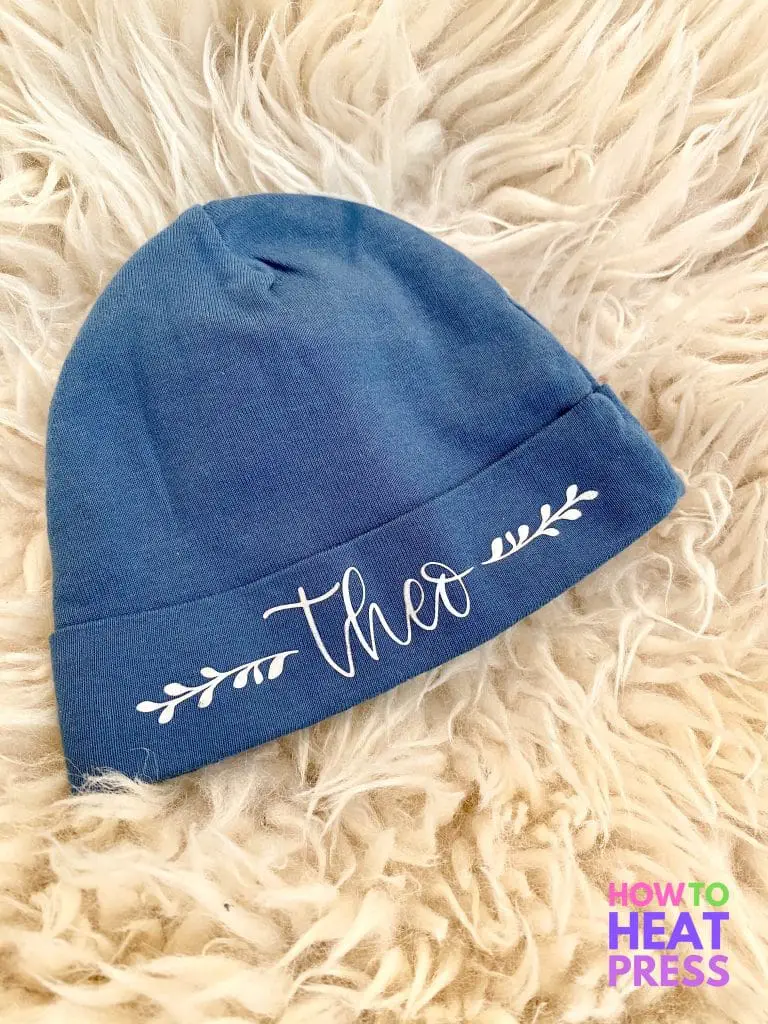 I think every new parent melts over the little baby hats. When a baby is first born it's not the clothes that go on first, it's the hat! Gerber® has a lot of great options for hats and mittens. If there's already a pattern choose to work within it or find a way to tastefully add on top.
The hat above actually has a cute little dinosaur that was already printed on the opposite side. I chose to add Theo's name to the opposite side so he'd have two different looks. The leaves are from Cricut Access and the font is Walnut Moth in silver foil heat transfer vinyl.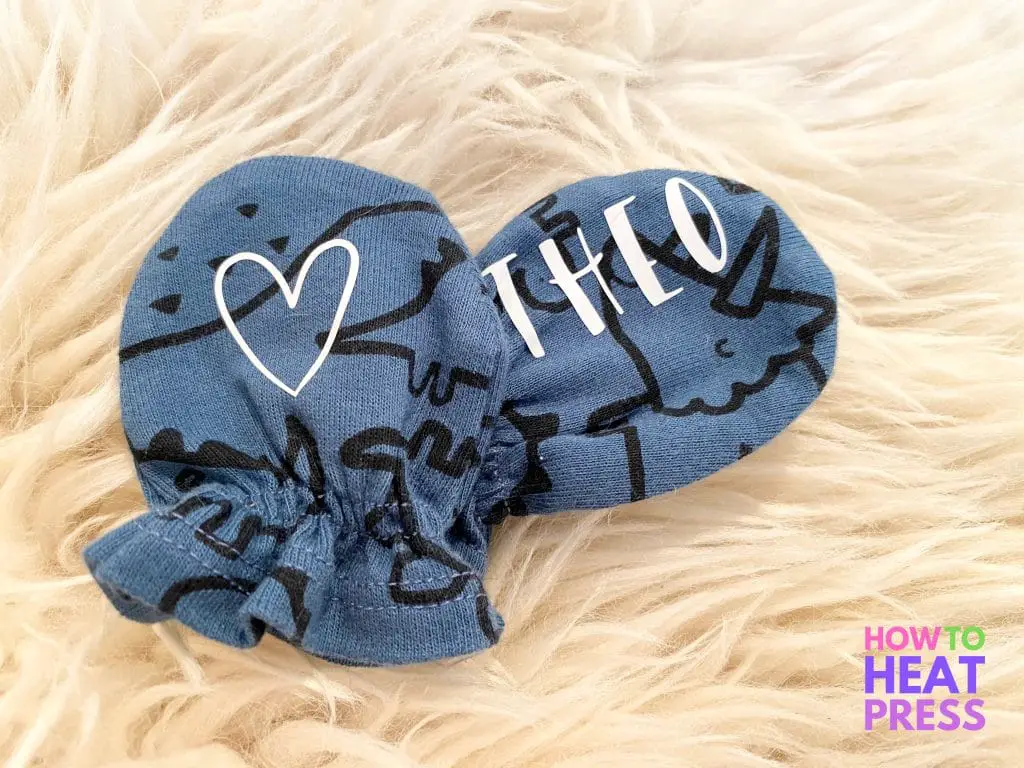 Little babies are sure darling, but those little nails can be vicious! Mittens will help keep that precious face from getting all scratched up when their claws grow faster than you can keep up with. The font here is Holiday Colors.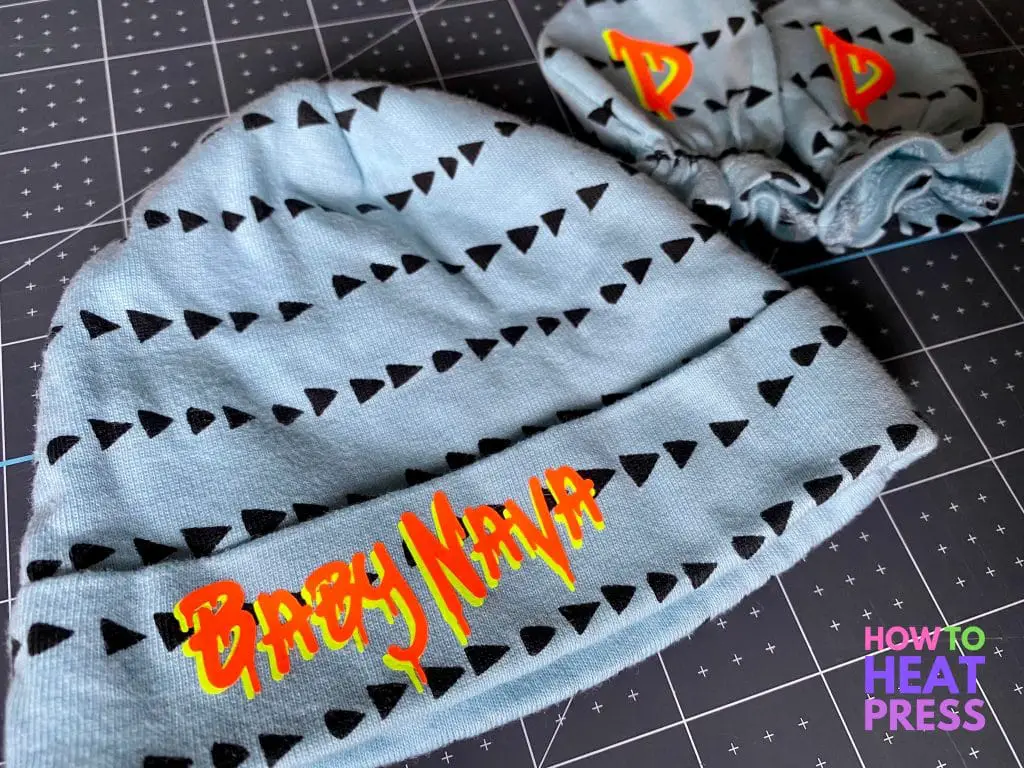 Is the baby to be an urban city baby? This font called Bombing Gang creates an awesome graffiti inspired look, especially in neon colored HTV! I simply cut the same words twice and ironed the orange just slightly offset from the yellow to create the shadow effect.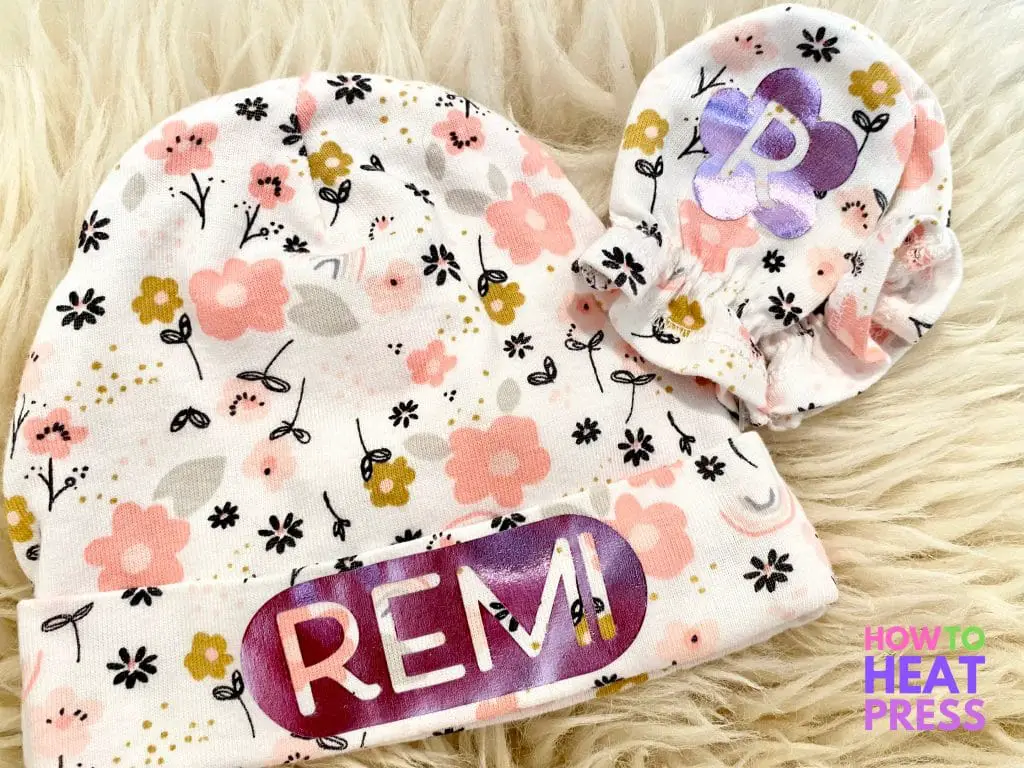 I really liked this flower pattern but I also wanted to make sure that my baby name and initials would stand out. To make sure that happened I used a rounded rectangle and flower shape respectively along with the slice tool.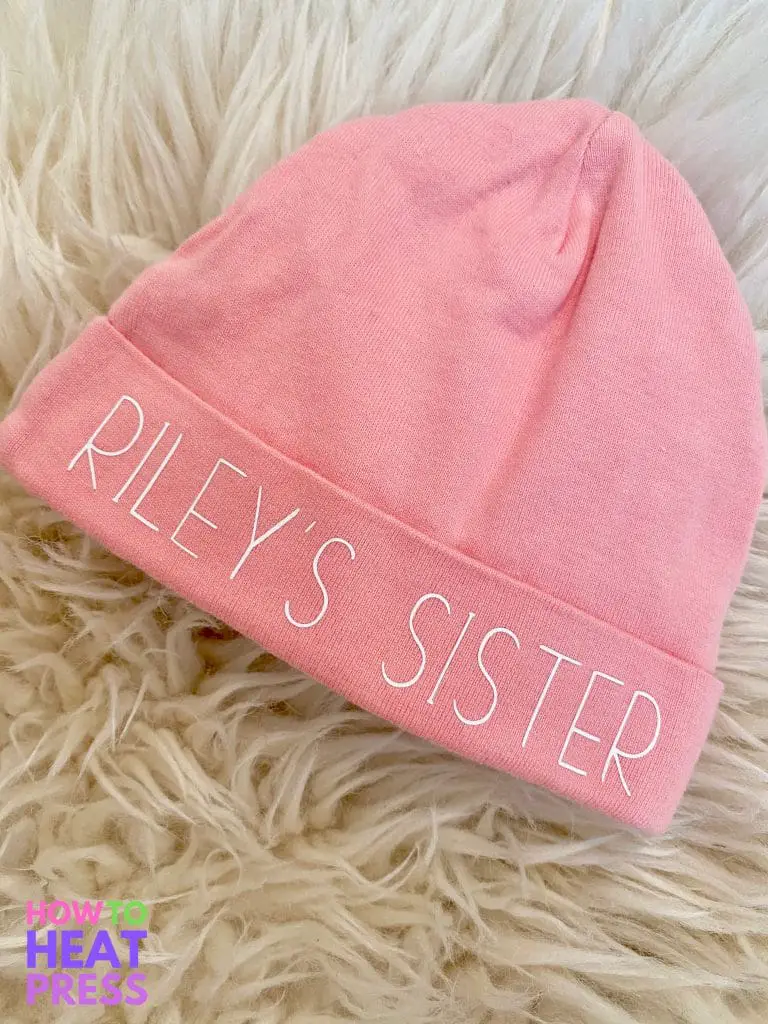 Worried there might be a jealous older sibling? Make them feel special and included with a special shout out! The font her is Stay Home from Font Bundles in white HTV.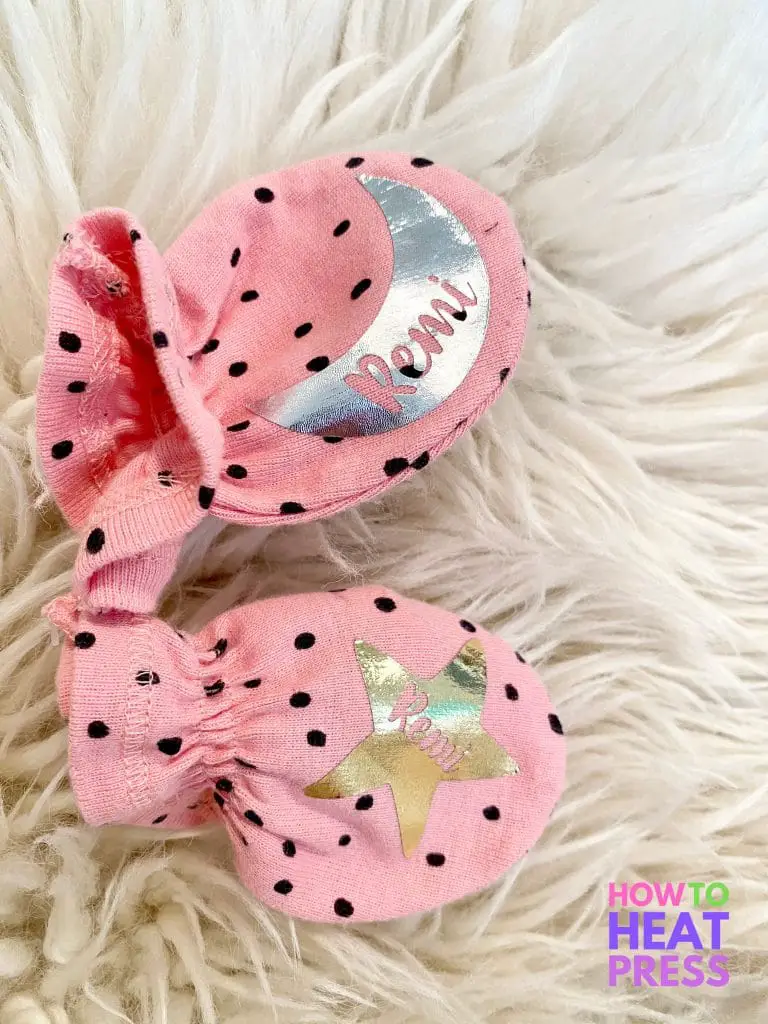 The polka dots are sweet, and I really wanted to find a way to make these mits into watermelon slices, but alas I went for a silver/gold moon and star combo. The slice tool can turn any simple shape into a personal design! The font is the free version of Timberly.
Make it a Gift Set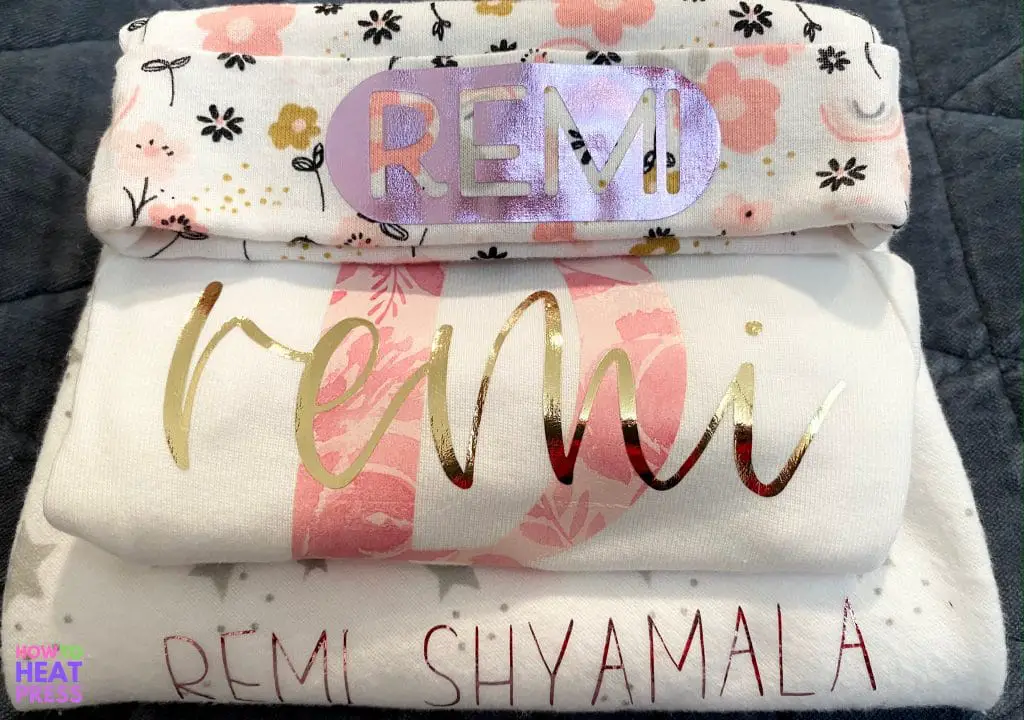 Giving the gift of custom Cricut Baby Onesies ® or blankets, burp cloths, hats, or mittens is so thoughtful. I mean, if you were Remi's parent wouldn't you swoon a bit over that little stack above? The recipients will feel the love and support they need from you as part of their support network. Gerber's high quality and cost effective multi packs make it easy to have extra items on hand to make when you find out a new arrival is on the way!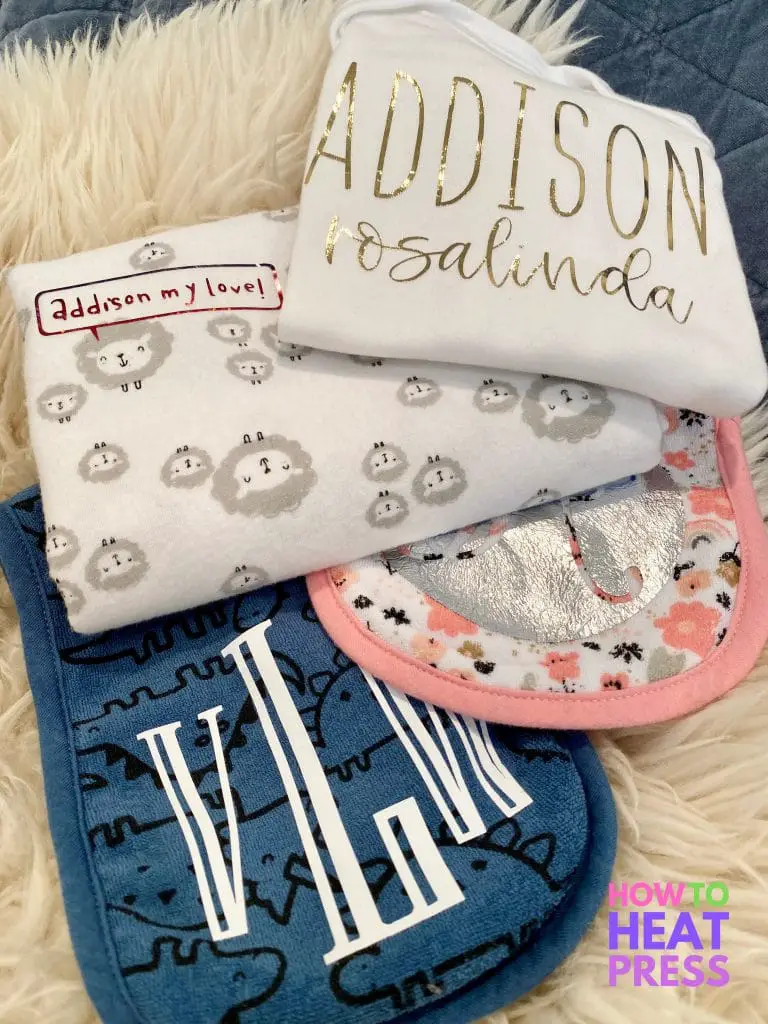 What other baby items are you customizing? Anything we've missed that is a baby essential? We'd love to hear what other DIY projects you're making for the sweet new baby boy or baby girl in your life!
(Please note: This post contains affiliate links. Read our full disclosure policy here.)