How To Use Cricut Pens With Design Space Draw Feature
This post contains affiliate links. If you use these links to buy something, we may earn a commission, but it doesn't cost you anything. Thanks!
Want to know more about Cricut pens?
Cricut pen projects can be extremely impressive. Give a custom card to a friend with a Cricut written message, and they'll be like, 'how on earth did you DIY this!?' You can use pens to write with the Cricut Joy, Cricut Explore, or Cricut Maker.
Here's everything you need to know about using Cricut pens, along with a cute baby shower invitation I made using the draw feature in Design Space.
Cricut Pens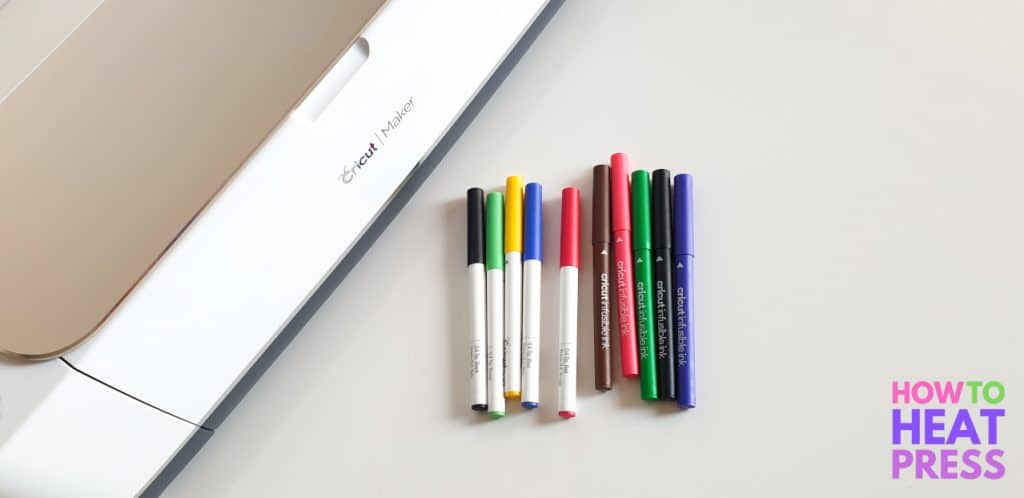 What types of Cricut pens are available?
Here are a few of the many Cricut pens for sale in tons of different colors:
Fine Point Pens
Extra Fine Point Pens
Calligraphy Pens
Metallic Pens
Gel & Glitter Gel Pens
Cricut Infusible Ink Markers
Cricut Infusible Ink Freehand Markers
Each of these pen types come in a whole range of different pen colors. There are so many options, so see the whole range for yourself explore the links above.
Can You Use Other Pens With Cricut?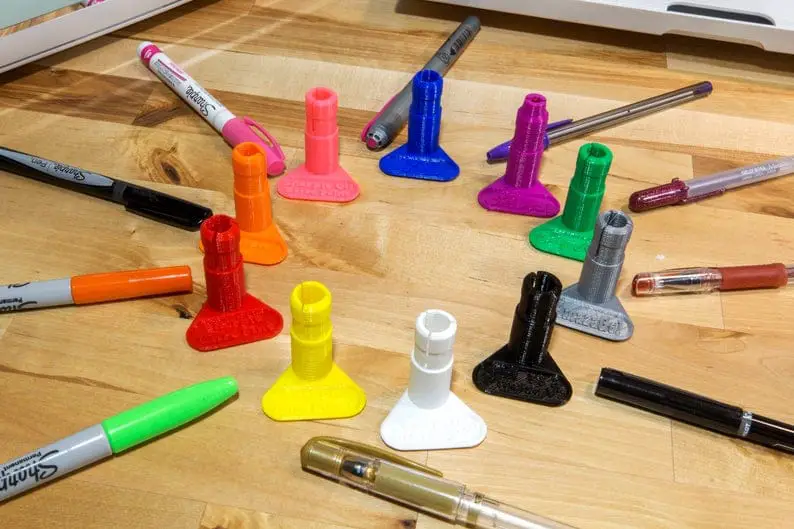 Do you have to use Cricut pens?
If you buy a Cricut pen adapter, then you can use almost any kind of pen with your Cricut machine – Sharpies, Crayola markers, ball point pens, and even pencils and crayons!
We have a whole post dedicated to Cricut Pen Adapters where you can see all the options and find out how to get your hands on these beauties!
There are some (non-Cricut) brands of pens that will fit into your machine with no adapter necessary. Some types of Crayola, Bic pens, and Sharpies will fit straight away.
Free Writing Fonts For Cricut
Cricut has a range of single-line, writing style fonts within Cricut Design Space.
To find them in Design Space, you can filter all of the fonts by 'Writing' – this will leave all the fonts suitable for writing. These are available for purchase, or if you are subscribed to Cricut Access, they will be included within your subscription.
There are also lots of free font websites where you will find some single line fonts. Just filter through all the fonts by 'single-line'. Here's a post that has a great list of free single line fonts out there, two of which I downloaded to use for my baby shower invitation (below).
Cricut Pen Project Ideas
Here are a few crafting ideas for Cricut pens:
Invitations
Greeting cards
Gift card holders
Labels
Gift tags
Wall art
Kids coloring pages
Addressing envelopes
Infusible ink coasters, bags or t-shirts
Party decor
Tote bags
T-shirts or other washable fabric blanks
Draw from SVG files
Write on printable HTV
Now, let's get onto today's project and how to make it!
How To Use Cricut Pens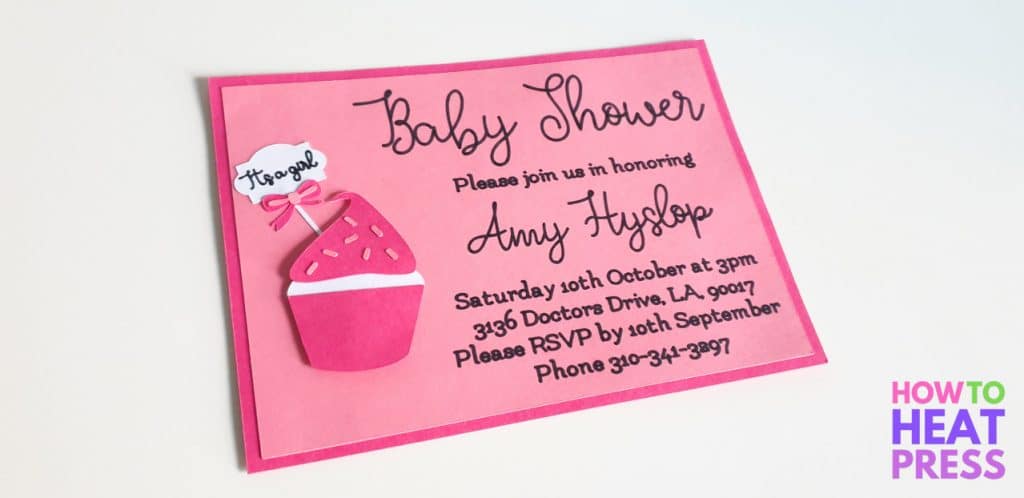 Here's the project I've designed in Cricut Design Space.
It's a baby shower invitation, made using the shape tool to create two rectangles, one light pink and one dark pink, for the card. I will glue the two pieces together.
I have the invitation text on the right side of the invite, which will be written with the Cricut Maker. The cupcake design is an SVG I found online. Coming out of the pink cupcake SVG is a little banner that announces 'it's a girl', which will be written with a Cricut pen also.
Using Free Fonts in Design Space:
For this project, I'm using the free single-line fonts Flamenco and Grace. I downloaded them to my computer, installed them, and then signed out and back into Design Space so that they would appear in my system fonts.
Learn more about uploading fonts here.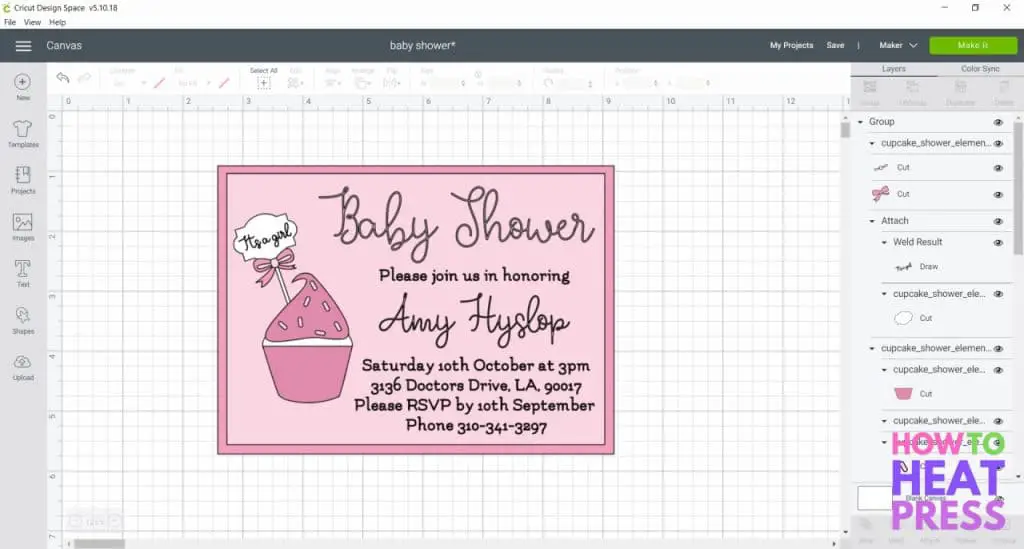 Changing the Linetype:
To get your Cricut to write the text with pen, you will need to change the linetype from cut to draw (see the photo below). We've got a whole article on how to edit text in Design Space, with all the different options available!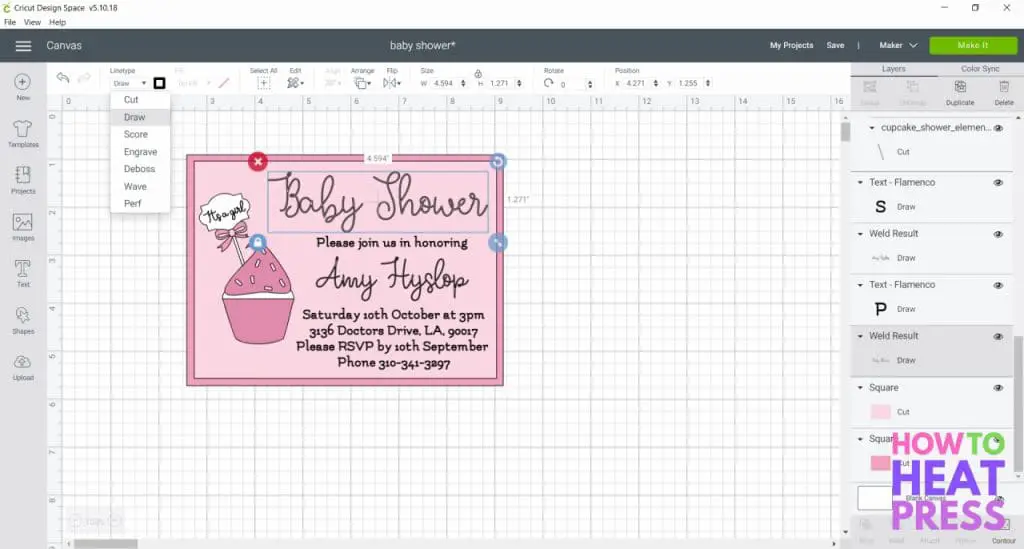 Selecting pen type and color:
Click the box next to linetype to select the type of pen you will be using, as well as the color. This step is important to give the best result when your machine is writing!
Welding script text:
If you are using a script font for your text, you will need to reduce the letter spacing so that the letters are touching. Next, you can use the Cricut weld feature (bottom right), to weld the word together into one image. It's important to weld because you want the pen to write the cursive in one smooth line instead of picking up the pen for each letter.
On my invitation I welded together 'baby shower,' 'Amy Hyslop,' and 'it's a girl' as they were all script font. The rest of the text does not need to be welded because the letters are not connected.
Attaching text to the card:
Once you have finished your design and welded anything that needs to be welded, you can attach all of the text to the card (the rectangle). This tells your Cricut to write the text onto that shape, in the exact placement you have designed.
To do this, select all of your text, hold down ctrl on your keyboard, select the shape, and then click 'attach' (bottom right).
Mat Preview:
In the mat preview, you can check to see if all of the text has attached correctly to the shape. You can see in the screenshot below that all of the text on my invite appears in the correct location just as I designed it on the canvas.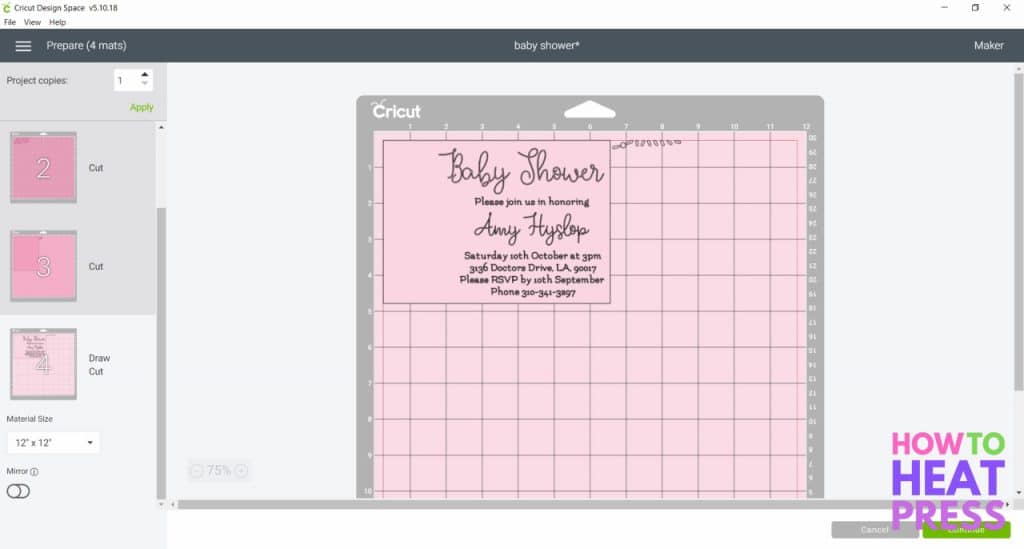 How to insert Cricut pens into your machine:
Next, it's time to write out the invitation with the Cricut Maker.
To insert your pen into your Cricut, open up clamp A and put in your pen. You want to gently click it down so that the little triangle on the side of the pen disappears and then close the clamp.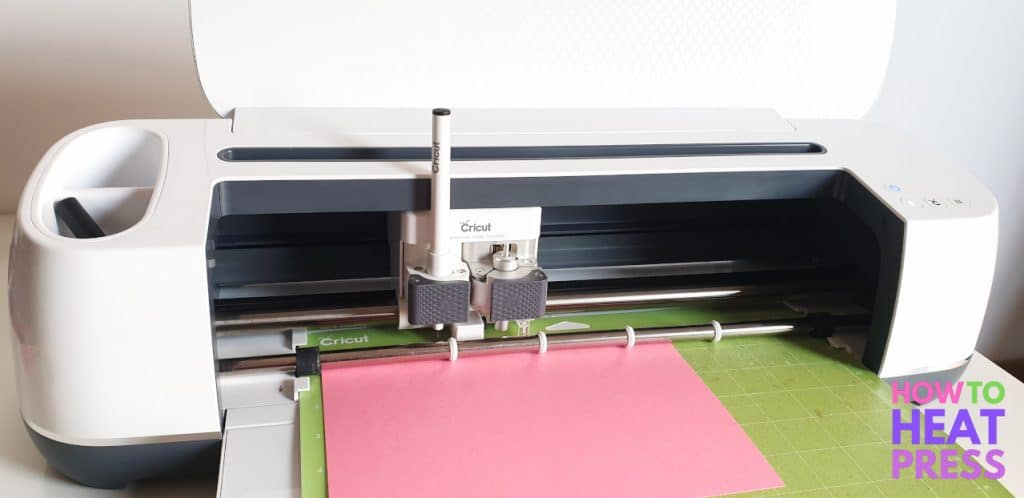 Your cut setting will depend on the material you are using – whether paper, light/medium/heavy cardstock, and so on. So set the material accordingly, and do a small test cut if needed. Use whichever cutting mat is appropriate for the material, there's no special mat for writing.
As you can see in the preview above, your machine will complete the cuts first and then the writing. It will pause for you to chance the mats as needed.
Putting the invitation together:
Here's the invitation with all of the writing done. Love the script font!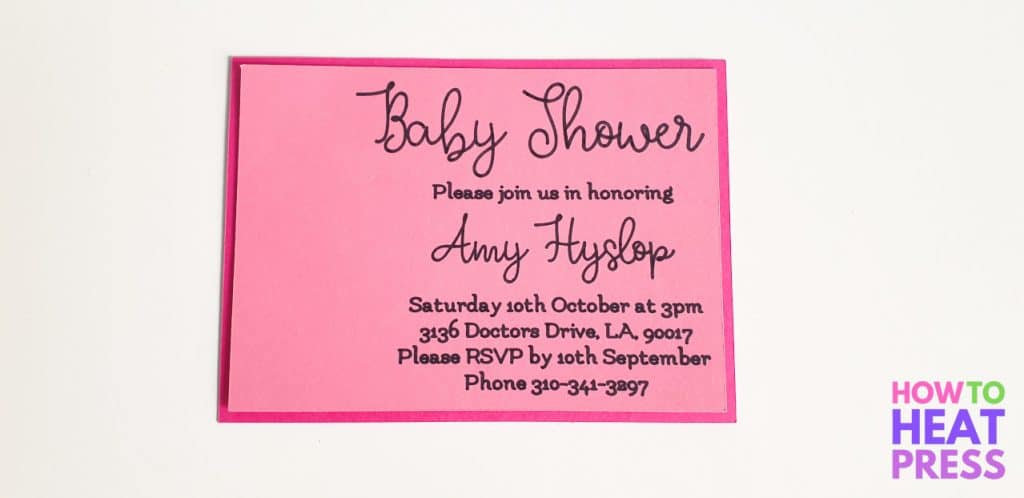 Lastly, I just glued the light pink card onto the dark pink (I like the effect of the two colors because it looks more polished), and I put together the cupcake SVG on the left of the invitation. There are lots of free SVG's available online that you could include in your Cricut pen projects.
Cricut Pen Project
Love the finished invitation!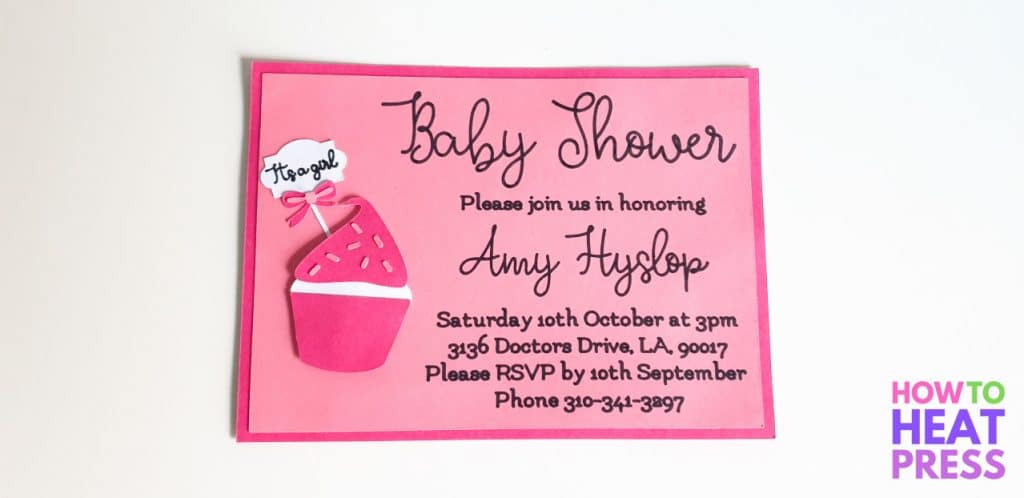 There are so many cool things you can make with Cricut pens, and they will be sure to impress your friends and family. You could definitely even pretend you're a calligraphist!
Pick up some pens for Cricut and try out some projects yourself!
(Please note: This post contains affiliate links. Read our full disclosure policy here.)