Just Discovered: The Official Cricut Clearance Page!
This post contains affiliate links. If you use these links to buy something, we may earn a commission, but it doesn't cost you anything. Thanks!
We're a little late to the party, but have just discovered the Cricut Clearance Page!
Sure, we'd always noticed the 'CLEARANCE' label on the odd product as we scanned through items on Cricut.com. BUT we'd never ended up on THE Clearance Page!
Cricut Clearance Sale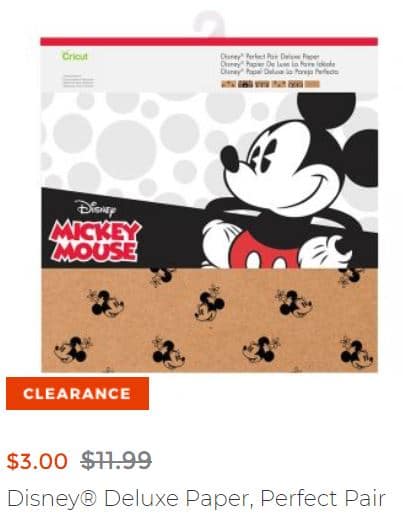 For those who are new to Cricut, each week Cricut has a new list of discounted products. This will be things like 'Get an Explore Air 2 for $199', or '40% OFF Cricut Iron On.' These deals change each week and there's usually at least one really good deal each week. We list the details of this Cricut Sale here.
But this post is about the Clearance items which are a whole other story – many of these products are 75% OFF. Prices unheard of in the regular weekly sale!
Now, you might think they are on clearance because the products suck and nobody wants them, but that doesn't seem to be the case. Look at these great products!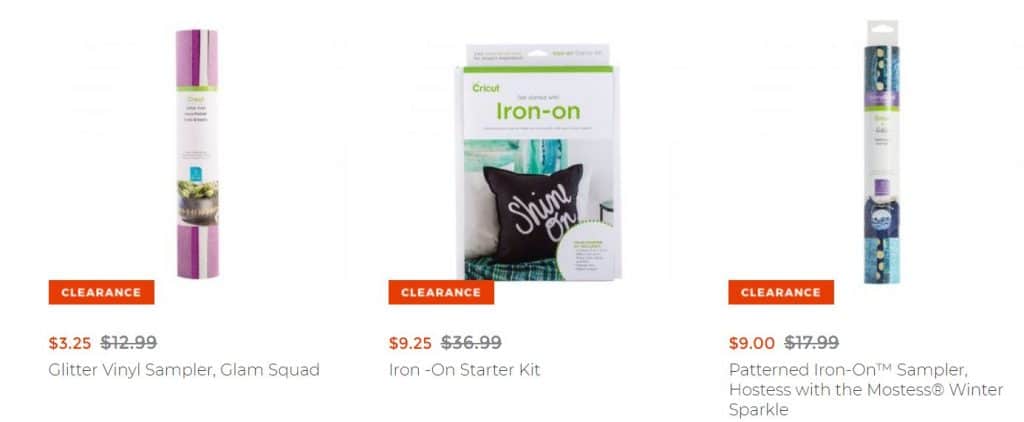 There are awesome iron-on products, vinyl samplers, cutting mats, tools (like the scoring wheel), cardstock, EasyPress mats, and Cricut pens – so much great stuff at incredible prices.
At the time we're writing this, there are even a ton of Disney Cricut products on clearance (which would work well with these free Disney SVGs)!
So we don't think these Cricut Clearance products are bad or unwanted, but perhaps they are the end of the line items needing to be cleared, excess stock, and leftovers from previous promotions. Whatever they are, they are amazing deals!
There are generally no Cricut machines on clearance, but you never know what might pop up on the day you're looking. There might be a certain color of Maker or Air 2 that they are no longer going to stock, and they need to run out those last few units?
Alternative Cricut Clearance
From time to time, there are also clearances of Cricut goods on other sites.
Here is where you need to look:
Michaels – they do not always have Cricut products on clearance, but this is where they will be if there are!
Swing Design – often find big reductions on Cricut bundles
Amazon –  always something available, whether tools, materials, or even machines!
We hope you've been able to find a clearance option on what you need. If not, head on over to the Cricut sale page and see if it's there instead. Good luck!
(Please note: This post contains affiliate links. Read our full disclosure policy here.)