7 Best Sewing Machines For Kids – Buyers Guide!
What is the best kids sewing machine?
Sewing is a fun craft that promotes confidence and creativity, two traits that we all want our children to have. And not only that, they end up making something they can use or wear (hopefully)!
With initial guidance from you, along with the right sewing machine, a new door of endless possibilities is unlocked for your child. In this article, we're going to review some of the best sewing machines for kids on the market today, so stick around.
The Best Kids Sewing Machine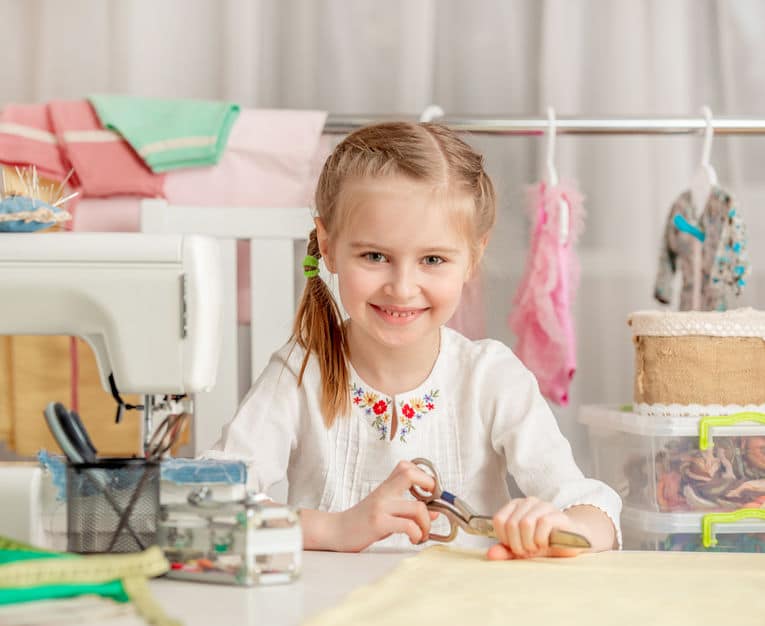 Here are the 7 machines we have chosen, and where you can purchase them from. Make sure you compare prices to get the best kids sewing machine at the best price!
Before Buying a Sewing Machine for Kids
Unlike typical buying guides that you see when searching for a sewing machine for an advanced sewer, we're going to keep this guide simple, because that's exactly what your child needs. Your child doesn't need a heavy duty sewing machine, or large number of stitch patterns, so unless you're going to be using the unit, there's no need for an overabundance of stitches.
Additionally, always look at the machines that feature snap-on presser feet and stay away from the ones that screw on. You want a unit that offers various presser feet to so that your child can experiment with various stitch patterns. Also, you probably find it super hard to thread a needle manually as an adult, imagine how your child will feel without an automatic needle threader!
The sewing machine you're about to buy for your child needs to be easily portable. Let's say your kid wants to sign up for sewing classes, they are likely going to need to bring their sewing machine to class at some point. That's why you need to invest in a machine that features a cover and a handle for easy lifting.
Here is more information about the children's sewing machines listed in the table above.
Janome 2212 Sewing Machine
From novice to advanced sewing enthusiasts, the Janome 2212 provides a reliable performance that makes for an enjoyable user experience. This sewing unit is compact, lightweight, and fairly simple to use and operate. But you'll have to teach your child how to thread a needle, because it lacks an automatic needle threader. It features no difficult knobs that can cause confusion at all.
This machine features 12 built-in stitches that you can switch between with the aid of a dial. You can also find an old-fashioned bobbin sitting securely underneath the sewing arm. This machine is able to glide through some of the thickest layers of materials with remarkable ease. The pedal allows you to control the speed and operation of the machine.
One of the features that you'll highly appreciate, and which your beginner child will find liberating, is the free arm feature, which will provide all the help needed when it comes to sewing sleeves.
All things considered, this is a brilliant piece of machinery that comes with everything your child will need in his/her sewing expedition, and it comes at a reasonable price for what it has to offer.
Pros:
Equipped with 12 convenient stitches
Comes with a wide range of accessories
Features a free arm for sewing sleeves
Easily adjustable stitch length and width
Cons:
It lacks an automatic needle threader
Not the most budget-friendly option
Brother XM2701 Sewing Machine
The XM2701 is a remarkable sewing machine that provides everything a beginner sewer needs, while also offering some features that will impress the advanced sewer. Versatile is probably the right word to describe this machine, as it comes with 27 built-in stitches, which is enough for you and your child to find the ones that you want to work with.
The reason why this machine is so perfect for kids is that it comes with 6 snap-on feet designed for little hands. Moreover, you won't have to spend time teaching your child how to thread a little needle. Another great feature that the XM2701 has to offer is the clear cover right over the unit's bobbin, which you can utilize as an indicator for when you need to add more thread.
Not only will this machine unlock your child's creativity, but it will also enhance his/her eye-hand coordination over time once they get the hang of the foot-pedal operation, which can be hard to get used to at first, admittedly. You won't have to buy extra accessories, everything you need is included in the package. There's also an instructional DVD that will help your child get started.
Pros:
Loaded with 27 built-in stitches
Has a needle threader function
A free arm and 6 snap-on feet
Features an instructional DVD
Cons:
The pedal operation can be hard
The LED light is a bit dim
Brother CS000i Sewing Machine
If you're more of a tech-savvy parent and you want your child to enjoy an easier and much more straightforward sewing experience, the CS6000i is top of the line as far as computerized sewing machines are concerned. No matter your child's skill level, this machine will make sewing seem like a walk in the park, which helps motivate the child and encourages them to sew more.
The unit features a bright LCD screen that's easy to read and that displays the stitch being used in the sewing process. Oh, and it features 60 different built-in stitches and 7 buttonhole choices! It features a free arm and a very wide table, which makes it super easy to sew sleeves and legs. The feet can also be snapped on and off for your and your child's convenience.
Not only is the CS6000i designed for sewing, but it can also help your child learn the necessary skills for quilting. One of the greatest attributes about this machine is its quiet performance, you can barely hear it unless you have your ears glued to it. Most computerized sewing units can be quite hard to figure out, but the Brother CS6000i is simple enough for anyone to understand.
Pros:
The LCD screen allows for easy navigation
Features an automatic needle threader
Can be utilized for sewing and quilting
It's pre-loaded with 60 built-in stitches
Cons:
Not really a low-maintenance machine
May be overwhelming for beginners
Singer 3232 Sewing Machine
Despite being a very lightweight machine, the Singer 3232 is one of the most rugged machines on this list, as it features a metal frame that's reinforced with hard plastic. The Singer 3232 has all the right things going for it, it features an automatic needle threader, snap-on feet, a storage compartment, auto-reverse level, and it's equipped with 32 built-in stitches for convenience.
This unit also features an embroidery foot and quilting guide, so sewing isn't the only thing your child can learn from this machine. The unit comes with all the necessary accessories to get your child started. It has a carrying handle that allows for ease of portability and it comes with a DVD that will teach your child everything there is to know. The unit is backed by a 25-year warranty.
Pros:
Comes with a 25-year limited warranty
Features a wide array of built-in stitches
Highly durable and lightweight design
Offers plenty of convenient functions
Cons:
The design of the bobbin is pretty poor
Warranted 110 volts in the US and Canada
Brother CS5055PRW Sewing Machine
Consistency is key when it comes to stitching, and the Brother CS5055PRW delivers just that. It comes with 50 stitches that include quilting, decorative, heirloom and built-in stitches. Also, it's a speedy machine at 850 stitches per minute, but manages to maintain a quiet performance.
The unit comes with a wide range of accessories that complement the sewing experience, like 6 specialty feet, a few specialty needles, and an impressive number of stitches. This unit is highly reliable, safe and easy to operate, which makes it an ideal choice for a beginner sewer.
Pros:
Very consistent stitching quality
Ideal choice for custom results
Easy to operate and maintain
Offers a wide range of stitches
Cons:
Spare parts are quite expensive
Not the most lightweight machine
Michley LSS-505 Sewing Machine
If the above-mentioned products look like costly investments to you and you'd rather your child learn the art of sewing on a more budget-friendly sewing machine, the LSS-505 is exactly what you need. This unit is one of the lightest units on the market and it's the most lightweight on this list.
What makes the LSS-505 so great, apart from its weight and cost, is that it allows you to switch between forward and reverse sewing with ease. It has 8 built-in stitches and a double thread. It also comes with a LED sewing light for convenience. Definitely an impressive machine for its cost of value.
Pros:
It's highly affordable on any budget
Extremely compact and lightweight
Features forward and reverse sewing
Great option for absolute beginners
Cons:
It's quite hard to thread the bobbin
The instructions are poorly written
Singer 1507WC Sewing Machine
A second entry from Singer with the highly popular 1507WC Easy-to-Use Free-Arm Machine. In a nutshell, this sewing machine is a time-saver because it's so quick and easy to figure out and use that neither you nor your child will take too long before bringing imaginations into reality.
This unit is all about customization, as it allows you to adjust the length and width of the stitches. It features 8 built-in stitches and an automatic 4-step buttonhole. It also comes with 4 snap-on feet for your convenience. Easily one of the simplest units to figure out and use.
Pros:
Allows for adjustable stitch patterns
Very easy to understand and operate
Comes with 4 snap-on presser feet
Offers extremely fast performance
Cons:
The bobbin is very hard to thread
The instructions manual is very poor
Best Kids Sewing Machine
Out of the above-mentioned products, there's one unit that combines all the right features that a child would appreciate having at his/her disposal, that machine is the Brother XM2701.
It comes loaded with a wide range of stitching patterns, an automatic threader, and pedal operation, what more can a child want?
Let us know which kids sewing machine you think is best the comments below. Check out these top embroidery machines if you were keen on one of those as well, and these craft tables for kids!
Thanks for visiting!
(Please note: This post contains affiliate links. Read our full disclosure policy here.)