Best Handheld Sewing Machine
This post contains affiliate links. If you use these links to buy something, we may earn a commission, but it doesn't cost you anything. Thanks!
Handheld sewing machines are perfect for on-the-go outfit repairs and mending, so you'll be red carpet ready wherever you're heading with no embarrassing wardrobe malfunctions to steal your spot in the limelight. Not heading to the red-carpet? Yeah, me neither, but that doesn't mean a mini sewing machine isn't going to be a great new tool for your DIY arsenal!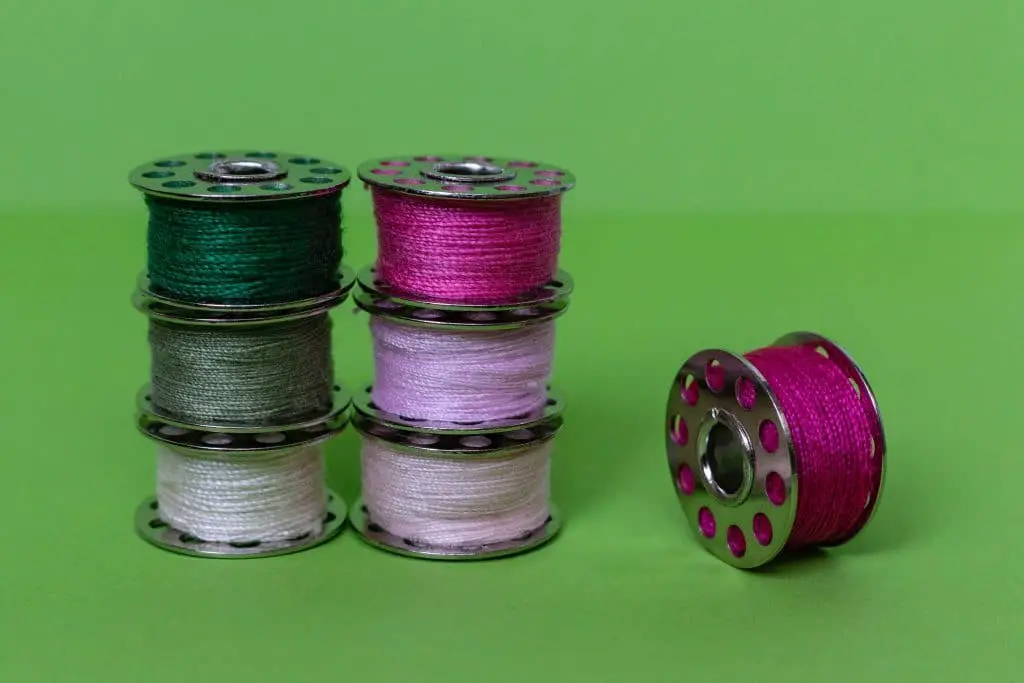 Whether that's out to dinner, an important business trip or you simply don't want to clear the space and set up your full-size sewing machine always be prepared with one of these machines to fix a hemline or tear!
Smaller than your average sewing machine, these compact sewing devices are perfect for traveling with and will conveniently fit in your bag. I find it helpful to think of them as handheld mending machines more than sewing machines. It's going to be frustrating if you try to use it to sew a large project but is perfect for mending small issues.
No more fiddling with a needle and thread from your mini sewing kit, as a handheld sewing machine does it all for you.
Unlike their larger, full-sized cousins, the best portable sewing machines are relatively new to the sewing industry, therefore you may not know exactly what you're looking for.
Don't worry though, because we're on hand to point you in the right direction with five reviews of some of the best handheld sewing machines that are currently available.
Best Handheld Sewing Machine Review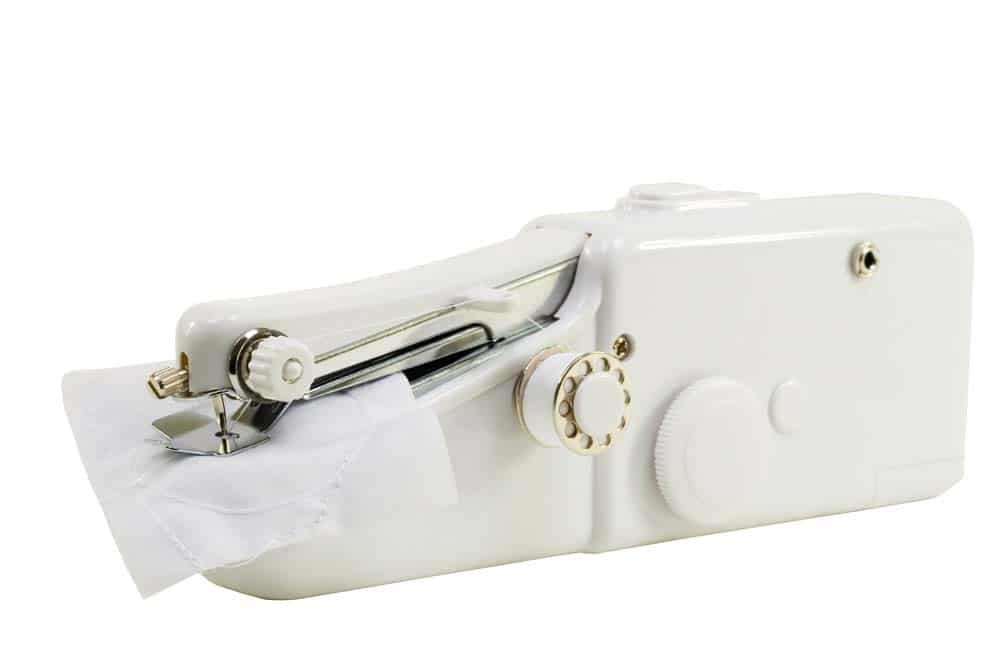 To show you how we narrowed down our choices for the best handheld sewing machine, we've included a useful buyer's guide that will talk you through each factor we considered.
If there's something you're still unsure about, check out our frequently asked questions section where we answer some of the things people most commonly want to know!
In a hurry? Hemlines to stitch? Check out our top pick for the best of the best when it comes to these handy handheld sewing machines.
Buyfitcase Portable Sewing Machine

Lightweight and Portable
Easy to Use
Applicable to Almost Any Material 
More User-friendly Design
This portable sewing is 100% brand new and high
quality

View Latest Price

SiddenGold Handheld Sewing Machine

Handheld sewing machine is so mini that you take it conveniently.
It can make some repairs that conventional desk machines can not handle.
The product is a perfect tool, which great for fabric
Handheld sewing machine is easy to operate
The handheld sewing machine is a portable tool when you need need a quick repairs and alterations

View Latest Price

APlus+ Handheld Sewing Machine

Easy to grip controls make it easy to use
Mini size & portable handy sewing machine
Multifunctional 
Aplus+ is a brand of honest management
Applicable to fabric, clothing, silk, jeans, leather, denim, wool, hem pants, draped curtains, holes, toys

View Latest Price
 

Singer Stitch Sew Quick Portable Mending Machine

Lightable & Portable
Suitable for various materials
Easy to use
High-quality customer service, well known brand

View Latest Price

Charminer Handheld Sewing Machine

Applicable to almost any material
Goods Come with Cloth
Lightable and Portable
Easy to Use
More User-Friendly Design

View Latest Price
BuyFitCase Portable Sewing Machine
One of the most highly rated handheld sewing machines we came across is this option from VIIMI, and we have to agree that this product is one of the best choices available. When I was a kid I remember this in the "As Seen on TV" advertisements and always wanted one!
An incredible 4.8-star rating with over 1,000 reviews just shows how many existing customers absolutely love this portable handheld sewing machine, and we just know that you will too. That's why it's our top pick! Plus, it's always fun to have a bright-colored machine in my opinion.
It's both lightweight and portable so it can be easily taken with you which makes it perfect for when you're on the move.
When you are out and about, you won't have to worry about finding a power outlet to run it from as it has both a DC 6V power supply or you can power it using 4 x AA batteries, although these are not included.
You can stitch on a variety of fabrics and materials including silk, wool, curtains, and perforations, meaning it's suitable for a range of applications. You don't even have to take your clothes off!
In fact, we recommend that you don't… Just make sure you don't try and sew anything heavy-duty over 1.8mm in thickness, as otherwise, you could damage your machine.
This handheld sewing machine makes simple stitching jobs easier than ever, with 4 easily disassembled thread set points. There's also an adjustable mounting plate so you can sew buttons onto your clothes without difficulty.
If that wasn't enough, multiple accessories are included such as sewing needles, tape, scissors, replacement needles, various threaded bobbins, and more.
When you consider this and how well it performs the task at hand, plus its incredibly affordable price point, it's clear that this handheld sewing machine provides serious value for money.
No wonder it's so popular!
Pros 
Highly rated and selected as Amazon's Choice as well as being our top pick

Lightweight and portable 

Compatible with a range of fabric up to a thickness of 1.8.mm 

Multiple accessories included

Offers excellent value for money considering its affordable price point
Cons
Monofilament sewing machine 
SiddenGold Handheld Sewing Machine
Next, we looked at the SiddenGold handheld sewing machine which is so mini, it fits conveniently in your bag. It's the ultimate travel sewing machine for anyone who thinks they'd benefit from having one of these useful tools with them wherever they go.
You never know when you might need it, and at just 10.3 oz in weight, it's hardly a burden in your bag.
Despite its small size, it can handle carrying out daily repairs on your clothes and other garments, including some types of repair that would actually be more difficult to carry out using a standard desk machine.
It's powered by 4 AA batteries which are commonly available so you'll be able to use this handheld sewing machine whenever you need.
You can comfortably stitch with materials such as silk and wool, or for craft purposes and other projects. While you may not be able to create runway looks and the most embellished designs, you can certainly add an interesting patch to brighten up your oldest pair of jeans.
It's quick and easy to use by pressing a simple switch to start, although you'll need to knot it to finish. It's therefore suitable for a range of ages, from beginners who are learning the ropes before committing to a regular sewing machine, or older, more experienced sewers who may find this type of tool easier to manage than a large, bulky desk-machine.
Pros
Most affordable option 

Mini design and shape is perfect for traveling with 

Powered by 4 x AA batteries and cordless

Suitable for use on multiple types of fabric 
Cons
Less durable option due to slightly flimsy plastic components 
APlus+ Handheld Sewing Machine
Most handheld sewing machines feature the same simple design that looks rather similar to a stapler, but this offering from APlus+ has a bright, bold, pink outer casing which we absolutely love. 
It's also larger than some of the other options we've included at 20cm, although this is not the biggest we've found and it's still lightweight enough to transport without effort.
There's even a convenient safety lock feature so that it can't accidentally start stitching through your bag while you're in transit.
This multifunctional tool has a double track as well as double speed control, so you can choose between high and low settings to keep up with your sewing needs.
Plus, the easy-grip controls are easy to use which means you can precisely control your sewing for neat, polished stitches that add a professional finish to your projects.
You can sew on thicker fabrics such as denim, curtains, and leather, although there is a 1.8mm limit to this handheld sewing machine's capabilities.
Tension control can also be adjusted to change the tightness of the stitches and a fastening plate prevents your material from moving around while you sew. 
The dual-powered handheld sewing machine is far more than just it's exciting aesthetic appearance and has a lot to offer for a really reasonable price. 
Pros
It features a useful safety lock

Great value for money 

Its bold, pink design makes this a great gift

Suitable for a range of applications 
Cons
Slightly larger than other models 
Singer Stitch Sew Quick Portable Mending Machine
Next up is the Singer Stitch Sew handheld sewing machine, which is a great option for on-site maintenance or at-home repairs. There's no need for embarrassment if you end up tearing your jeans or t-shirt while you're out, as with this device you can fix your clothes in no time. Singer is obviously a very established brand of sewing machine so you can trust it will have quality construction. 
It's suitable for all basic sewing needs and can be used with the majority of materials provided they aren't any thicker than 1.8mm.
From clothes to other projects around the home, such as drapes, cushions, stuffed toys, or quilts, there's plenty of things you can do using this versatile handheld sewing machine from Singer. 
You can connect it to a flat edge at just the touch of a button and it's powered by 4 x AA batteries. The easy-to-use sewing machine also features 4 thread set points, which can be easily disassembled if needed.
Included with the machine are accessories such as threads, bobbins, needles and thread spindle. Singer's handheld machine comes already threaded so you'll be ready to use it as soon as you pull it out of the box!
Pros 
Easy to operate which makes it perfect for beginners 

Battery-powered 

High-quality, helpful customer service 

Includes a range of accessories including a handy needle threader

Instruction manual provided and video tutorial online
Cons
More expensive option - although it's frequently on sale on Amazon

Can be easily damaged if not used correctly
Charminer Handheld Sewing Machine
Last, but not least, we looked at this dual-powered Charminer "Handy Stitch" handheld sewing machine. It's the perfect gadget for quick repairs and small sewing jobs, great for anyone who prefers doing things by hand rather than using a bulky sewing machine you'd traditionally find.
It features a user-friendly design so even the most novice sewers can get to grips with it quickly, and it comes with instructions on how to use and thread your machine, so there'll be no more complicated bobbins or fiddling with a needle and thread.  
Plus, it comes with a number of useful attachments, including a manual long rod, 2 sewing needles, 9 spools, scissors, and more. There are also 4 thread set points that can be disassembled with minimal effort and an adjustable mounting plate. 
It might be slightly more expensive than some of the other options we've included in this list, but it's also incredibly well-performing so you'll be safe in the knowledge that all your sewing needs are taken care of with this one, small machine.
It is a monofilament sewing machine which means you must tie the threads yourself to knot off your small repairs. 
Pros 
User-friendly design that makes it easy to use

Easy to thread 

It offers excellent performance 

Multiple accessories such as a measuring tape and thread cutter included 
Cons
One of the largest options on our list

Slightly more expensive option 

Monofilament sewing machine
Best Handheld Sewing Machine Buyer's Guide 
And there you have it, five of the best handheld sewing machines that are currently available. If they're not already obvious after reading our reviews, we're about to explain some of the key advantages of having a mini handheld sewing machine while also talking you through what to look out for when making your decision. 
Size and Portability 
One of the main (and most obvious) benefits of having a handheld sewing machine is its small size. With a design that's not altogether disimilar to staplers, their compact design means they take up barely any storage space so you can comfortably keep them in your home or as part of a travel sewing kit bag.
They're portable enough to take with you when you're on the go, which is something that regular sewing machines aren't exactly known for. Ever seen somebody whip out a full-size machine on the bus to fix a tear in their pants?
It's unlikely because they're more cumbersome and much heavier than handheld sewing machines are. 
If portability is one of the reasons why you're choosing a handheld sewing machine in the first place, you should also consider the overall weight of the device as well as size, because this will determine how easy it is to travel with. 
Sewing Speed and Functions

 
We've just established that these mini handheld versions are much smaller than a standard sewing machine, and that does mean they're going to be less powerful. However, that doesn't make them any less useful!
Handheld sewing machines don't offer the same full range of features that a full-size sewing machine would, but they can still perform a variety of useful sewing functions.
With that being said, you'll want to pay attention to those it does offer to make sure you can get the most out of your machine.  
Check to see if your handheld sewing machine has more than one sewing speed, as this will 
Some of these machines only offer one, but the better models allow you to choose from high or low-speed settings to suit the needs of your current project. Some will also come with additional accessories or attachments to widen the scope of their capabilities. 
Finally, make sure you check the maximum thickness of material that your handheld sewing machine can handle, as this will dictate what type of projects you can complete using this handy tool.
Some are perfectly suited for denser materials like denim, whereas others are limited to thinner fabrics which in turn limits the use you can get out of it. 
Ease of Use
One of the other things we've found when researching handheld sewing machines is that they're much easier to use.
They're a great option for a beginner to learn on without committing to a much larger purchase of a larger sewing machine. 
Because of their more limited functions, there's less to get to grips with and you can learn to sew and stitch in a less complicated way.
It's perfect for practicing the basics or for completing simple sewing projects such as hemming curtains or repairing a hole in your favorite jacket.
One thing that is often overlooked, but should definitely be a consideration, is how comfortable it's going to feel in your hand. Handheld sewing machines that have more grip are easier to control and will allow you to achieve more precise results.
Plus, you can sew for longer without experiencing any discomfort. 
Power Consumption 
The three main choices you have when it comes to handheld sewing machines are battery-operated, power-operated, or machines that have the option for both. Every example we included is an electric sewing machine.
Dual-powered machines give you the choice between the two by including a power adapter which can be incredibly useful in certain situations. 
If you're planning on traveling, it might be worth purchasing a handheld sewing machine that's dual-powered or runs on batteries alone, as you may not be able to find a power source to plug your machine into while you're out and about.
Just remember to always take a spare set of batteries with you! 
Cost
Unsurprisingly, you can pick up a handheld sewing machine for a lot cheaper than you would a regular sewing machine.
They would be a great purchase for the occasional sewer who doesn't want to fork out for an expensive sewing machine for it to end up being kept in the cupboard for most of the year, making the odd appearance at Halloween or Christmas. 
It's also worth checking if your handheld sewing machine comes with a warranty, as not only does this usually point to a higher level of confidence a brand has in their product, but it also protects you and your investment even if something does go wrong.
Find out how long your warranty covers you for and if there are any exclusions. 
Frequently Asked Questions 
Can you double stitch on a handheld sewing machine? 
Handheld sewing machines are single-stitch only, so don't forget to tie a knot at the end of your thread when you've finished a line of stitching! Depending on what you're sewing you may be able to flip the fabric around to create multiple layers of stitches to anchor your work. 
What can you sew with a handheld sewing machine?
Handheld sewing machines can be used for a number of things, including quick clothing repairs or small alterations, hemming curtains, or reattaching buttons.
In fact, they can do a lot of things you could do with a regular sewing machine, just on a smaller scale. You can even sew on patches without having to remove your clothes which is a clear bonus if you're out in public.
Plus, you don't have to remove your curtains or clothes (although you might want to to avoid getting a crook in your neck) while you make your spot repairs, which means they're even more convenient! 
Can you make clothes with a handheld sewing machine? 
While handheld sewing machines are great for many things, garment construction is not one of them. You may find it difficult to straight stitch large sections of fabric so it's best to use a hand sewing machine for tiny jobs. 
These miniature versions are better suited to smaller jobs, lightweight fabrics, and emergency fixes, but they're not designed for more complex use and would be unsuitable for making clothes.