11 Essential Fall & Thanksgiving Craft Supplies | Cricut & Silhouette
This post contains affiliate links. If you use these links to buy something, we may earn a commission, but it doesn't cost you anything. Thanks!
It's that Fall and Thanksgiving craft time of the year again! I'm always sad to see summer go, but entering into a new season of crafts is something to look forward to. I hope to make a Thanksgiving t-shirt soon!
In this post we've got some great Fall and Thanksgiving craft supplies for mom & dad, followed by awesome Thanksgiving craft kits for kids!
Fall & Thanksgiving Craft Supplies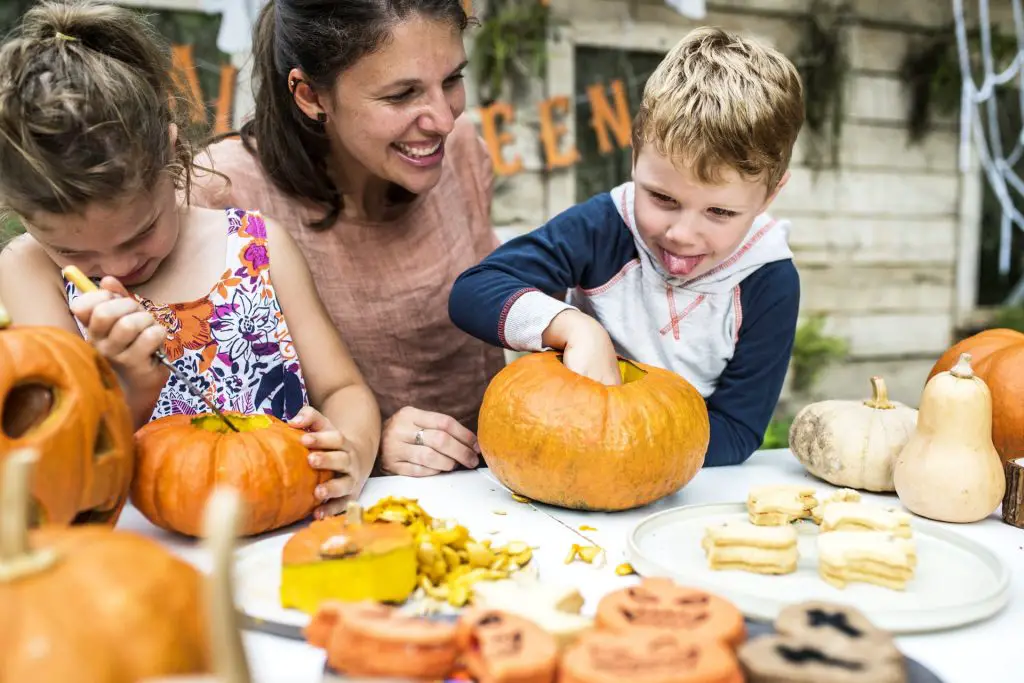 Thanksgiving Cricut Craft Supplies
The following craft supplies are great for use with Cricut, Silhouette, or other cutting machines (Cricut is my fave!).
Fall Patterned Heat Transfer Vinyl
Expressions vinyl have a great range of Fall iron-on. Use this to make your own t-shirts, reverse canvases, or to decorate other clothing and accessories.
Patterned HTV can give simple designs a real WOW factor!
Cricut Pens Dark Petals
The Cricut 
Dark Petals Pen Set has some lovely Fall colors for making cards this season. This Cricut multi-color pen set also has a lot of colors suitable for the season, including golds and silvers.
*Make sure to check pen prices at Cricut.com as well – might be cheaper!
DIY Removable Vinyl Decals
Use Oracal 631 from Happy Crafters in fall colors to create your own removable wall decals for Thanksgiving. You could use these Thanksgiving Pilgrim cut files from Creative Fabrica, for example.
Fall Color Cardstock
These colors of cardstock are great for Fall projects.
You could use it for:
cards
boxes
thanksgiving wreaths
Fall Heat Transfer Vinyl
Firefly Craft HTV
comes in so many colors, and can be bought in sheets of four (as pictured above). Layering heat transfer vinyl is a great way to use multiple colors.
Craft Burlap
Firefly Craft Burlap can be used for a ton of different Thanksgiving craft projects. You can heat press vinyl onto it for a Thanksgiving banner, cut turkey shapes from it, use it in a craft flower arrangement, and a whole lot more.
Thanksgiving Clipart, Fonts, & SVGs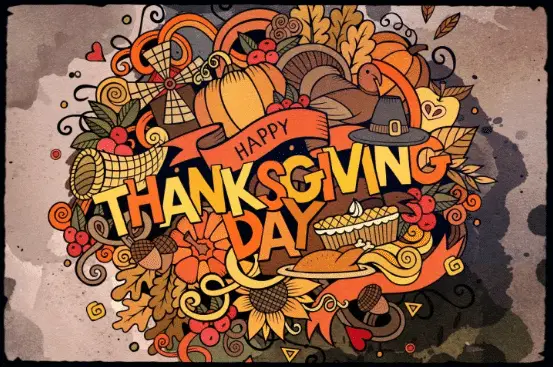 For many Thanksgiving craft projects, whether it be t-shirts, cards, printables or the likes, you're going to need clipart, fonts, and/or other cut files. We've got a list with a range of these Thanksgiving downloads, or be sure to take a looks at the best free SVG websites.
Thanksgiving Crafts For Kids
If you're looking for easy Thanksgiving Crafts for kids, it doesn't get much simpler than the craft kits. Thanksgiving craft kits contain all the pieces cut and ready for the kids to put together themselves. No Cricut needed!
Turkey Craft Kit
With the Turkey Craft Kit your home will be ready for Thanksgiving with more turkeys than you can poke a fork at! This is a basic Thanksgiving craft for toddlers. Super easy for kids aged
 3+.
Thanksgiving Beads
These Thanksgiving beads are also a great way to keep the kids entertained over the holiday. 
The set comes with 500 beads made from foam which can be threaded onto string, pipe cleaners, or skewers (not included). Could also be great for Thanksgiving scrap-booking!
Thanksgiving Activity Book
This Thanksgiving Activity Book for kids will not only keep them busy, but will help get them into the spirit of Thanksgiving!
Make A Turkey Sticker Sheets
How cool is this!? A 'dress up the turkey' sticker set! This sticker activity is a lot of fun for younger kids, and comes with 12 separate sticker sheet sets. This will be good to have handy on Thanksgiving day to give all the young ones something fun to do.
Thanksgiving Crafts
I'd love to hear more ideas for essential Thanksgiving craft supplies in the comments below. What do you use?
Be sure to bookmark our Black Friday Cricut and Craft Deals post for the day after!
Pin this post! 🙂
(Please note: This post contains affiliate links. Read our full disclosure policy here.)