Best Flash Dryer For Screen Printing: Coil & Infrared Units!
This post contains affiliate links. If you use these links to buy something, we may earn a commission, but it doesn't cost you anything. Thanks!
What is the best flash dryer for screen printing?
Whatever your budget, and whatever stage of screen printing you are at, we have some good machines to share with you.
Flash Dryer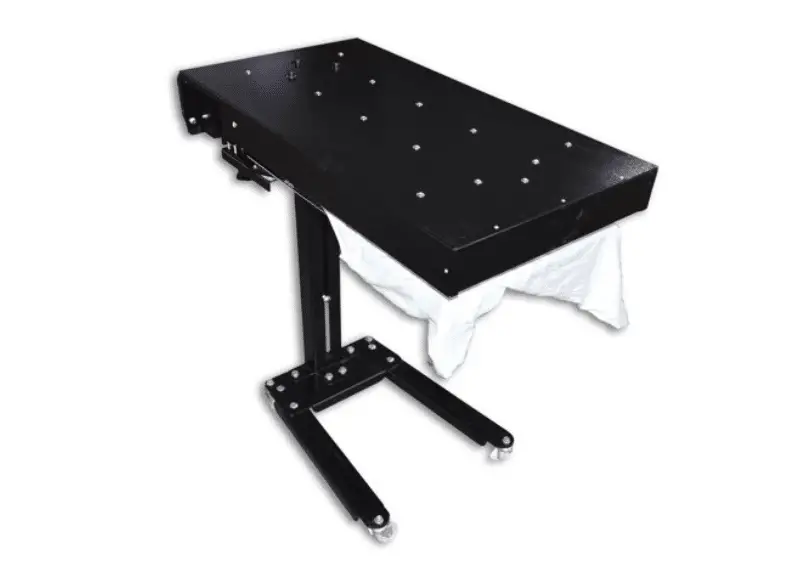 What is a screen printing flash dryer?
A flash dryer is used to slightly cure or dry ink before the next color is applied. The idea is to flash the shirt for a short time so that the ink is still tacky, after which the next screen can be applied.
Coil Vs Infrared Flash Dryer
There are two main types of flash dryer – those with a heating coil, and those with an infrared heating element.
An Infrared flash dryer is the better machine, as it gives a more consistent and even heat. These machines cost more, but are worth it in the long run. An example is the Fast Flash Dryer.
A coil dryer is a much cheaper machine, but are not as fast or as effective as an infrared model. An example is this Vevor unit. These machines are fine for starting out, but are not great for the more serious screen printer.
This video from Ryonet will demonstrate the differences further.
Here is our selection of cheap entry level flash dryers, to more expensive and professional machines.
Vevor Screen Printing Flash Dryer
This is a 1700 watt coil flash drying machine, perfect for beginners.
It is a good size at 16 x 16 inches, and is designed for curing plastisol inks. It has a 360 degrees swivel head, and the height can be adjusted from 30 to 48 inches. This makes maneuvering it around your screen printing machine easy!
Other features include:
Easy to assemble
Easy to use
4 wheels/castors
Handle on top can be removed
This machine is very good for those starting out, and the full range of features will support you as you learn how to do multi color screen prints.
SHZOND 18 x 18 Inch Flash Dryer
The 2000 watt SHZOND machine is another coil flash unit for screen printing.
This is slightly larger than the previous machine at 18 x 18 inches, but with the same adjustable height from 30″ to 48″.
Features of this machine include:
Max temp of 400°F
Temperature display
Weighs 43 pounds
Base size of 38 x 38 inches
Castors for easy shifting
The extra wattage on this machine means it will cure quicker than the previous option.
Techtongda Flash Dryer Screen Printing
This Techtongda coil machine is a 1600 watt unit, another option for an entry level flash.
Features include:
Movable wheels
Height adjustable
Sturdy design
Powder coated to prevent rust.
Easy to assemble and operate
Weighs 49 pounds
Infrared Flash Dryer
The 18 x 18 inch Fast Flash is a popular infrared flash dryer among screen printers – and it's made in the USA!
It has a high quality infrared heating element from "the largest, most reputable infrared element manufacture in the US!" It even comes with a 6 year limited warranty.
The flash heats up evenly to 500 degrees across the whole element surface. This is important for getting the most consistent results. You don't want your prints washing out!
Major features include:
functional design
rotating flash head with handle
height adjustable stand from 35 to 50 inches
3 inch caster wheels
A stable, heavy duty stand which prevents tipping
Durable electro powder coated finish
An 8 Foot Power Cord
The Fast Flash is an excellent introduction to Infrared flash dryers, and is highly recommended. Sometimes it comes with a FREE infrared temperature gun as well!
Ebay Flash Units
Finally, Ebay has a large range of flash dryers for sale.
It can be difficult to list the exact models and features, because the listings change more frequently than on other platforms. We recommend you have a good look at everything available however, because there are some very good units for sale.
These are few second hand or used flash dryers available, but there is a greater selection of new machines.
For example, you will find:
The Vastex flash dryer
6000 W+ units
Workhorse dryers
BBC flash units
20 x 24 inch machines
Whatever size and wattage you are looking for, you will likely find it here on Ebay.
Flash For Screen Printing
Those are all the machines we have to share with you today, but please leave any comments or questions down below.
For more info on using a heat press machine to cure plastisol inks, check out this video – Thanks!
(Please note: This post contains affiliate links. Read our full disclosure policy here.)