The Magic Embroidery Pen & Punch Needle Alternatives
This post contains affiliate links. If you use these links to buy something, we may earn a commission, but it doesn't cost you anything. Thanks!
An Embroidery Pen is a great way to make beautiful embroidered designs!
Also known as punch needle or punch embroidery, these pens are used for embroidering different types of clothing, or cloth for home decor.
The Magic Embroidery Pen is a newer take on the older punch needling, and may or may not be as good – depending on who you ask!
Embroidery Pen Reviews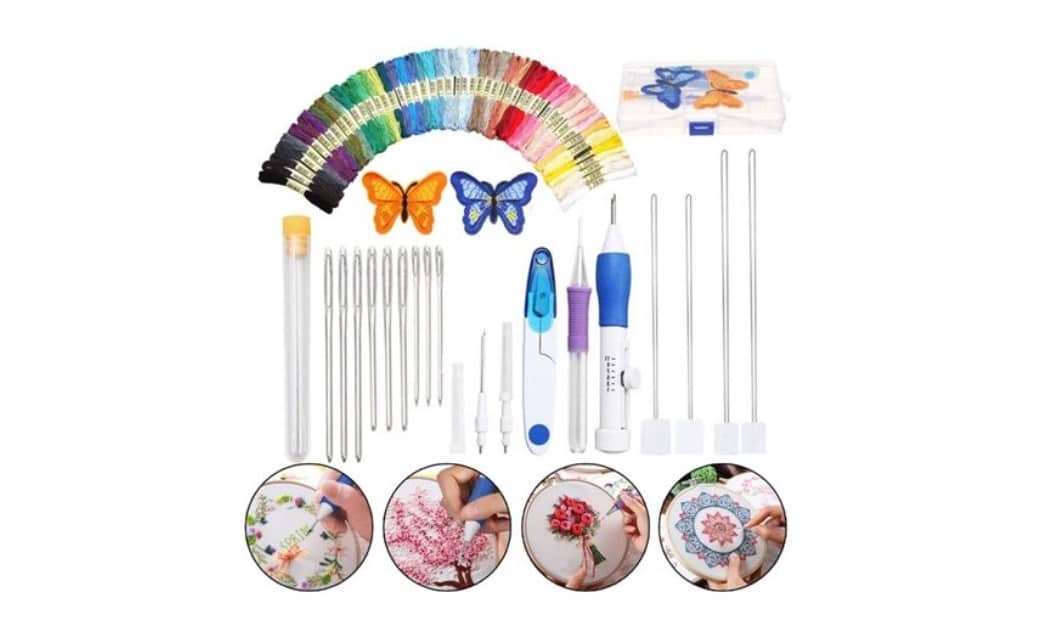 Here is where you can buy embroidery pens and punch needles at the best prices.
Some of these retailers do not stock the 'Magic Embroidery Pen', but have the more traditional punch needle pens and supplies.
Magic Embroidery Pen
Should you get the Magic Embroidery Pen?
First let's take a look at how it works… you will see it may not be as good as it's sometimes made to be!
That video shows you how to use the Magic Embroidery Pen, and there are plenty of other videos that will help you get started.
Most of the kits come with pretty good instructions that will also be able to take you through step-by-step.
Some of the Magic Embroidery Pen Kits come with multiple needles that can be used with different types of fabrics and threads.
Punch Needles
One alternative to the Magic Embroidery Pen is this pen, which must be used with monks cloth.
See how to use this punch needle in the following beginners video!
There are so many great videos like this that can get you started quickly and easily with punch needling.
Punch Needle Kits
These punch needle and embroidery pen kits are another great way for beginners to get started.
They really do come with everything you need, including:
multiple punch needles
embroidery hoops
scissors and thimbles
thread
storage containers
If you don't already have some of these items, it's a good idea to go with a kit!
Best Embroidery Pen
The best embroidery pen for you will depend upon what you're trying to accomplish.
Punch needling is such a fun hobby that is easy to learn and cheap to start out with. It is certainly cheaper than using an embroidery machine! It is also a great alternative to heat press and cutting machines when you want to quickly decorate an item of clothing.
Don't be afraid to grab an embroidery pen and give it a go today!
Pin this post!
(Please note: This post contains affiliate links. Read our full disclosure policy here.)