Epson SureColor F570 Sublimation Printer Review
This post contains affiliate links. If you use these links to buy something, we may earn a commission, but it doesn't cost you anything. Thanks!
The Epson Surecolor F570 is the company's first printer designed for sublimation.
While Epson printers have long been converted for sublimation use, this is the first machine Epson has made for this purpose. What's it like and how does it compare to SawGrass? Let's find out!
Epson SureColor F570 Review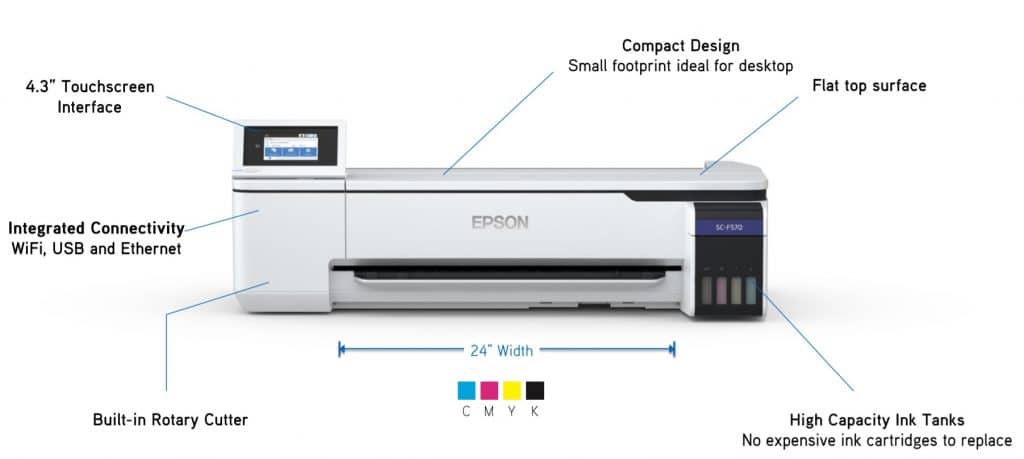 Epson's first made for purpose sublimation printer, the SureColor F570, is definitely worth considering if you are thinking of offering sublimation services to your shop.
It is priced by most retailers at around US$2495.00. This is significantly more than the SawGrass sublimation printers, with the new SG500 costing $549 and the SG1000 costing $1499.
There are big reasons for the price difference however, as the Epson machine has a much larger print area and has more features than the SawGrass models. We'll get into that below, but now let's check out the features of the Epson F570!
Epson F570 Features
24″ sublimation printer
4.3″ full color touch screen display
Built in rotary cutter
Auto sheet feeder
Roll media feeder
Wifi, USB, or Ethernet connectivity
Optional printer stand
Use Epson sublimation ink
33″ x 28″ footprint
2400 x 1200 DPI print quality
1.33″ print head for fast printing
Nozzle verification technology
One of the top features of this machine is the roll holder and auto-feed system. With auto-loading and de-skewing of media, you can print worry free. It can handle roll widths of 8.3 to 24.4 inches on a 2″ diameter core.
You can switch between printing smaller sheets of transfer paper and larger prints from the roll without needing to remove the roll! The auto rotary cutter is a nice feature as well.
The ink does not come in cartridges but has a permanent easy to fill tank. Ink is purchased in 140ml bottles, and easily topped up without the possibility of over filling. You can also visibly see how much ink is left in the tanks, rather than relying on digital readings.
Epson SureColor F570 FAQs
How long does the ink last?
The Epson Sublimation Ink for the F570 comes in 140 ml bottles and has a long shelf life of up to 2 years. Most prints use approx. 1ml of ink, so you can work out how long it will last. Make sure you give the sublimation ink a shake for 5 seconds before filling up!
Is it compatible with both Mac and Windows?
The SureColor F570 can be used with both Mac and Windows. It does not have its own design software, but you are able to use your current favorite program, whether Illustrator for t shirt design, or other software.
Can this be used with printable HTV?
You can use the F570 with printable sublimation HTV. Products such as Forever Subli-Flex 202 are ideal.
Can I print on dark or cotton shirts?
Sublimation printing is only for use with white polyester garments or poly coated hard substrates. You can print on poly/cotton blends (needs at least 65% poly) for a more faded, vintage look. If sublimating vinyl, you can use it for colored and cotton garments.
What sublimation paper do I use?
Use Epson DS Transfer Paper – most machines will be shipped with some.
Can I use other non-Epson sublimation inks?
It is recommended you only use the specified Epson Inks as the printer has been designed to work with these. If you want more info about sub inks for Epson, visit the folk over at Cosmos Inks.
Which heat press should I use with the Epson F570?
Because you can print large heat transfers with this sub printer, you will need a large heat press machine. A 24″ x 20″ heat press would be the minimum, but larger would be better. Consider buying a US heat press brand if this is for business use.
Epson F570 Vs SawGrass SG1000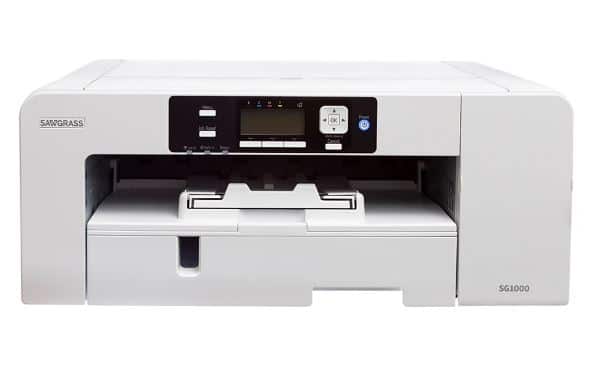 The Epson SC-F570 has many features which the SawGrass SG1000 does not, but it does cost an extra $1000 or so, so you would expect that!
The biggest difference is the size. The SG1000 has a max print area of 13″ x 19″, compared with the F570's 24 inch width by many foot length. If you are needing to do larger print jobs, the Epson is likely the better option.
The new SawGrass machines have a higher print quality than the F570, with a max print quality of 4800 x 1200 dpi, to Epson's 2400 x 1200 dpi.
SawGrass machines arguably have greater support, resources, and communities as they have been around a lot longer. There have been multiple iterations of their machines, and they just keep getting better.
As this is Epson's first sublimation printer, we can expect there to be some issues, and that newer updated versions will be released in time.
Epson SC-F570 Review
If you are not sure whether the Epson SureColor F570 is for you or not, consider these other Epson sublimation printers. These are inkjet printers which can be converted for use as sublimation printers.
The Epson conversions are best for those just starting out with sublimation as a hobby. They are reasonably easy to convert, there are plenty of helpful tutorials on YouTube, and it's a lot cheaper than buying the F570 or SawGrass printer.
Thanks for visiting and please let us know if you have any questions down below.
(Please note: This post contains affiliate links. Read our full disclosure policy here.)