Gimp vs Photoshop: What Do Designers Prefer?
This post contains affiliate links. If you use these links to buy something, we may earn a commission, but it doesn't cost you anything. Thanks!
Gimp Vs Photoshop: what's the difference?
Photo-editing and graphic design become more and more necessary in our creative digital world.
Everyone from social media influencers to professional digital designers use tools like GIMP and Photoshop on a daily basis. Adobe Photoshop has been around for many years, and is well known as the best photo editing software.
How does GIMP compare?
Photoshop vs GIMP: Which Should You Use?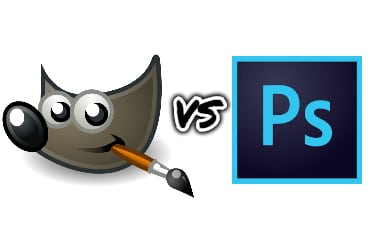 Many of the features that GIMP has are derived from the original photo editing program, Photoshop.
When it comes to what tools are best for editing photos, many artists have no problem saying GIMP because of its price tag (it's free!), and because it's what they're used to.
However, for robust designs and advanced image editing features, Photoshop is still the preferred and best application.
What Is GIMP?

GIMP, also known as GNU Image Manipulation Program, is a free open source image editing software.
It can be used for image retouching, editing, free-form drawing, converting image formats, and text editing. It has the same basic tools as Photoshop, and is often included as an alternative to Adobe's most popular image editor.
For basic editing, both GIMP and Photoshop provide the same (or similar) tools. If you are just looking to crop, color balance, paint, or add text to photos, then you should go with GIMP. It's completely free and has the same basic features. It also uses the same formats as Photoshop, besides the .PSD file.
However, for those who are working with Illustrator or vector files, and if you want advanced design features, there are a few that can only be found in Photoshop.
GIMP Pros & Cons
Pros of GIMP
Completely free, open source
Highly customizable with different plugins
Supportive community
Basic image editing features
Cons of GIMP
Less recognized in the design community
Changes & new features are slow to be implemented
Some advanced image editing features are missing
GIMP vs Photoshop Comparison
So why pay more for Photoshop? There are a few things that are different between the two programs. For instance, designers typically work in one of two color modes: RGB and CMYK.
RGB is used for red, green, & blue pixels, which is mainly helpful for digital designs
CMYK is used for cyan, magenta, yellow, black inks necessary for print applications
GIMP doesn't offer any tools for CMYK, which means if you are designing for any print applications, such as t-shirt screenprinting or newspaper designs, you won't be able to simply use GIMP and get the same results.
Photoshop also has more organization tools, making it easier to edit without destroying your canvas. For instance, you can use different layers to add curves, gradients, and other paint applications. GIMP does offer layers, but it's not as robust or intuitive as Photoshop's layering and mask system.
This video by Pixovert is really good at explaining and showing some more of the differences between GIMP and Photoshop.
Recommended GIMP courses and tutorials:
Introduction to GIMP 2.8: Tutorials for Beginners here
GIMP – 27 Design Projects for Graphic Designers here
Learn GIMP here
When Photoshop is Better Than GIMP
For those who want to simply edit a photo and don't need to pay a monthly subscription fee to do so, GIMP is definitely the better option. However, Photoshop still proves to have way more tools and layering options than the free open source editor.
You'll be able to use more powerful tools in Photoshop for digital and print design, as well. For instance, Photoshop allows you to have way more control over image editing. There are four different healing tools that allow you to remove all kinds of imperfections from your photos. GIMP only has one healing tool.
Photoshop is also more universally recognized as a professional image editing and design application. Employment opportunities rarely ask for GIMP experience, simply because it isn't the preferred or best application.
Photoshop is more than likely the best choice for any business or employment issues. The other benefit is that it can be used in conjunction with other Adobe Apps. For example, with Illustrator for t shirt design.
Adobe Illustrator

Best vector graphics editor for t shirt design
Frustration free - gain total control over your t shirt design process
Best features & tools for creating an endless variety of designs for t shirts

View Latest Price

Adobe Photoshop

Better for photo editing & working with images
Bring images over from Photoshop to Illustrator
Best photo editing software

View Latest Price

Adobe Creative Cloud

Depending on the plan you select, get access to all of Adobe's Apps
Plans for individuals or business
Store your designs in the cloud

View Latest Price
Check out these other posts in the series:
(Please note: This post contains affiliate links. Read our full disclosure policy here.)