15 Crazy Cricut Products You Didn't Know Existed!
Ok, so some of you are going to know some of these Cricut products existed, but I'm sure everyone is going to discover one or two new Cricut products. Let me know what surprised you in the comments section below!
15 Fun Cricut Materials, Tools & Accessories
If any of the cool Cricut products below tickle your fancy, and you'd like to give them a go, I've linked to where you can buy them on Cricut.com and Amazon.
Some of these items are the newest and latest Cricut products. They are all official Cricut materials, tools and accessories. If you don't yet have a cutting machine, what are you waiting for!? Find out what is the best Cricut cutting machine for you?
1. Cricut Dry Erase Vinyl
Cricut Dry Erase Vinyl – the name speaks for itself, but had you heard about it!? This is an adhesive vinyl that can be applied to any clean dry surface, and can then be written on with a dry erase marker and wiped clean! It is a non-permanent vinyl that will adhere well, but will also be easily removed with no residue.
Some ideas for what to make with Dry Erase Vinyl:
Speech bubbles with a different word for the day each day
Labels on pantry or fridge storage containers
Message boards
With Cricut Explore machines, this product is cut with the dial turned to Vinyl.
CHECK THE PRICE: On Cricut OR On Amazon
2. Cricut Acetate Sheets
Cricut Acetate Sheets are an extra cool product to complement many projects. They are sheets of flexible plastic that can be cut and used for all sorts of things. They come in a range of styles, from clear sheets, to sheets with metallic foil stars (as pictured above), and many others.
Cricut Acetate projects:
Acetate makes great photo frame overlays
3D Pinwheels (it is certainly flexible enough for this)
Boxes
Masks and other kids costume accessories
The Cricut Foil Acetate pictured above is cut in the Explore machines with the dial set to custom, and then the 'foil acetate' option selected.
FULL RANGE OF ACETATE: On Cricut  OR On Amazon
3. Cricut Self Healing Cutting Mats
"A self healing cutting mat?! What kind of voodoo is this…?!" – Usually one's first thought upon hearing about these mats for the first time. What are they? Self-healing cutting mats have a softer surface than the regular Cricut cutting mats. Rather than skimming the surface of the mat, you can cut slightly into the top layer, which then closes back over (or "self heals")!
These mats are not for use in Cricut cutting machines, but they are great for other craft cutting with an Xacto Knife, or with the next item on our list – the Cricut Truecontrol Knife!
SELF HEALING MATS: Cricut OR Amazon
4. Cricut Truecontrol Knife
Cricut's version of the Xacto Knife is the Truecontrol Knife! It is a quality craft cutting knife available in three different colors: Blue, Lilac, or Rose. It can also be bought as part of a set with 5 additional blades.
Features of the Truecontrol Knife are:
Blade-lock system for control and easy blade changes
Premium steel cutting blades
Comfortable grip
Storage cartridge with additional blade set
Cut thin fabrics & plastics, paper, cardstock, and more
CRICUT KNIVES: On Amazon OR On Cricut.com
5. Cricut 18″ Cutting Ruler
To go along with the Self Healing Mat and the Truecontrol Knife is the 18 inch Cricut Craft Ruler! It is made from durable aluminium with a stainless steel straightedge. As with all things Cricut, it comes in a range of pretty colors: Mint, Lilac, Blue, and Rose (pictured).
Features:
Non-stick base for gripping work surface (so handy!)
Easy to read measurements
Perfect for cutting with a protective guard
CHECK PRICE: On Amazon.com OR At Cricut.com
6. Cricut Totes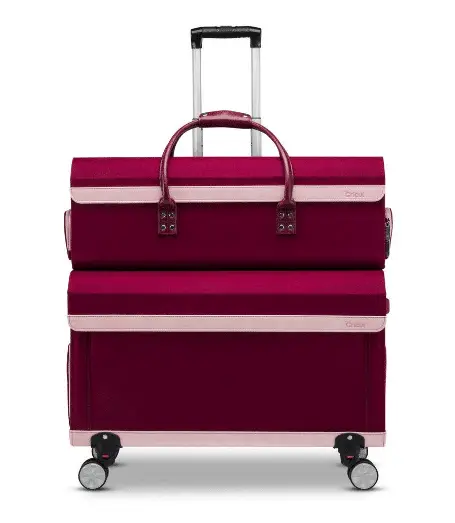 Cricut Tote Bags! The two totes are purchased separately and serve different purposes.
The upper bag is the Cricut Machine Tote which stores & carries Cricut cutting machines
The lower bag is the Cricut Rolling Craft Tote which carries all your tools, materials, & accessories
SEE THE FOUR COLORS: On Cricut
7. Cricut Printable Vinyl
Cricut Printable Vinyl may be a little more familiar to many of you. Using an inkjet printer (I use an Epson Workforce), you print onto the vinyl and then your Cricut cutting machine will cut around the image to your specifications.
What can you make with Printable Vinyl?
Colorful stickers for kids
Stickers for a planner or journal
Labels for storage containers
Labels for cupboards and doors
Print and cut photos on vinyl to be applied anywhere!
SUPER CHEAP: Over at Cricut.com OR On Amazon
8. Cricut Kraftboard
Cricut Kraftboard is a thicker card that can be cut with your Explore or Maker machines. It is for sale in 3 colors: Natural, Black, or White (combo packs with all 3 colors also for sale).
What can you make with Cricut Kraftboard?
Tougher cards
Tags and labels
Boxes and other small decor items
Diary covers, photo frames, and whatever else your imagination can come up with!
SEE ALL THE PURCHASE OPTIONS: On Amazon AND On Cricut.com
9. Cricut Pebbled Faux Leather – Patina Sampler
Did you know Cricut have their own
range of Faux Leather? This sample pack comes with 5 sheets of 12 x 12 inch pebbled faux leather in 5 colors: Black, Cafe, Copper, Sapphire, and Peacock (Cricut have a great knack for naming colors!).
Other than the Sampler Pack, you can purchase:
Faux leather is great for card or scrap-booking embellishments, small fashion accessories (a girl's purse), dolls clothing, and so on.
GET THE SAMPLER: Buy It At Cricut.com OR On Amazon.com
10. Cricut Window Cling
Cricut Window Cling is a great product for holiday window decorations, especially Christmas! I've just picked myself up a couple of rolls and am looking forward to making some Christmas window decorations. This is a thin vinyl that is applied to the inside of your windows, and which can be easily removed. It can also be stored and re-used.
Other ideas for Cricut Window Cling:
Place on vases for temporary decorations
Can also stick to fridges or mirrors
Use on vehicles
It is for sale in three colors: Black, White, and Frosted.
COMPARE PRICES: On Amazon OR On Cricut
11. Cricut Sewing Kit
The Cricut Sewing Kit is a great little set and contains 7 sewing essentials.
The Sewing Kit includes:
8 Inch fabric shears for cutting through leather, denim, or multiple layers of fabric
Thread snips to easily cut threads
A seam ripper for removing small stitches
A good pin cushion and pins
Measuring tape for measuring curved and flat surfaces
And a leather thimble to protect fingers while hand stitching
Keep this set in mind as we take a look at the next fun Cricut product…
SEWING KIT: For Sale On Amazon OR On Cricut.com
12. Cricut Quilt Kits
Cricut Quilt Kits are a foolproof method of making your own baby quilts. You are required to choose a pattern from Design Space (get Cricut Access), which will then lead you through the process. The quilt kits do not come with batting or backing, this will need to be purchased separately.
There are a huge range of Cricut Quilt Kits for sale. View them all here on Cricut.com.
13. Cricut Heavy Chipboard
Cricut Heavy Chipboard is 2mm thick and can only be used in the Cricut Maker with the Knife Blade. The official Cricut Chipboard comes in a pack of five 11 x 11 inch sheets.
What can you make with Chipboard and the Knife Blade?
Christmas ornaments
Photo frames and puzzles
Wooden animal cut outs
Home decor items
Seriously, just check out Pinterest for 'Cricut Chipboard Projects' and you'll see some stunning ideas!
GOT A MAKER? Try Chipboard From Cricut.com OR From Amazon.com
14. Cricut Chalkboard Vinyl
If you haven't heard of and tried Cricut Chalkboard Vinyl then it's an absolute must. Great for applying to all sorts of surfaces and then writing on with chalk, of course!
Where might you use chalkboard vinyl?
On the fridge
Apply to a board (for a menu board or meal planner)
Apply some to the front door to state 'baby is sleeping!'
Kids bedrooms or playroom
Cricut chalkboard vinyl can also be bought in bulk rolls here at Cricut.com for those larger projects.
STANDARD 12X48 INCH ROLL: On Amazon 
15. The Cricut Accessory Pouch
The last item on the list is the Cricut Accessory Pouch!
 This is for the Cricut fan who has to have it all. It's a great pouch for storing your tools safely away, and especially good for transporting them. The Cricut Tool Kit can be totally closed away in this wonderful pouch.
POUCHES: On Amazon OR On Cricut.com
Best Cricut Accessories & Materials
You have to tell me in the comments section, which were your favorite new Cricut tools and accessories that you've just found out about? Or are you some kind of Cricut nut (or employee) that knows everything there is to know about Cricut? Either way, let us know below!
Pin this post!
(Please note: This post contains affiliate links. Read our full disclosure policy here.)