The Best Heat Press & Cutting Machines For Christmas 2018
The big day is coming and I want to share with you a list of the best heat press and cutting machines for Christmas 2018!
Has your friend or significant other been dropping hints about these machines, but you have no idea which one to choose?! Or are you looking for a machine to tip your partner off to?
Either way, we've got the machine for you!
The Best Cutting Machines and Heat Press Machines For Christmas 2018
Unless you've spent a lot of time researching, it's super hard to know which is the best heat press or cutting machine to buy! Our aim is to take the guess work out of your decision and list the best machines. Let's get started!
Best Heat Press Machines For Christmas
It will depend a little on your budget as to which machine you choose. There are, of course, cheap heat press machines and very expensive heat press machines. We'll just recommend the best cheap heat presses here. The expensive machines are all good – it's hard to go wrong with them!
I'm just listing my picks for 2018 Christmas presents, but for more info on how to choose a heat press or cutter, check out these articles as well:
Apart from that, take a look below!
1. The Cricut Easy Press 2
The New Cricut EasyPress 2 would make for an awesome Christmas present this year.
I have this machine and love how quick and easy it is to use. It's great to pull out for one-off t-shirts and that sort of thing. I also have a clamshell style heat press, but I tend to use the EasyPress most often – just because it's easier!
Check out these EasyPress Pros & Cons for more information.
COMPARE PRICES: EasyPress On Amazon OR EasyPress On Cricut.com
2. The Power Press Heat Press
The Power Press Heat Press is our next pick. This machine is the Amazon best seller, and is probably the single best known machine in the crafting community.
It's another entry level machine that is suitable for learning how to use a heat press, for making tons of t-shirts, and excellent for making gifts. I have the Power Press heat press myself, and have had no problems with it.
It is one of the cheaper machines for sale, and so it's definitely not as smooth to use as the more expensive machines, but it's more than suitable for home and small business use. Find out more about it in our Power Press article.
3. Heat Press Nation Black Series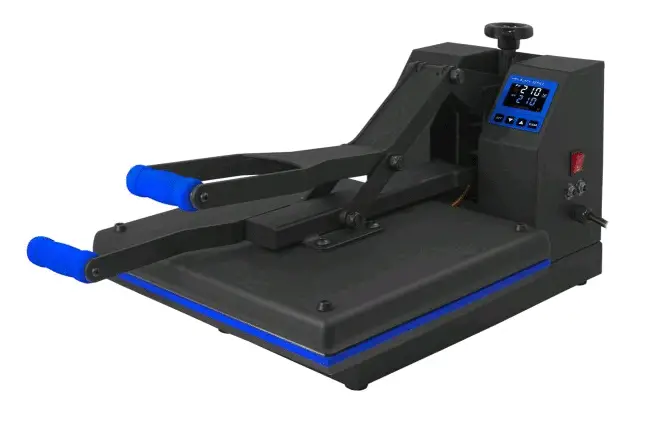 The Heat Press Nation Black Series of heat press machines are a real step up from the cheaper options. They come in a range of sizes, styles, and prices.
Heat Press Nation are a highly respected heat press retailer that offer great customer service and support. All their machines come with leading warranties, tech support, and online resources.
The Black Series cost more than the EasyPress & PowerPress listed above, however, HPN also sell a cheaper range of machines (the MPress range) and a more expensive range (the Signature Series).
Whatever the machine, I can highly recommend HPN for buying a heat press and any other supplies you need.
Best Cutting Machines For Christmas
Cutting machines make amazing Christmas gifts – the very best Christmas presents in my opinion!
You'll need to find out from your loved one whether they are a Cricut, Silhouette, or a Brother type of person.
Each of these companies make comparably great cutting machines, but most people have their favourite seller. For me, it's Cricut all the way, but for others, it's the alternatives!
If you're looking for a cutting machine to give as a gift to your wife, girlfriend, mom or whoever, and you're not sure which to get, go Cricut! No one can be unhappy with a Cricut cutting machine (especially a Cricut Maker).
1. The Cricut Maker
The Cricut Maker is the best cutting machine! This machine cuts (great for vinyl to be pressed in a heat press), draws and etches. The different materials you can work with numbers in the hundreds.
I've had a Cricut Explore Air 2 for a couple of years, which is the previous model to the Maker. It is also still an amazing machine if it is more within your budget. However, I've also recently got a new Maker, and I've got to recommend that one if it's within your budget.
COMPARE PRICES: Cricut Cutters On Amazon OR On Cricut.com
2. The Silhouette Cameo 3
Next is the Silhouette Cameo 3 Vinyl Starter Bundle. This will be perfect for that person just getting interested in cutting vinyl and doing amazing craft projects. The vinyl that comes with this set is not to be used in a heat press though, it is adhesive vinyl (has a sticky backing that goes onto anything).
Find the cheapest place to get a Silhouette Cameo 3 here – I've listed all the best spots for you to compare.
WHAT CAN YOU MAKE? Silhouette Project Ideas
3. The Brother Scan N' Cut 2
The Brother Scan N' Cut 2 is our final recommended cutting machine for this post. It is the only plotter to also include a scanner, which allows for a range of unique project options. What's more, I was recently talking to a lady at my favorite craft store the other day and she was absolutely singing its praises!
We have researched and reviewed this machine in an extensive article here. Check it out on Amazon here – the reviews are hot!
Christmas Craft Presents 2018
These selections are made after literally thousands of hours researching and writing about these items. We've also either used them ourselves, or interacted with those who have. We genuinely think these will make the best gifts and presents this Christmas. Also, we'd love to hear how they are received if you take action!
Even if you know nothing about presses or cutters, you can trust that you're making a well informed choice with these machines.
Thanks for stopping by!
Pin this post!
(Please note: This post contains affiliate links. Read our full disclosure policy here.)