PowerPress Heat Press Vs Promo Heat Heat Press
The PowerPress 15 x 15 heat press is the best selling heat press on Amazon, having sold thousands of units. It's had a good run.
The Promo Heat 15 x 15 Heat Press is the new kid on the block.
Can it compete? Or even perhaps, in time, take the number one spot? I think there's a good chance it will!
We have already posted separate articles on each of these machines, the PowerPress and the Promo Heat. In this article we are going to look at them side by side and compare them.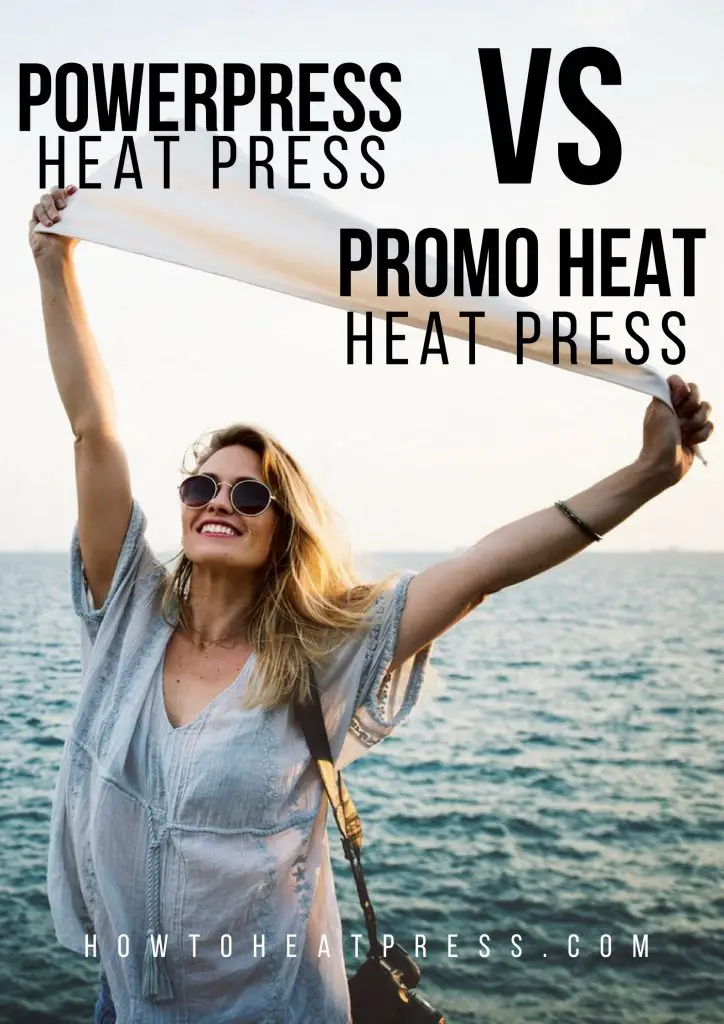 Which Heat Press Looks Best?
To begin with, let's compare looks!
PowerPress 15×15 Heat Press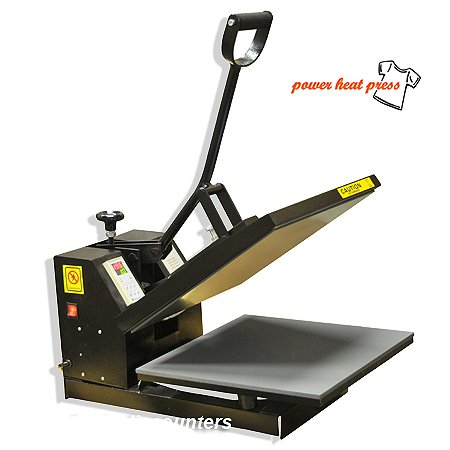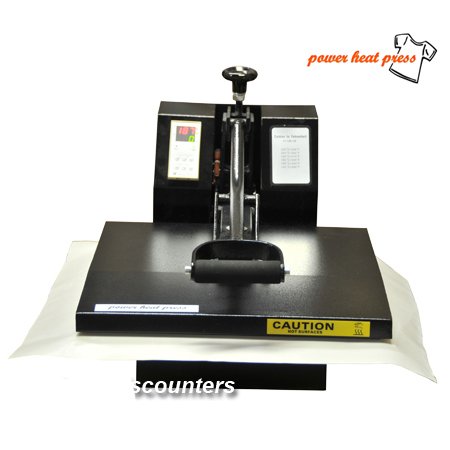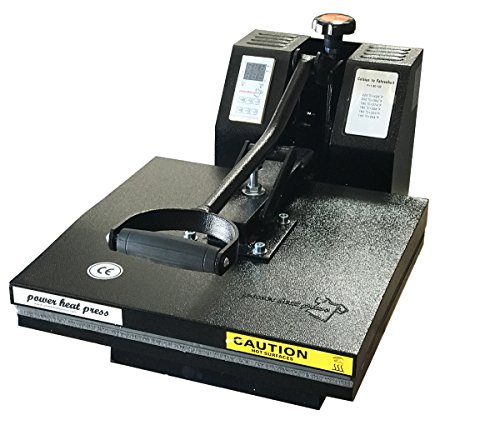 Promo Heat 15×15 Heat Press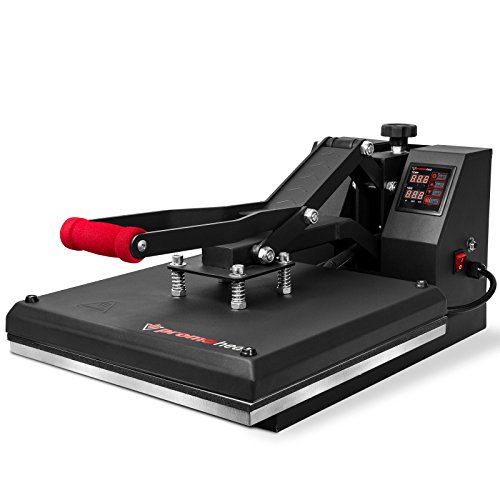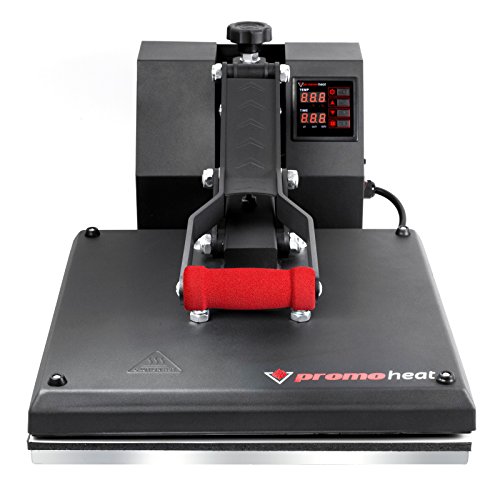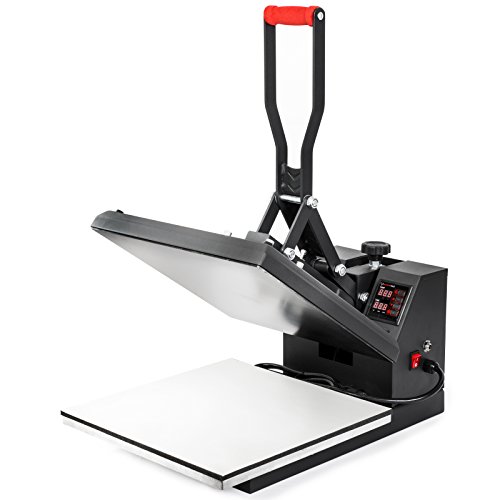 I don't think there's really any competition in the looks category, is there?
The Promo Heat Heat Press looks more sleek and elegant. It has a modern look. It has that extra angle on the top heating platen, that ergonomic red grip, those visible springs on top of the platen, and that LCD display.
While I wouldn't go so far as to call the PowerPress ugly, I would say it is somewhat unattractive. It certainly has a more basic, cheap look about it.
Would you agree?
Well, we can't simply judge a heat press by its cover. Let's now compare features.
Which Heat Press Has The Best Features?
Both machines:
Are clamshell style machines

Have a 15 x 15 inch heat platen

Come with a free teflon protection sheet

Have a teflon coated heat platen

Have an electric time and temperature display

Are made in China

Are pressure adjustable

Beep when the timer finishes letting you know to open up

Have a single top platen which heats up

Have limited one year product warranties

Have heavy duty, rigid and strong steel frames with a scratch resistant coating

Have silicon rubber bottom pads
Both machines are capable of pressing the same transfers onto the same substrates or surfaces.
Both sellers of these machines have websites. The seller of the PowerPress can be contacted at fancierstudio.com, while the seller of the Promo Heat 15 x 15 can be reached at promoheat.com.
Neither machine:
Can take attachments (like a mug press, for example)

Has automatic close or open

Has a digital pressure reading
Neither machine is a top of the line heat press. They are both more appropriate for beginners, crafters, starters, etc. That doesn't mean you can't use them for commercial purposes, of course, but I would be hesitant to rely on them if you start getting busy.
Promo Heat's Added Features
The Promo Heat machine has all of the features of the PowerPress machine, though the former has some which the latter does not.
Adjustable Multi-Spring Balancer
One added feature of the Promo Heat is what is called an 'adjustable multi-spring balancer'. Quite a mouthful!
When you press a transfer onto a t-shirt (or other substrate) you want to get an even pressure to be sure your transfer adheres totally and equally. Sometimes when working with garments, particularly smaller garments, you can end up having seams, buttons or domes which will  go under the heat platen. Think about pressing a baby onesie, for example. When this happens it can be more difficult to get an even pressure.
Due to this feature, the Promo Heat's platen will shift slightly when necessary to fall upon the garment evenly despite there being an uneven surface. This will increase your ability to produce quality products.
Rubber Feet
This is a fairly trivial feature, but it does have some merits. The feet on the Promo Heat are good for stabilizing the machine, and preventing scratches on your work table. It will also keep the machine from slipping around at all – though the weight of these things usually is enough alone to prevent this from happening!
Specs Comparison
| Name | Weight | Dimensions | Temperature | Watts | Volts |
| --- | --- | --- | --- | --- | --- |
| PowerPress 15x15 Heat Press Machine | 53 pounds | 30 x 19 x 17 inches | 0 - 500℉ | 1800 watts | 110 volts |
| Promo Heat 15x15 Heat Press Machine | 54.9 pounds | 26.5 x 18.4 x 14.5 inches | 0 - 480℉ | 1400 watts | 120 volts |
Verdict
All of this is to say that they are functionally very similar machines. There is not a whole lot of difference between them.
My conclusion, however, is that the Promo Heat Heat Press is the better option when compared to the Power Press Heat Press. That is the one which I would purchase between the two.
The extra features of the Promo, on top of the superior look, lead me to this decision.
What do you think? Which would you choose?
Accessories
There are a few items you might like to consider getting along with your new heat press.
A digital temperature reader can confirm the temperature of your heat platen. Test the corners and center to know whether there is an even temperature.
Spare teflon sheets are a must. It is always important to use these as you press your garments. Burnt vinyl on your heat platen is a stinky mess!
If you forget to use your teflon sheet, you might end up needing Ez-Off Hot Iron Cleaner. This product is one of the best things for cleaning your heat press, not only after an accident, but also to remove built up starches.
Which heat press would you choose? Leave a comment below and tell us!
(Please note: This post contains affiliate links. Read our full disclosure policy here.)