The Best Heat Transfer Vinyl For T-Shirts: Heat Press Or Iron-On
What is the best heat transfer vinyl for t-shirts? There are a large range of suppliers to choose from, and it really depends on what you're looking for. If you're just making t-shirts for your friends and family, do you need the best of the best? Or can you get away with a cheaper but not as high quality vinyl?
If you have a t-shirt business and you're selling to customers then you really do need the best heat transfer vinyl. You don't want to get customers complaining that the vinyl is lifting after a few washes, or that the quality of vinyl is bad and cracking.
In this post, we'll mention a few of the factors which determines a good vinyl from a bad vinyl. After that we'll list a few brands we think are the best. Ultimately though, it's really good to play around with different brands and types of vinyl to really understand personally how they differ and feel.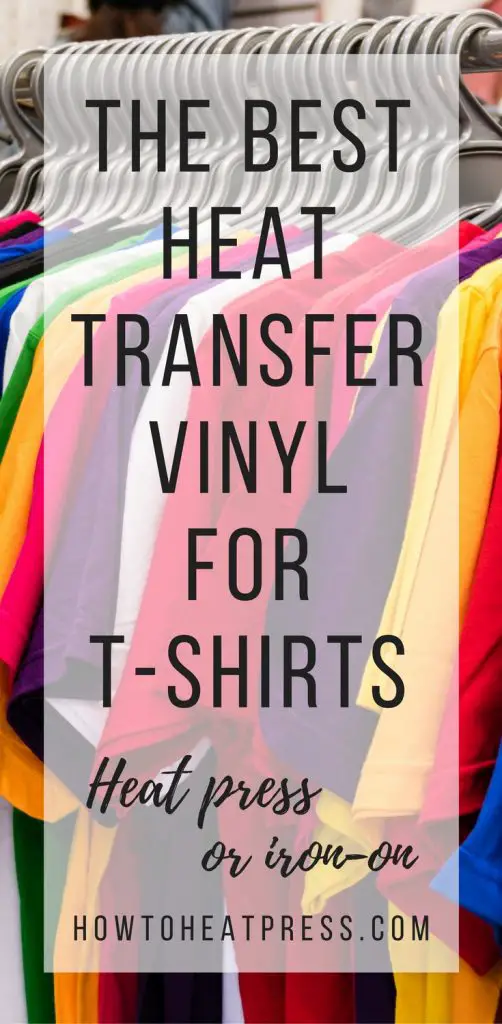 What Makes For The Best Heat Transfer Vinyl?
What makes good vinyl good and bad vinyl bad? And what is the difference between heat transfer vinyl brands?
Heat Transfer Application Temperature: Some have a higher recommended application temp and some are lower. For example, Siser EasyWeed has the lowest application temperature. This effects the vinyl and the t-shirt material less. The hotter you need to press the vinyl the harder it is on the tee and and vinyl.
Heat Transfer Pressure: Another difference between vinyls is the heat press pressure. For similar reasons as the temperature, the less pressure needed the better. The vinyl and garment will be less affected if not as much pressure is required.
Durability: Higher quality vinyl will be more durable than cheap vinyl. Not only will it wear better if you are rough with your clothes, but it will also last through many more washes. Better vinyl will not crack or flake, as you might have seen t-shirts do.
Adhesion: The better your vinyl, the better your adhesion and the less likely it will peel around the edges. All HTV should adhere and do what it's supposed to do, but you're less likely to have problems with a better quality vinyl. Especially if you're making t-shirts to sell, you want ultimate adhesion!
Cuttability: Cuttability might be a word I just made up, but it means 'how easy is it to cut the heat transfer vinyl'? Good HTV will cut simply in your cutting machine. A good backing sheet allows it to be easily manipulated by the cutter. Cheaper vinyl might tear, warp, or just simply not cut well even when you're following all the instructions.
The Look And Feel: Some vinyls are really thick (and ugly), and others are thin (much nicer). Can you imagine those tees that have awful thick vinyl which doesn't flex? It feels like you've got a piece of cardboard attached to your top! And then imagine really nice thin vinyl that you can hardly tell is on your t-shirt. I know which I prefer!
Chemically Safe: Is your heat transfer vinyl safe? Some vinyls have been lab tested to ensure safety, and others have not. The certification is known as CPSIA (The Consumer Product Safety Improvement Act) Certification. Siser EasyWeed is one vinyl that has this tick, meaning it's safe for kids and everyone else. It won't contain lead or phthalate (but I still wouldn't eat it).
Siser EasyWeed Heat Transfer Vinyl
EasyWeed is in our number one position for the best heat transfer vinyl for t-shirts (and everything else!). Probably the best known HTV supplier in America, Siser have a superior product, and they also have excellent online resources and support.
What makes Siser EasyWeed the best heat transfer vinyl?
It applies at a comparatively lower temperature to competitor vinyls – with a heat press at 305°F/150°C
It uses a low pressure setting for application – medium pressure for 10 – 15 seconds
Hot or cold peel
Very durable and hard wearing
Siser is thin and flexible
It is a thin vinyl for the best looking vinyl on your t-shirt
A huge range of colors! 47 "normal" colors, 7 florescent colors, and 3 special finishes
CPSIA Certified
Where is the best place to buy Siser EasyWeed HTV? It can be bought on Amazon or at Expressions Vinyl. We think this is the best HTV for all your projects. You can use it for iron-on transfers or with a heat press. It is a little more expensive than competing vinyls, but we think it's totally worth it!
For more on Siser EasyWeed, you can read our full article here, or more about Siser HTV foil here. Other varieties of Siser vinyl include Stripflock and Glitter.
Stahls' CAD-CUT Heat Transfer Vinyl
Stahls' is another company producing a high quality heat transfer vinyl for t-shirts. They are an American company that are best known for their amazing heat press machines, but their CAD-CUT vinyl also lives up to their top reputation.
Why should you consider Stahls' CAD-CUT for your t-shirt design transfers?
Hard wearing and resistant to abrasive actions (especially the sport wear vinyl, THERMO-film)
Apply to your garment at 330°F/165°C
Large range of colors and finishes
Support a great American company!
CPSIA Certified
You can buy Stahls' vinyl for a great price on Amazon or through their website. You won't regret trying it.
Everyday Crafter Heat Transfer Vinyl
Everyday Crafter HTV is another option. This vinyl is a bit cheaper, and not quite as good as Siser or Stahls'. BUT it's good to give everything a go and see what you think. With this vinyl bundle you are getting 20 sheets of 12 x 10 inch vinyl.
Here are some reasons you should try this vinyl:
In my opinion this vinyl is not quite as good as the previous two options, but it is worth trying it out. It's not bad vinyl, it's just not as good!
To Sum Up
What is the best heat transfer vinyl? We reckon you can't go wrong with Siser HTV. It covers all the bases and you can rest assured that your finished product will be excellent – provided you follow the instructions of course! But as we said at the beginning, try out other brands as well so that you really understand through experience what makes one vinyl better than another.
For more information on heat press machines read our article on the Power Press Heat Press. Or for everything you'll need to know about iron-on transfers, read our article here.
Let us know how you get on in your quest for the best HTV in the comment section below – what do you think is the best?
(Please note: This post contains affiliate links. Read our full disclosure policy here.)